Sometimes I think people who read Pin Possible assume I have a lot of talent when it comes to creating crafts. Unfortunately, my last couple of projects would probably lead them to believe otherwise, but this week I've tried to bounce back with some woodwork.
I'm a huge fan of geometric jewelry. I like the simplicity of basic shapes and how they interplay with one another to create something that looks wonderfully complex. So for this week's Pin Possible, I opted to try creating some of my own. Pinterest swore to me that it was a simple project, but I very much thought otherwise.
What You Need:
– 1 piece of balsa wood
– X-acto knife
– Glue
– Paint and paintbrush
– Jewelry hardware: jump rings, earring hoops, necklace clasps
– Pliers
– Wire cutters
– Ruler
– Safety pin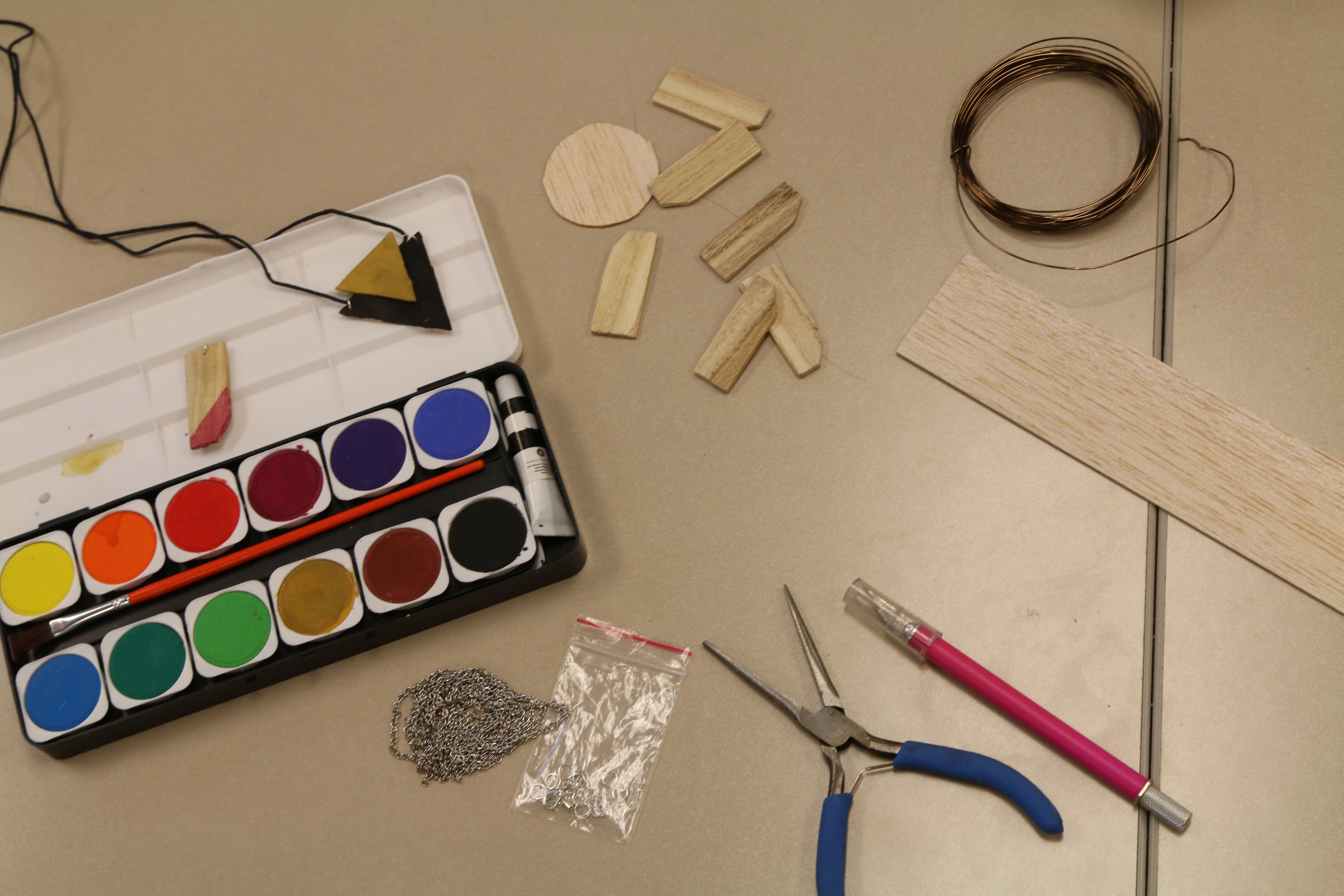 Instructions:
1. Sketch out the basic shapes for your design on the wood.
2. Cut out the shapes with the X-acto knife.
3. Paint the shapes.
4. Glue them together to create the desired shape.
5. Let the shapes dry for several hours.
6. Roughly lay out how you want the shapes to connect with each other if attaching pieces together using jump rings.
7. Using the safety pin, poke holes into the shapes for the jump rings.
8. Attach the jump rings to the shape.
9. Attach the jump rings to the other wooden shape you're using, or to the hardware.
10. Repeat until you've attached all the pieces where you want them.
At first look, the instructions probably seem ridiculously simple. You're just cutting some pieces out, painting them and then attaching the hardware. The hard part, I believe, comes before I do any of that, though — it's in the design part. I'm not an artist and while I can usually tease out the basic shapes in most pieces, I'm not great at it, so my designs often fall a little short. 
I attempted a couple different necklaces and earrings, but the wood kept chipping apart where I was poking the hole or it just didn't end up quite as I had envisioned it.
I also used watercolor paints for the first time doing this project. While it was fun for me to learn a new paint medium, next time I think I'll just stick with acrylic. It's just easier to get those crisp lines I like to see in my geometric jewelry.
All in all, it was a stressful project. After a couple attempts, I've managed to create something I'm at least content with.