As this semester eases into its monotonous groove, it's time for Comets to get cultured. How else are you going to sound smart in that art elective you enrolled in for core credit? Peruse the finest DFW art selections with this curated guide:
1. Armando Sebastian "Serenade"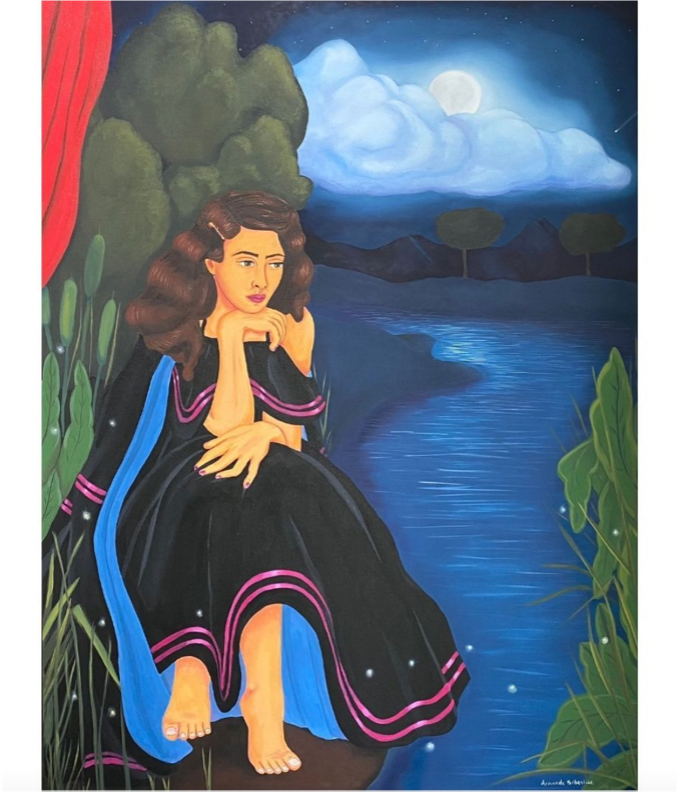 A standout of the Dallas arts scene, Armando Sebastian's artistic practice re-envisions Mexican folk art through a personal lens. His scenes often teeter between visions of dreamy nostalgia and intimate confession. As indicated by its title, the work in "Serenade" takes inspiration from the music of his childhood: as Sebastian said,
"Serenades were very popular in Mexico, mainly by Mariachi and typically sung by a man at night by the window of his lover."
Among this new musical riffing, the classic Sebastian style remains, with an added confessional and harmonious edge. The exhibit will run at Cluley Projects until Sep. 25.
2. Angela Faz "The Grammar of Animacy"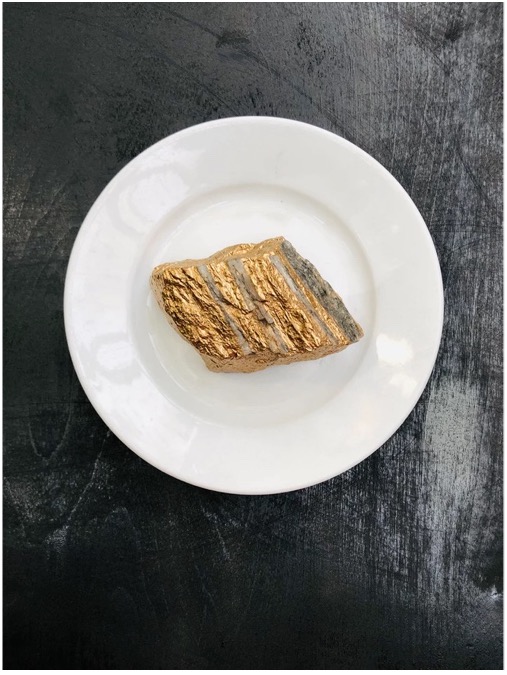 Since their gallery debut over a decade ago, Angela Faz has continued to make waves on a local and national level. Their multi-disciplinary practice confronts social injustice through aesthetic means. In "The Grammar of Animacy," Faz taps into a larger discussion of DFW's connection to water. In their words,
"Who is water? If water could talk, what would they say? … If we viewed water as a living relation, how might that change how we steward our most significant natural asset? This new body of work explores the river's personhood by activating their spirit through illustration and installation."
You can see Faz's work at the Fort Worth Community Arts Center until Oct. 14.
3. 500X"Hot and Sweaty 2021"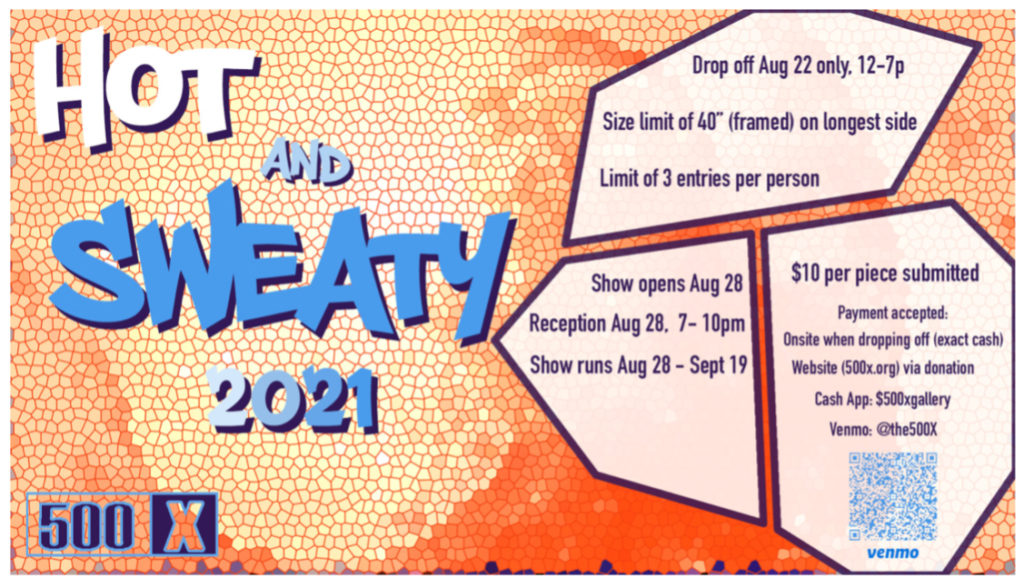 Bookending the grueling Texas summer, 500X's self-proclaimed "uncurated" exhibition brings a second helping of red-hot talent to DFW. Showcasing the work of literally any local artist, "Hot and Sweaty" features wall to wall, floor to ceiling artwork, making this a must-see for anyone interested in the work of DFW artists. In the words of the gallery,
"If we have space for it, we will hang it!"
All donations, sales and entry fees go directly to support Dallas' oldest co-op gallery. Even in their 43rd year of business, 500X continues to impress and display some of Texas' best artistic talent. "Hot and Sweaty 2021" will be on display at 500X Gallery until Sept. 19.
4. Amy Bessone "Amy's World"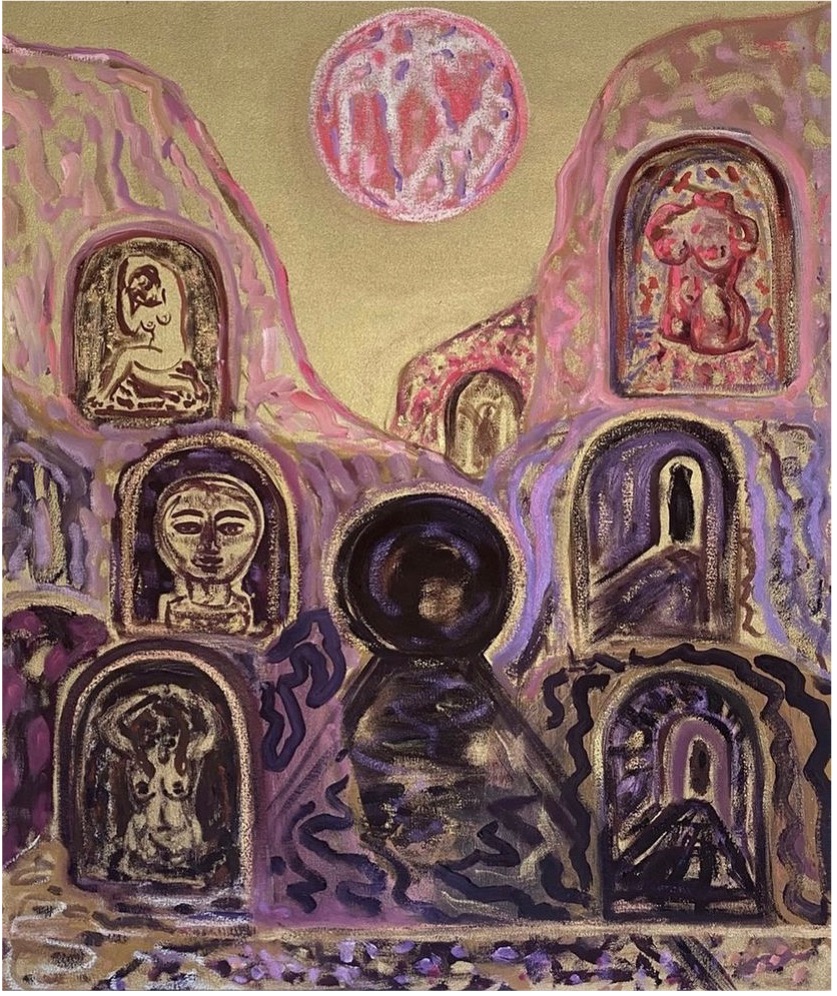 Amy Bessone's work speaks for itself. Not only speaks but shouts, exclaims and interrupts. Her recent work continues in this vein, though grounding itself in muted Earth tones. Bessone brings the unsettling to 12.26 with a collection of work that can't help but announce its presence. The exhibit will be displayed at Gallery 12.26 until Oct. 30.
5. Andie Flores: "ANTI-TOURISM MANIFESTO"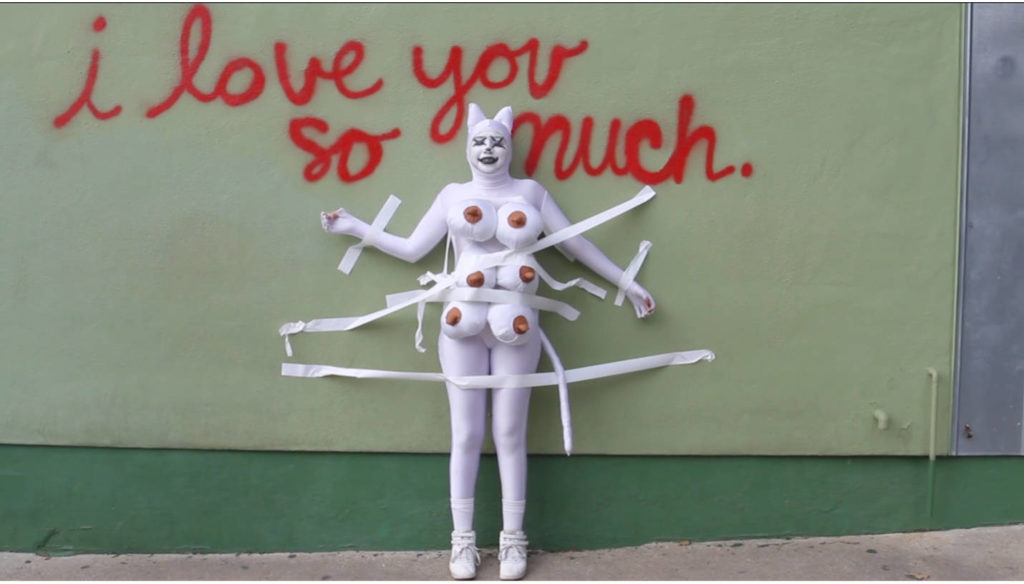 Andie Flores, @Bidibidibummer, self-proclaimed "LITTLE DUMMY MAGIC DEMON DOODIE DOO DOO HEAD" lives up to her many titles in "ANTI-TOURISM MANIFESTO." Featuring an in-drag Flores – as long as we can include naked cats in our definition of drag – her newest exhibition excites as much as it confronts. The confronted target? Murals; tourism; Austin, Texas; and the history of sociopolitical injustice intertwined. Somehow, Flores finds a way to entwine all these subjects into an effective and damaging critique of Austin-based tourism, a feat of which only she seems capable. This exhibit is available digitally until Sept. 10 on https://www.welcometomyhomepage.net/.