Former guard may never play again after collapsing on court during first game of senior year.
Seven minutes into the very first game of the men's basketball season, a player began to approach the team bench to ask for a substitute. Though it was not unusual for a player to be winded around this time in a game, it was very unusual that this player collapsed before he could get a substitution.
On Nov. 8, marketing senior Curtis Allen's heart stopped during a game against Redlands University. Allen was hospitalized shortly after, and will no longer play for the team. Allen recounted his experience in a video for the Athletics Department.
"As soon as I came down, my vision started going black and I walked towards the bench to ask for a sub," Allen said in the video. "They said I asked for a sub, but I don't remember asking for a sub. In five seconds I was blacked out."
Coach Terrence Butterfield said that he thought that the cause of Allen passing out was dehydration or heat stroke because the gym was hot. It wasn't until the trainers brought the AED when, Butterfield said, the situation took on a whole other dimension.
"When something like that happens — which it has never happened to me — time stands still," Butterfield said. "He was on his back and it looked like he was convulsing a little bit. We called to the other team's trainer to come down because at that point we were travelling without a trainer. I looked down at him again and his eyes were rolled back in his head, and all you could see was the whites of his eyes. The AED said a shock was warranted. We all stood back and the shock lifted his shoulders off the ground. It took a long time for the ambulance to show up, and by that time he had sort of come back to life."
Allen was hospitalized for six days and went through testing to determine the cause of his heart stopping, the extent of damage, and treatment. Surgeons placed a defibrillator in his heart to prevent another incident.
"The cause is still unknown," Butterfield said. "A defibrillator is like a portable AED, so if something like that were to happen again, the unit would sense it and apply a shock to get him back in rhythm again. All the testing was negative. When the surgeon went in to put this instrument into his heart, they said that there was no heart damage. It's a very imprecise sort of thing. There's no logical an-swer for what happened."
Butterfield said the survival rate is under 10% when something like this happens. The doctor told Curtis that, based on what had happened, he only had a 6% chance of survival.
"There was no indication at all that there was anything wrong," Butterfield said. "It was our first game of the year. He was working out all summer and fall through weight lifting, sprinting, conditioning, and open gyms. He had two scrimmages and did very well. There was absolutely nothing that led to that happening. It was completely arbitrary, and completely sudden."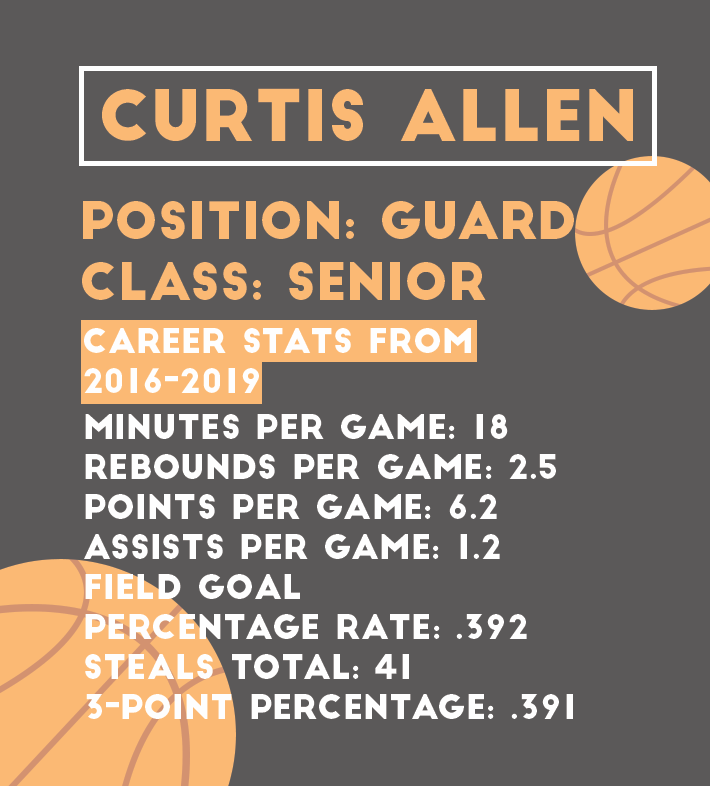 Waking up with 12 people around him, Allen said that he figured something went wrong, and he saw his mother crying. His parents, who were present at the game, remained in California while he was hospitalized. The athletic director sent an assistant coach to California to escort his family home.
"It shook our kids to the core. We took them all to the hospital to see Curtis after that was over," Butterfield said. "It was very hard to fly back to Dallas without him. When he did return, he came to practice and everyone gave him extended hugs. Everyone was affected by this incident. Curtis is a very well-liked member of our team, so he's very much at the center of our culture as a team. He's got a sec-ond chance at life, and even though he's not physically on the court anymore, he's coming to games and practices. He is still part of a team — he's just not dressed out and playing."
An incident like this has never happened in Butterfield's 40-year career. He said that it has been impactful and has shown him what's really important in life.
"Now when Curtis walks in the room I make my way over there right away and I give him a long hug, and he is gracious so he returns the hug," Butterfield said. "It is very important to me that he knows how much we care for him and how much we love him and how much we miss him as a player. Basketball is not life and death but this incident drove the point 100 times over that life is precious."
Although Allen will not be playing anymore, he said it's fun to watch them play every day.
"It's getting better every game," Allen said. "It's still tough to just sit there and watch but these are my brothers. Ultimately, I hope they win the championship because that's the whole reason we're here."