As the season for peaches, nectarines, pluots, apples, bananas and Asian pears came to a close, students were able to enjoy a fresh assortment of produce on the Plinth on Sept. 8.
Organized by Dining Services, this Pop-Up Farmers' Market was the first of a series that will be held on every second Tuesday of the month from 9 a.m. to 11 a.m. They will all feature seasonal produce from local farms, such as Leaf Safari and Village Farm.
"I think the first event was a huge success," Executive Chef Gene Christiano said. "I think it was a great display and set up. I think we saw, on the low end, probably 150 people; on the high end, probably 200."
He said part of the reason it was so successful was the on-site tasting option. Asian pears were offered as samples and a case of the fruit was sold in less than 10 minutes of the market's debut.
The highest priced item was $5. Resident District Manager Shannon Mariani said the goal of the market was not to drive revenue. Instead, it was a promotional tool to encourage people to visit Dining Hall West.
"The big piece for us is how (can we) tie in something that would drive students, faculty and staff to visit (Dining Hall) West?" Mariani said. "So we've got all these new venues opened up in the SU, but what Gene wanted to do is create a farmers' market or a pop-up event … which is more of a trend in dining."
Christiano added that building traditions was a reason for hosting the event. Dining services has introduced new options to The Pub's menu, such as Comet Ketchup and the fireball chili hotdog. The farmers' market is another way to provide students with interesting experiences, Christiano said.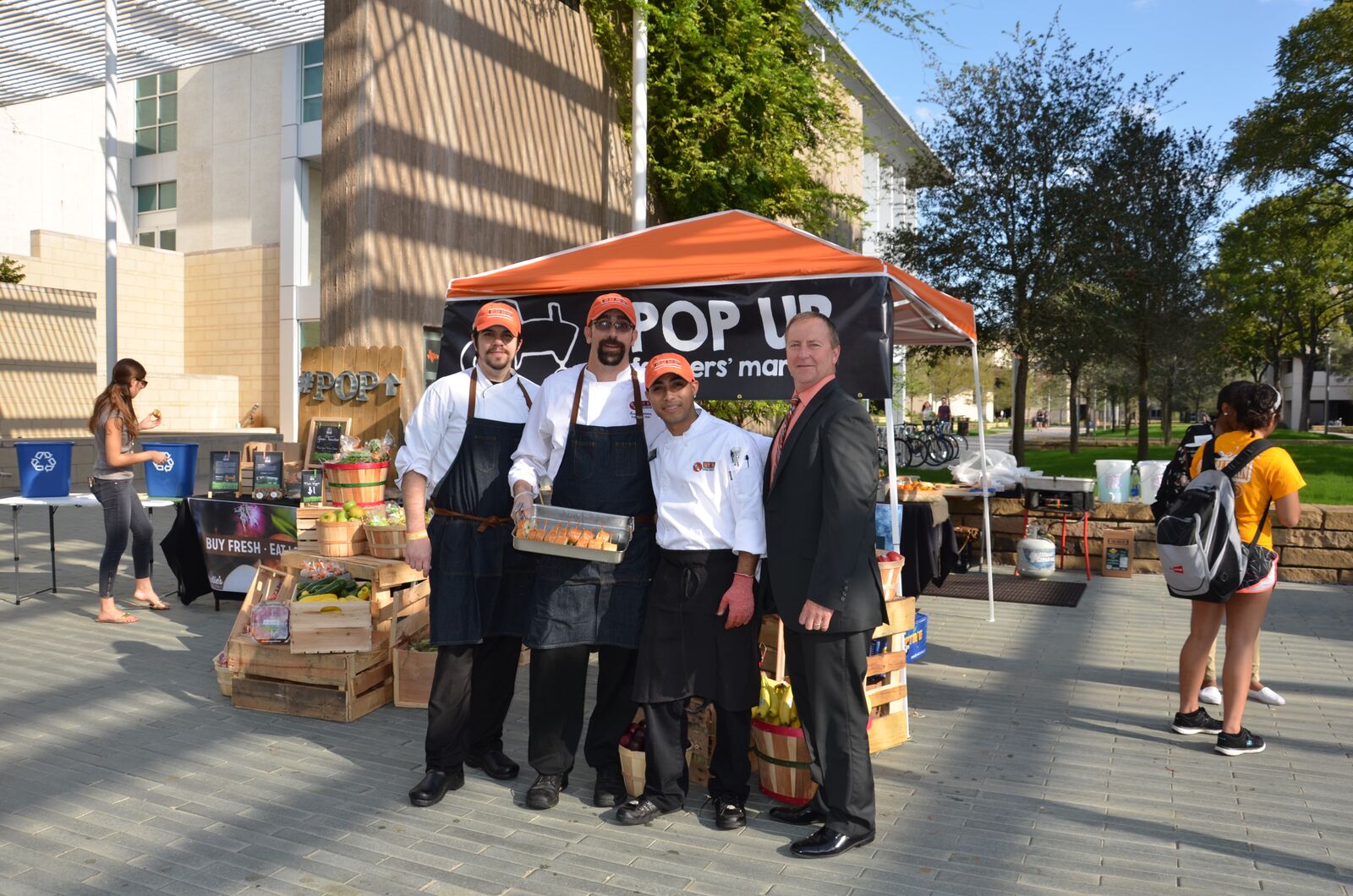 "We think that, by doing this, we're going to not only build a relationship with the students, (but) we're (also)going to create long-lasting memories," he said.
Christiano also mentioned that another aspect of the event was to make it an interactive, educational experience where students can become more familiar with the eating options in Dining Hall West.
"Sometimes the perception can be clouded with what's represented in Dining Hall West," Christiano said. "So it's about putting a face to the name. It's about identifying the local produce vendor that we're purchasing from. And as (one) student … of the 3000 freshmen, they may not understand that … (they're) really getting this high quality produce."
Every farmers' market will have an active demonstration incorporating a featured ingredient in a sandwich or quesadilla. Complementary samples will be given out. Some type of shake or salad with that month's special ingredient, hand fruits sold by the piece, prepackaged vegetables and sweets will also be on display.
On Sept. 8, the ingredient of focus was the green tomato. The specialty items were a fried green tomato sandwich with kale slaw, chipotle aioli and green tomato cake. Christiano crafted the recipes for those dishes and they were served for lunch and dinner at Dining Hall West.
Christiano predicts that October's menu will feature squash and gourds, but Texas' unpredictable weather will leave that subject to change.
"I would say that it's still kind of in the works," he said. "We'll have to see … especially with Texas. The weather has a big impact on the availability of what's local, so I would like to kind of leave it open."
This spontaneity has also played into the marketing strategy for the event. Mariani said that social media will be the primary form of advertisement through using the hashtag #Pop↑ about a week before the set up.
"We've been asked, 'Is it going to be a surprise?'" he said. "I really think it will be a week before. You'll start to see our Twitter and Facebook accounts start to drop hints about what (Christiano is) going to do and what he's going to create."
Although promotions start a week prior to set up, planning for the event started over the summer.
"I think it leads us to this moment where you see things like (the Pop-Up Farmers' Market) and now I'm just starting to see actual Tier One dining experiences (align) with the academics, so it's an exciting thing," Mariani said.
Assistant Director of Food and Retail Services Carrie Chutes said UTD Dining Services also used this event as an educational opportunity to inform students about sustainable practices.
"We are focused on our sustainability and our composting," Chutes said. "The Office of Sustainability was there next to us, so we look at it as a partnership."
The Office had a booth set up nearby to provide recycling demonstrations, information on composting on campus using food and lawn waste, flyers on LEED certified buildings that incorporate rainwater collection systems and solar panels and the Monarch waystation.
In addition, a representative from the Humane Society of the United States, Wanda White, was present to talk about plant-based cooking.
As the market continues to make its presence known until November, Christiano said he hopes students take a liking to the products they offer.
"I think as we go through the first three, we'll get a better understanding of what the demand is … For now we'd like to keep it special so it's something that the students are really looking forward to," he said. "We could, for the lack of better terms, go big or go home."