Every time you wake up, you go through a morning- or late afternoon- routine, and for many students that includes getting a cup of tea or coffee. If you're tired of hitting up the on-campus Starbucks every day, let me introduce you to I Love U A Latte, a new place to get your fix right down the street.
I Love U A Latte is a strip mall café situated on Campbell Road near CVS, with a range of food and drink options and a quiet, relaxing vibe. A five-minute drive or about a 15-minute walk from the center of campus, it's convenient enough to get to and has a few things to offer to put it above the default Starbucks.
Upon walking in, any prospective customer is greeted with jazz music playing in the background, seating options ranging from couches to comfy chairs, and a wealth of options for the perfect cup of joe. They have free-to-use wifi that is fairly fast at around 116 Mbps down and conveniently placed outlets and power strips to plug into. It's clear that the café atmosphere might as well be tailor-made for students, considering its proximity to campus. There's even a printer that can be used for about a dollar a page, which is fairly reasonable.
The coffee is good, with lots of choices for customization. They have most alternative dairy products you can think of, like oat, soy and almond milk, and a good selection of syrup flavors for drinks. The price point is similar to Starbucks, with five dollars here getting you a little more coffee than it would at a generic coffee chain. And with a list of mixes to try, from the classic French Vanilla to the more foreign "popcorn" syrup mix, there's sure to be a latte that any prospective customer will love.
A café doesn't need to have good food, but I Love U A-Latte also has excellent breakfast and lunch options on top of their drink menu. For breakfast options, they offer omelets, wraps and avocado toast, and for lunch there's wraps and sandwiches. I tried the Ultimate Veggie Omelet; it was well-seasoned and well-made. I have a certain apprehension for eggs made at cafes and restaurants, – rarely have I had a good egg I didn't make myself – but here, there is nothing to fear. All of the food options range from about eight to eleven dollars including tax, and the amount of food you get is comparable to spending that same money at any given fast-food place, and it tastes far better.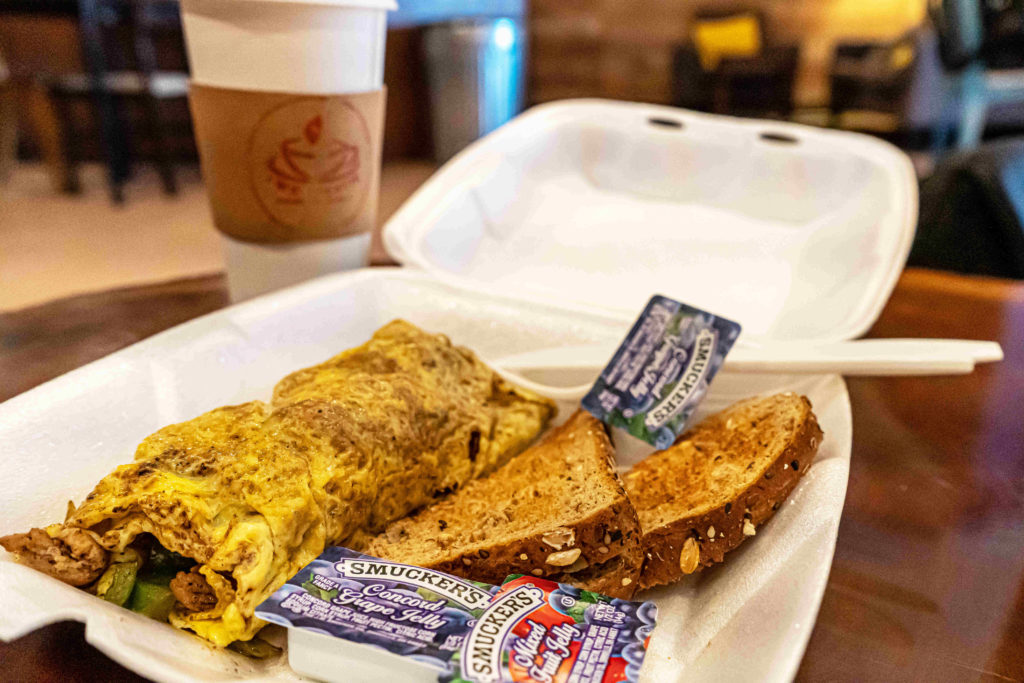 I Love U A-Latte provides the ideal quiet study environment, complete with fast wifi, refreshing drinks and comfy chairs. While not cheap, the café is not prohibitively expensive, and the vibes of the space are immaculate. If only every café in America were like this one! National productivity would soar through the roof. It is a 5/5 coffee shop, where you can sit back, relax, and then remember the essay that needs four more pages typed up. So next time you're considering where to get coffee, I Love U A-Latte should be on your shortlist as a spot to get The Fix.
Have a favorite place for coffee/tea yourself? Reach out to managingeditor@utdmercury.com or @UTDMercury on twitter with your favorite place to get The Fix, and we might review for the next issue!