Management claims all associates receive ongoing training during employment
Following student concerns about food safety, The Mercury obtained evidence that suggests many Chartwells workers did not receive state-mandated food safety training until earlier this month.
In Texas, the certification is considered the responsibility of the employer and is typically administered through a third-party company and must be obtained within 60 days of hire. In a Jan. 16 interview, Chartwells' Resident District Manager Steven Goodwin said he was unsure of the specific provider Chartwells utilized to certify employees. In a Jan. 23 email, a corporate spokesperson later said the UTD operation utilized a training company called ServSafe.
The Mercury compiled a list of 101 Chartwells employees who were employed during the fall 2018 semester. When checked against a public database maintained by ServSafe, only 15 of the employees on the list held valid training certificates, 11 of whom were managers.
Eighty-five of the 101 employees worked in jobs in which they were expected to handle food on a regular basis.
The Mercury also spoke to 10 current and former Chartwells employees across campus about their onboarding and training process. The employees spoke on the condition of anonymity, citing concerns over reprisal.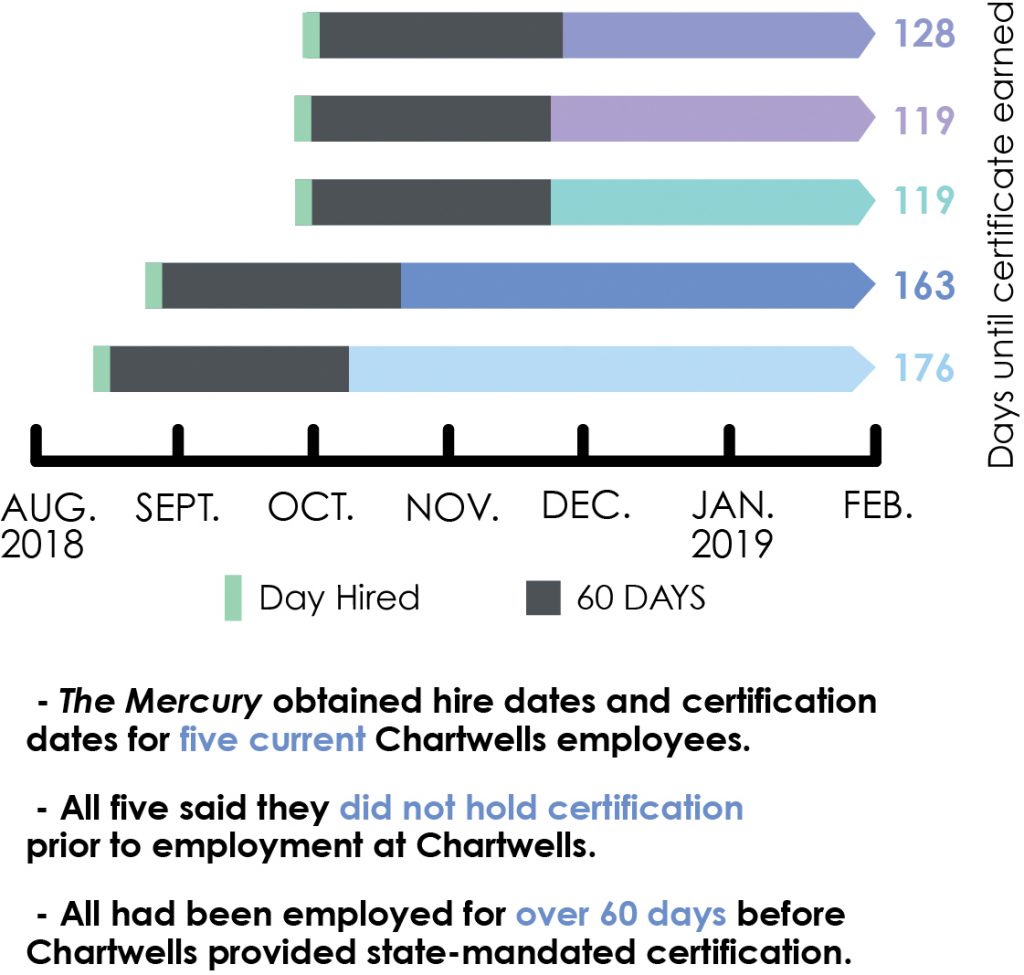 Only two of the 10 said that they received any formal food safety training within 60 days of their hire date, as required by state law. Five others had recently completed training through a different company but only after the 60-day window, according to official hire dates and food handler licenses obtained by The Mercury. All five remained uncertified for several months after the state deadline.
The certificate, which employees earn after completing a two-hour training course, is required by state law of any person who handles unpackaged food. Bill Alsup, the director of Richardson's health department, said while much of the course material is common sense, the training provides an important standard in preventing issues like cross-contamination and foodborne illness.
"There's a lot of confusion, especially with gloves, for example," Alsup said. "People think, 'Well, as long as I'm wearing gloves, I can touch anything I want.' Well, you can't go from preparing raw hamburgers to mixing salads with the same gloves."
A student worker said in her time at Dining Hall West, she was never asked to complete a food safety training program or asked to provide proof of a previous certificate until very recently, despite regularly handling food.
"None of us knew when to use the sanitizer or how to do the towels or the gloves — like when do you (wear) them and when do you throw them," the student said. "Only when you stay for a while do you learn that."
A former student worker in Dining Hall West said that generally, the only training she'd received came from her fellow student workers. Occasionally, a manager would come by and let her know if she was doing something incorrectly.
Goodwin said all Chartwells employees are held to strict food safety standards, which he said surpassed the state-mandated certificate.
"In addition to the food handler's certificate … we do ongoing training with our associates every day and all day," Goodwin said.
Goodwin listed several training events, but declined to describe the trainings in detail, stating that the information was proprietary.
In a Feb. 15 meeting, Chartwells' Director of Operations Casey Teng said he had recently purchased training modules for hourly employees from a new certification provider in January but said he didn't remember the company's name. Goodwin later confirmed in a Feb. 17 email that the new company was Learn2Serve.
According to an internal memo, workers were given a deadline of Jan. 24 to complete the state-mandated training through Learn2Serve. However, several employees said they did not receive the memo until weeks after the Jan. 24 deadline.
Chartwells personnel declined to provide a list of certificates, stating that the information is proprietary, but said all of its employees hold valid certificates. Learn2Serve does not maintain a publicly searchable database of certificates. An official at the Texas Department of State Health Services, the agency responsible for enforcing food handling laws, said the health department does not maintain a centralized list of certified employees.
"Some associates may have received their certification from other companies prior to joining Chartwells," said a spokesperson for Chartwells' corporate communications in an email. "All certifications, regardless of where they were from, are stored electronically by Chartwells."
Only one of the 10 employees interviewed said he had possessed a certification prior to his Chartwells job. He said during the course of his employment at Chartwells' Starbucks location last semester, he was never asked to produce the certificate.
Several employees said international students make up the majority of student workers and that Chartwells represented not only their very first food service job, but their first job in the U.S. Of the 10 employees interviewed, six were international student workers, all of whom said they had not received any training or certifications prior to starting at Chartwells.
Alsup said while most food establishments don't generally have issues with compliance, there are factors that can make it difficult for inspectors to detect issues in certain companies, such as high turnover rates and large employee bases.
"I can tell you that we don't sit down and (say), 'OK, what's this person's name and where's this person's card,' because that could potentially take hours," Alsup said. "We'll look at the cards and make sure they have an appropriate number of cards for the number of employees that they have."
Alsup said inspectors rely on the employer to provide accurate employee information and valid certificates.
Food handler training is listed as a "priority foundation item" on the inspection rubric, but in Richardson, establishments only lose a maximum of one point on health inspection reports for uncertified or improperly trained employees. Alsup said that nevertheless, there are legal consequences if the problem isn't resolved within a timely manner, including the issuance of a class C misdemeanor and a fine.
Alsup said if customers notice a potential health issue, they should file a complaint through the city's website and include all known details. If a complaint is deemed credible, a health inspector is dispatched to complete a complaint inspection. Alsup said the results of complaint inspections are not always available online but can be requested through the city's open records office.