According to a university-wide announcement made by President Richard Benson, smoking on campus will be prohibited. Starting June 1, a comprehensive tobacco ban — which includes cigarettes and e-cigarettes — will go into effect.
Of the 14 UT System universities, UTD is the last campus to implement a policy banning tobacco products entirely. Calvin Jamison, the vice president of administration, said this measure will benefit the UTD community.
"I want to emphasize this, our goal as we follow the direction of the other 13 UT System schools … is to create what is really a healthy campus  and to help students, faculty and staff have all the tools they need to have in place to help them make the transition," he said.
A major component of the ban includes education and cessation programs to help  students, faculty and staff quit smoking. Signs indicating a tobacco free zone will also be placed around campus . Currently the administration is determining, among other details, the penalties for non-compliance.
"It will all be spelled out in the ultimate policy released by the university. We are in the process of updating our present tobacco free building policy and it will be over the next several weeks to months that we will have that in place," Jamison said.
Student Government Vice President Joey Campain said SG's input on the tobacco ban was minimal because the Board of Regents favored establishing the smoking policy. The Regents originally wanted the ban to begin in January.
"Dr. Benson asked for more time from the Regents … and they weren't happy about it, to get more time for the students, which I really appreciate from him because he went out of his way to make sure it was done right and students had enough time to react to the situation," Campain said.
The penalties are not expected to be severe for students who are found smoking after June 1. Additionally, UTD police are not going to enforce the ban as it is not a state or national law.
"It's going to be pretty relaxed. There's not going to be anything where they get a fine slapped onto them or they get kicked off campus or anything like that," Campain said. "It's going to be supportive but at the same time it's going to be enough to make sure people are following the code of conduct."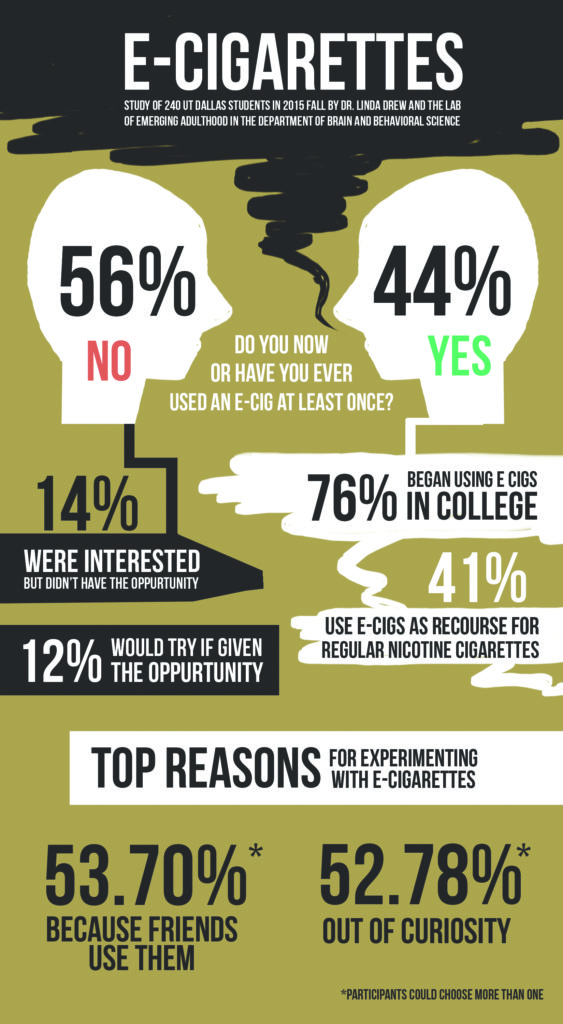 SG's Graduate and International Affairs Committee plans to focus on helping international students adjust to the new policy as smoking can be a part of their culture, Campain said.
"(We are) going to spend a lot of time thinking about how we can represent the international students," he said. "To make sure that when they are on campus they are supported and they have a great time at UTD even though smoking cannot be a part of that."
ATEC junior and e-cigarette user, Eric Larson was upset when he heard about the ban.
"I needed those couple of minutes in between classes just to chill out," he said. "It was just a space for me to … relax and now I've gotten that taken away, it's going to be taken away."
Even with the possibility of facing penalties, he doesn't plan to quit smoking.
"I don't think it's going to stop me. It'll probably be a lot less of me standing around doing it but walking somewhere or going behind some of the less populated areas of the building and walking and doing it," Larson said.
Jackson Turner, a computer science freshman and non-smoker, said he understands why the policy is being put into place.
"Adults need to follow the rules already set in place because there are rules … to make smoking coexist on this campus and they were broken a lot," he said.
However, Turner recognizes why people would be upset.
"I know a lot of people deal with stress with smoking and the email stated there were going to be measures in place to help people with that," he said.
Jamison said he encourages faculty, staff and students to take advantage of the programs offered by the university.
"This really an opportunity to make a life change for a lot of individuals which is really positive for them individually and for the campus overall," he said.