Kaitlyn Morris sits on her great-grandparents' porch, taking in the colors of the sunset. An expanse of land stretches out in front of her, outlined by pine and oak trees. She watches night fall as she chats with her family and helps them shuck corn and shell peas.
This is a typical evening for Morris, a computer science sophomore, when she goes home during school breaks to Daingerfield, a small town in Northeast Texas. The nearest Wal-Mart is 25 minutes away going at 70 miles per hour.
"You could never go anywhere without not seeing someone," Morris said. "Everyone always knew where you were, everyone always knew what you were doing."
UTD was Morris' way to get out of Daingerfield.
"I loved living in a small town, but my personality, I wanted out," she said. "When I was looking for a college, I said, 'I don't want anything within a 30-mile radius. I'm going somewhere else for a while.' I just needed the change."
For Morris and others who grew up in rural counties, college poses unique social and academic challenges. Limited learning opportunities at school and growing up in a homogenous culture put them at a disadvantage at UTD, but the community and resources offered here have given them a supportive environment to pursue their education. 
Culture Shock
Coming from a town with a population of 2,000, Morris was overwhelmed by UTD's growing campus. Her greatest fear was that she wouldn't find a community to call her own within the crowd.
"I'm an introverted extrovert," Morris said. "That was one of my biggest things. Showing up to a lecture hall (with) 230 people, what would I do? Would I run out of the class freaking out? That was the thing I was nervous about, but other than that I'm a very fearless person."
Morris was struck by the diversity of UTD more than by the size of the student body. 
"I'd never seen a Muslim," she said. "I'd never seen anyone wear a hijab. I'd never really been around the different Asian cultures to know enough to tell them apart. Everyone was Chinese to me because of where I was from. I was really ignorant. I just hadn't seen anything."
Because of the lack of exposure to different cultures and customs in Daingerfield, Morris admitted she grew up in a close-minded community. She said coming to Dallas has made her more aware of what's important to the people around her and she tries her best to understand their perspectives and share them with her friends and family back home.
"Pretty much 80 percent of the people I graduated with never left, will never leave, their kids will never leave, and it's just like a repetitive cycle and no one ever knows these things," she said. "None of my family knew this stuff at the time either. Now they know because of me. The fact that a whole family had no idea about this stuff was so upsetting to me."
Ashley Levy, an accounting and healthcare management junior, grew up in Amarillo. It's not as remote as Daingerfield, but Levy's small town experience was similar, in that she didn't share the same socially conservative values as those around her. UTD has offered her an environment to express her own views.
"Growing up in Amarillo, as with a lot of small towns, it's very conservative," she said "I grew up in an atmosphere that wasn't exactly what I believed, so I think that was hard. It makes me really appreciate coming to a place like Dallas. Everyone is accepted for who they are, but you do grow up in this backwards world."
Academic Rigor
Fitting in isn't the only challenge students from small towns face. Chase Bosley, a healthcare studies sophomore, spent a lot of his childhood in the Mexia area, which is an hour away from Dallas. He said he has to go the extra mile in school to catch up with students who went to large high schools in a city.
"I do work really hard on my school," Bosely said. "I want to succeed because of how my view point changed because of growing up (at the farm). It's like, 'I will work harder because I want more.' Their background versus my background was the intimidation factor."
Morris, who graduated with a class of 52 people in Daingerfield, said her confidence as a student dwindled in her first semester here because of the disadvantages she faced coming from a small high school.
"I was the salutatorian of my class," she said. "To go from that to feeling completely unprepared for college or for university life was super hard on me because people would come in like 'Oh, we did this last year in AP Calc' and I'd never seen calculus in my life."
Andrew Koricich, an assistant professor of higher education at Texas Tech University, conducted a study on how rurality affects access to higher education. He found  that students who come from increasingly urban backgrounds have the social and cultural exposure necessary to prepare them for changes linked to pursuing higher education. For someone like Morris, the adjustment wasn't so easy.
"I might not even be at UTD anymore," she said. "It was such a culture shock and academic shock that I probably would've gone back home if I hadn't had people to help me. … I don't know if I would have stayed."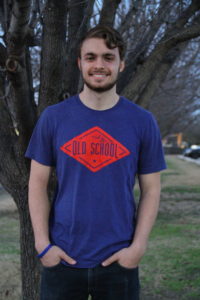 Leaving Town
Although Bosley doesn't want to settle down in the Mexia area, a town that only spans 5.2 square miles, he said there are valuable lessons he's learned that can be applied to life anywhere.
"Growing up at the farm, I loved working with my hands," Bosley said. "I know how to do a lot of little things that other people don't know how to do because of growing up there. But, it also gave me the view to growing up without some of the benefits that other people had."
For Morris, the pursuit of higher education is important because of the escape it offers from the small town setting she grew up in.
"It's proving that even though I'm a woman from a small town, I can do really awesome things and go be something more than staying in the small town. It's a lot of freedom," she said.
A Home at UTD
Although the college experience has been vastly different from what these students were accustomed to growing up, the perspective UTD and its surrounding community have offered has helped make the transition easier.
"The diversity of backgrounds that people come from and the places that they come from and the places that they're going has really shown me how much bigger the world is, which at first was a shock to me but it's been really eye opening," Levy said.