Whitney Houston's "I Wanna Dance With Somebody" fills the room; people dance to the beat as a former Miss Texas performs the song with gusto. This 27-year-old is running for Texas legislator, and her name is Averie Bishop.
Bishop is a first-generation lawyer who has long balanced school events, show auditions and furthering her political career. She started her undergraduate education as a musical theatre major, which she said created a conflict between her parents' expectations and her own passions. Bishop eventually changed majors because of what she described as toxicity in the entertainment industry as well as a desire for sustainable change. Originally winning the title of Miss Texas in 2020-21, Bishop is now running for Texas House District 112, which includes parts of Dallas, Richardson, Garland and Rowlett.
Bishop created the Tuolong Foundation with the help of her mother; half-Filipino herself, Bishop created the nonprofit to provide food and make water more accessible to Banga and Mindanao in the Philippines. Additionally, Bishop spearheaded education campaigns within Tuolong, building the San Jose library in San Jose, Philippines and raising money to help local children. She also supports education here in Texas by working part-time as a substitute teacher.
"Our public school teachers are severely underfunded, under-resourced," Bishop said. "And so not only do I get to teach children and mentor them, teach[ing] them the importance of being kind to one another is always my biggest social advocacy."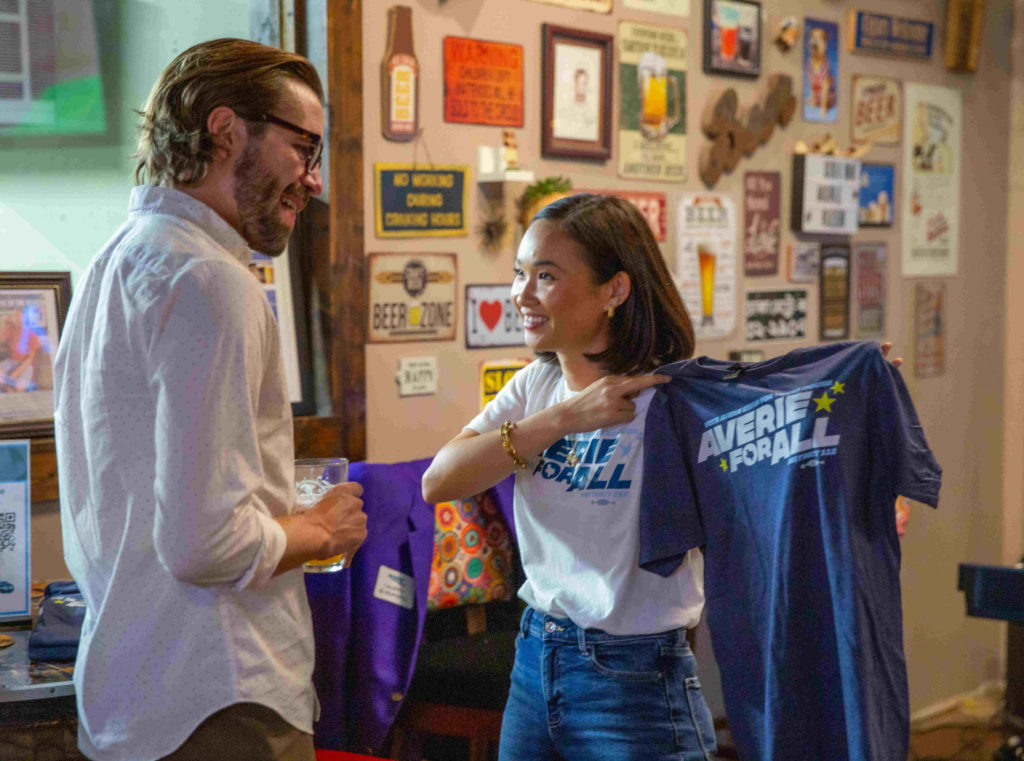 Bishop hopes that winning her campaign will allow her to focus on three important goals: safe and equitable public schools, job security and accessible mental health care. Bishop originally used her platform in education to share her progressive views on reproductive rights, safer schools and immigration. Bishop's passion to ensure job security comes from a childhood where she had to see her parents working multiple jobs, a sentiment she shared in her campaign speech. Bishop's campaign revolves around the phrase "Y'all Means All," and she hopes that she can re-humanize the polarized political landscape and ensure that people's voices are heard.
"I do believe that each person should be able to receive affordable mental health care and that would also have a positive impact on the amount of school needs that we have here," Bishop said.
Bishop drew on her background in the arts to train for the Miss Texas Competition, and her victory in 2022 was the first time in 85 years a Filipino-American woman had won. Bishop said she yearned for an environment that was led by women — she wanted to level the playing field and enter career spaces that women and people of color don't usually occupy. This is when she decided to change pathways. Her passion for theater was strong, but so was her passion for advocacy.
"[W]e really just need more young women who are making decision on behalf of our communities, because our communities are comprised of more than 53% women," Bishop said. "So we should hold the majority because we want a true representation of the communities that we live in."
Her transition from theater to graduating law school at SMU was filled with obstacles, but the seemingly shaky road was held together by her conviction and her drive to change the way people think about politics. Bishop's campaign rival is representative Angie Chen Button, a Republican who has held the title of state representative since 2009.
"I think it is something that we should appreciate that there are two women of color running to represent the community and I hope that that continues and we inspire more women of color to run for office," Bishop said.
Annette Addo-Yobo is one of the many individuals who worked closely with Bishop. As a woman of color and a law student, this UTD alumnus and current Miss Dallas title holder worked as an ambassador for NAMI, the National Alliance on Mental Health, and strives to break down barriers around mental health and inspire the next generation of leaders. The two met for the first time as the youngest participants at the Obama Leadership Campaign, generally reserved for those 25 and up. She quickly viewed Averie as her mentor and their paths crossed again in the Miss Texas Competition.
"With Averie being Gen Z, that's huge in politics because we've seen who our politicians are, especially in the state of Texas. And they don't look like us," Addo-Yobo said.
Alavia Khwaja, a UTD alumnus and supporter of Bishop, said that an important topic rarely discussed in politics is the mixed-race experience, and she believes Bishop can get others to understand the mixed-immigrant experience. Both women believe that Averie running for office is an important step to amplifying Gen-Z voices and promoting inclusion and diversity.
As Bishop runs for office, she said she pushes young individuals to run for positions of power and believes in the importance of diverse stories.
"I decided to run for office because Texas is ready for someone who is young, who is a person of color and who is progressive," Bishop said. "If we want democracy to work in the way that it is, it has to be a reflection of the people it represents."