As hundreds marched through the streets of uptown and downtown Dallas on Nov. 9 protesting the election of Donald Trump, electrical engineering senior Adam Richards directed choice words at the president-elect.
"I see someone who's demonized people of color, LGBT people, immigrants, you name it," he said. "As a Christian, as an American, I'm not going to … stand for that."
The rally and march, hosted by the Next Generation Action Network, a local activist group, started under the shadow of the American Airlines Center at the AT&T Victory Park Plaza. It coincided with major rallies across the United States in cities such as New York, Chicago, Philadelphia and Oakland.
Locals flocked to the scene with signs painted with phrases like "Make Racists Afraid Again" and "Proud to be a Nasty Woman" to protest the man they saw as unfit to serve as commander-in-chief.
From Latinos holding up signs denouncing Trump's statements against immigrants to parents with small children, diversity defined the demographics of the crowd. Along with citizens from across the Metroplex, UTD students made the trek to downtown Dallas to let their voices be heard.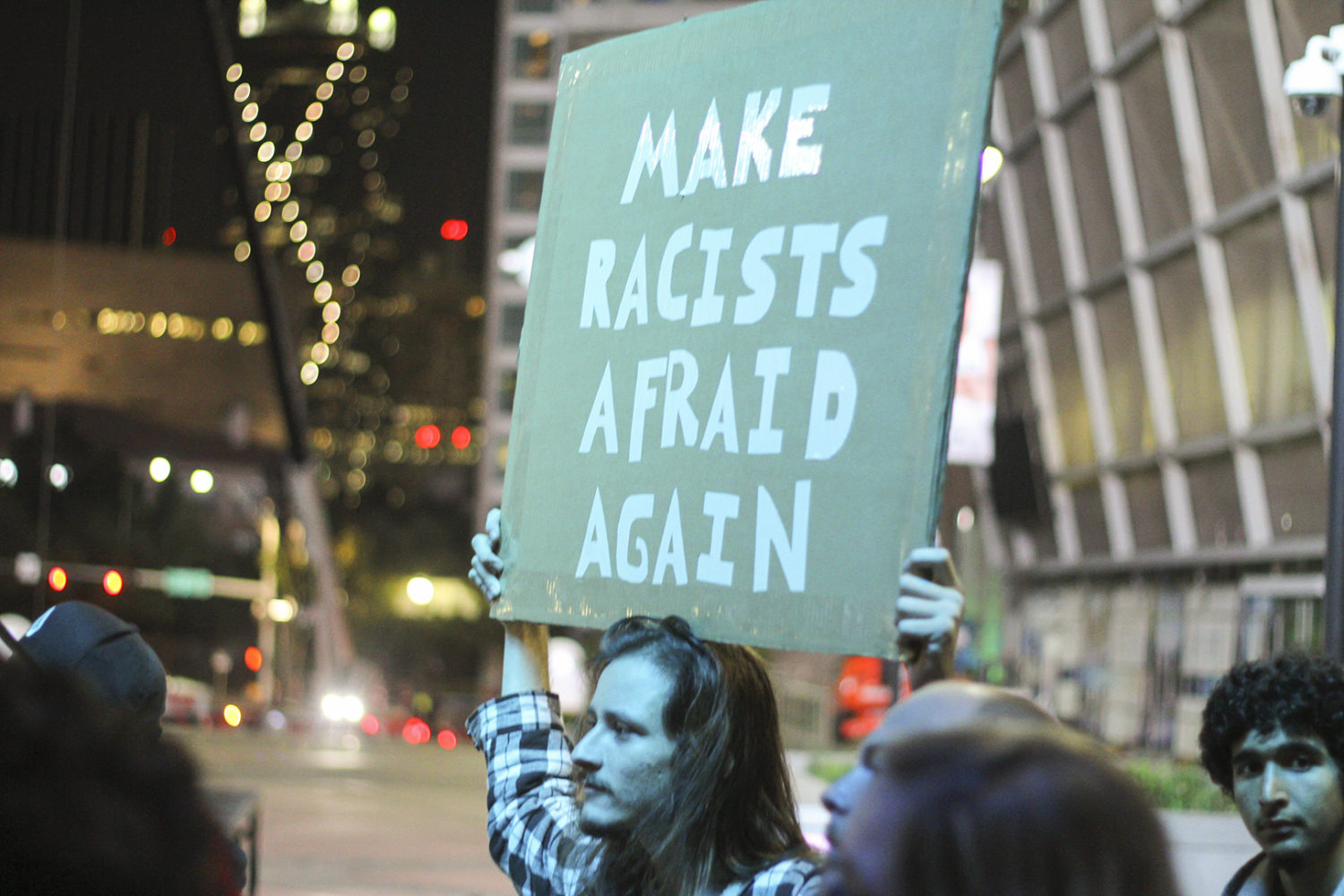 ATEC sophomores Delaney Haig and Izzy Morano held the ends of a rainbow flag as protestors screamed "Together!" in unison in a tight huddle just 30 yards away.
Morano and Haig, who heard about the protest from a friend, said they were both devastated by the outcome of the previous evening's election. Haig described it as the end of life as they knew it.
"Before I wasn't afraid to go outside of my house," they said. "And now I am."
For members of the LGBT community, Morano said one of the biggest threats Trump poses comes from his running mate, Vice President-elect Mike Pence.
"Just having someone that's so full of hate is driving his supporters, who are also very hateful, to be louder and prouder of their hate and target LGBT kids a lot more than they did before," Morano said.
Now that Trump is slated to be president, Haig plans to live their life as a form of protest.
"Last night, I was terrified and I wanted to die," Haig said. "This morning, I woke up and I'm going to live my life out of spite. … I'm going to be out here and I'm going to raise hell."
History senior Cody Owen heard about the protest through Facebook. After seeing that 63 percent of white men voted for Trump, Owen came to the protest to show he did not belong to that majority.
"He has put forward a platform that actively seeks to destroy people's lives," he said. "I think that his goal is to make America great in his own image and we've seen what he thinks greatness is. It's ostentatiousness. It's insanity."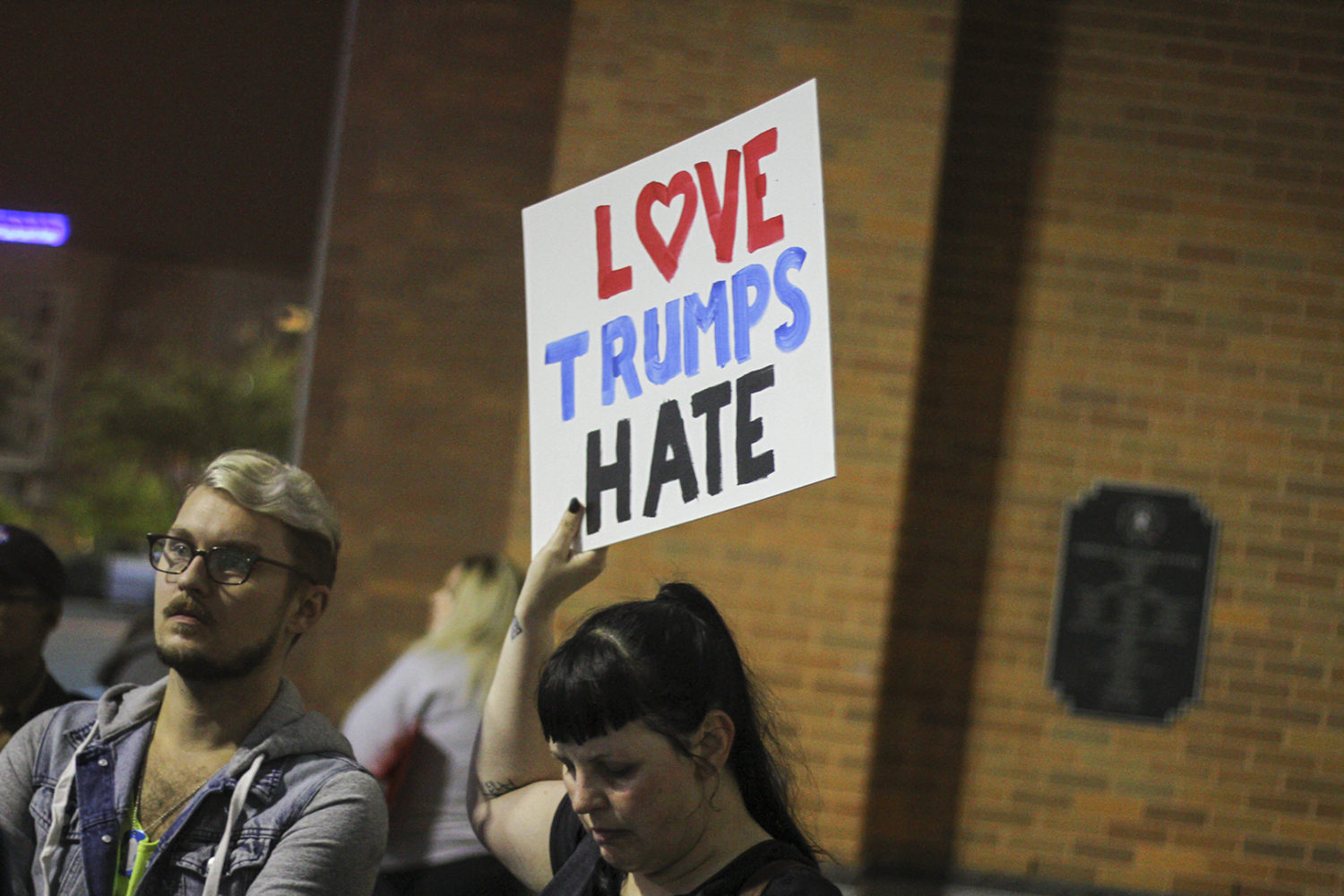 Looking at the crowd gathered in the AT&T Plaza, Owen admired how quickly people had organized in response to Trump's victory.
"I think that it shows, 72 days before he takes office, people are already in the streets saying that we're not going to stand for what Trump wants to do," he said. "That we're out here now, already ready to be against what he's for."
After nearly two hours of speakers rotating in and out, the anxious and riled up crowd moved into the streets, forming an endless stream of protestors reciting chants against the man positioned to take the Oval Office.
Police cars lined the path for protestors while onlookers whipped out their cellphones to capture videos of the scene as the march snaked its way from uptown, crossed the Woodall Rodgers overpass and made its way into downtown.
For Richards, he said this election became very personal for him.
"Look, we're not going to be able to prevent Donald Trump from enacting his policy goals if we don't stand up and protest, if we don't stand up and vote," he said. "Look, I'm going to, probably, end up marrying my boyfriend by the end of January, and I wasn't planning on … doing that, but I can't let Donald Trump take away my right to marry."