Mechanical engineering senior designs appliance that warns parents, detects deadly temperatures in cars
A device developed by a UTD student may help prevent the death of children left unattended in hot cars.
Every year, children die from heatstroke because they're left in cars. According to the Department of Meteorology and Climate Science at San Jose State University, there have been 636 documented cases of deaths of children in vehicles since 1998.  Cars tend to reach life-threatening temperatures of 104 degrees or higher very rapidly, even in moderate 70 degree weather, leading to an average of 37 child deaths each year.
Nancy Dominguez, a mechanical engineering senior, came up with the idea for a mechanism in the summer of 2014 during her internship at the AT&T Foundry, an innovative center in Plano dedicated to creating new products and services.
As part of the internship, each student was assigned individual and group projects to take part in.
"They encouraged the interns to kind of find a project to work on — something we were passionate about," Dominguez said.
The technology — which looks like a small silver box — has different motion, infrared and temperature sensors that can recognize whether or not someone is in the vehicle.
If the sensors notice movement inside the car or if the temperature gets too hot or cold, it sends out text alerts to the owner.
"It has different sensors to see if there's someone inside the car, and if it starts reaching uncomfortable temperatures, then that's when it starts contacting the caregivers," she said.  "If for some reason they can't get to the car in time, it'll reach out to emergency services."
Dominguez came up with the idea last summer during the course of her internship.
I was at home talking, kind of brainstorming with my mom…and she said…why don't you make something that could save the kids that are stuck in cars," Dominguez said.
It was instantly an idea she became passionate about.
"Nancy came to the rest of the team with an idea or technology to help solve the problem of kids getting locked in cars in the summer," said Mike Albrecht, an innovation coach at the Foundry.
Dominguez said her classes definitely helped prepare her for her internship, but as a mechanical engineering major, a lot of the work with the gadget had to do with electrical engineering.
Dominguez received a lot of support from her co-workers and supervisors, who helped her research different technologies that could be used in the prototype.
"I was able to put all of that together so that this prototype could essentially be effective," she said.
Dominguez said the internship helped her get a feel of what it was like to be a part of a professional team and work with people of different technical backgrounds.
"Nancy came up with the idea and AT&T provided her with resources, both equipment and technology," Albrecht said. "We helped mentor her on how to take her idea and turn it into a prototype."
Dominguez said she has always been interested in helping others through her career.
"My life goals that I want to accomplish is to be able to help people, the environment or animals." Dominguez said.  "I had the idea, but I had to ask myself, 'How can I make this a reality?'"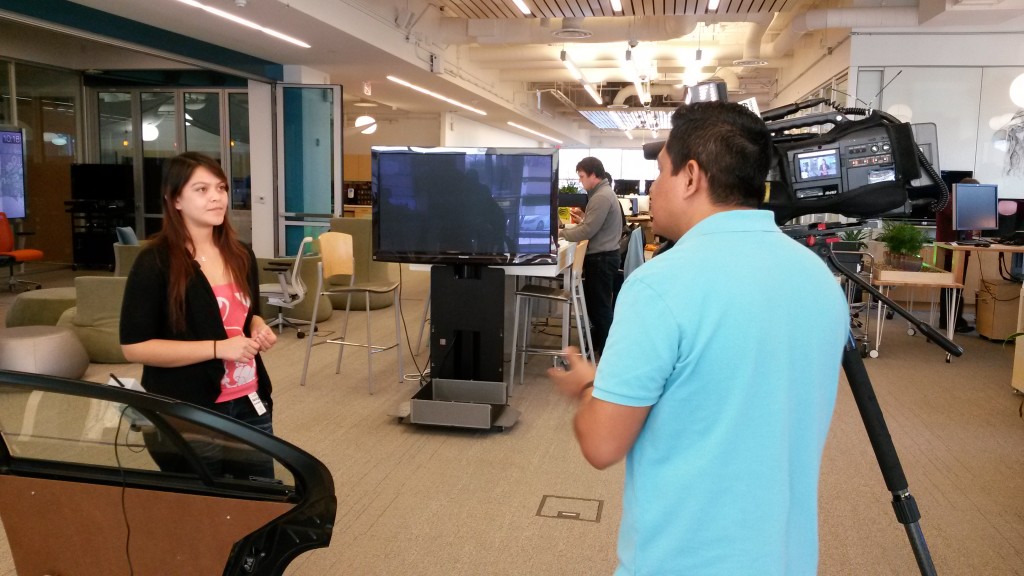 The device will take six to nine months to complete. Dominguez is no longer working on the project directly but she goes down to the Foundry and gets updates on the progress of the gadget from time to time. The device has formally been adapted as an AT&T project and an AT&T team is working on it.
AT&T hopes to develop the device into something they can introduce into the market for consumers to buy.
"Now that Nancy has left her internship, we're continuing to develop the project as one of our passion projects," Albrecht said.