The Spirit Rocks, a popular public platform for student expression, were removed from campus Nov. 20 after "extended political discourse" about conflict in Israel and Palestine, raising concerns of censorship.

Students have been spray painting the Spirit Rocks with drawings and slogans to express themselves since Student Affairs placed the boulders on campus in 2008. According to an early morning email from Student Affairs, in the last few weeks, messages on the rocks "have been inconsistent with their original purpose and guidelines," and "extended political discourse" has negatively affected "people on and off campus." The removal comes during a time of political tension on campus following conflict in the Middle East. In the past month, the rocks were painted more than 11 times, alternating between messages supporting Palestine and Israel. On Oct. 12, the rocks were painted with an Israeli flag and the words "We are winning," and on Oct. 14, the rocks were painted with the message "Zionism = Nazism."

The latter message may be part of the reason the rocks were removed, according to a conversation between Dean of Students Amanda Smith and former Student Government Vice President Margaret Belford. Belford and SG Secretary Alison Spadaro planned to paint the rocks early Monday morning for Trans Day of Remembrance, but when they arrived around 9 a.m., the rocks were already gone.

"I was confused and then upset, especially reading over the email," Belford said.

The pair grabbed chalk and proceeded to write "CENSORED" on the pavement in front of the area where the rocks once were. Belford said Smith, who she knew from her time in Student Government, approached them and asked about the message they were writing.

"This is our only place on campus that you could have free expression, and so I didn't quite feel that it was fair," Belford said. "And she said that there's plenty of other avenues… She listed things like hanging flyers. Or you could host a protest, or you could always put out frames on the Plinth. I've been pretty familiar with the free expression policy on campus from SG…. Those are subject to different regulations. Every single bulletin board, they aren't always if ever enumerated or posted — they're subject to removal anytime… There's temporary flyers, [but] it's just not the same impact. And definitely not the same space for artistic expression. It's not comparable in any way."

Belford said Smith disagreed with the assessment and described what students painted on the rocks recently as hateful. Smith left shortly after Belford began to record the interaction.

"I believe what was written on the rocks that had her particularly incensed, was that someone had written Zionism equals Nazism, and that was upsetting to a lot of people," Belford said. "It was a strong statement for sure, but was it hate speech? Was it targeted harassment towards individuals? That's debatable, especially with the speed at which it was covered up. The rocks are self-policing. There's a reason that people can paint whatever they like on there, … If people don't like it, they can paint it right back over."

Smith declined to comment on the conversation and the Spirit Rocks' removal. Gene Fitch, vice president of Student Affairs, provided a brief email statement but declined to comment further.

"Since I arrived here in 2010, there have been numerous complaints about how the Spirit Rocks have been used," Fitch said in the email.

The Spirit Rocks have been part of discourse on controversial political topics since their inception. As early as 2009, they were painted in support of the Iranian Green Movement. In 2011, they were painted in protest of the arrest of Wikileaks founder Julian Assange. In 2015, they were painted in support of the Black Lives Matter movement, and in 2020, they were the location of a smaller paint exchange between supporters of BLM and the "Back the Blue" movement.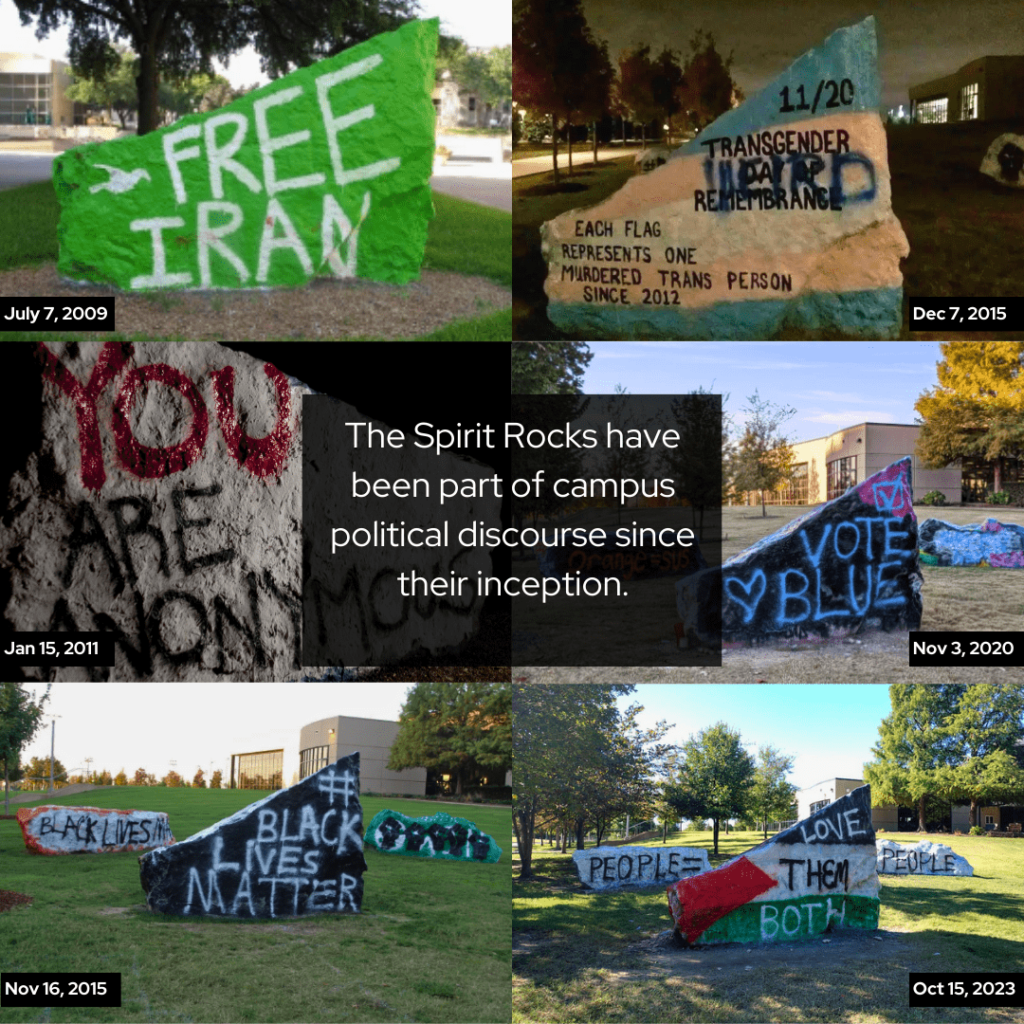 In an Instagram poll by The Mercury, 92% of the 1,532 respondents said they disagree with the removal, with the most common concern being suppression of free speech.

"Politics [were] always discussed at the Spirit Rocks," one respondent said. "In reality, this is a targeted censorship."
Alejandro Lizardi, who The Mercury spoke with last month about his rock painting efforts, disagreed with the removal.
"Even though I was the one painting the majority of Israeli messages, it's ridiculous," Lizardi said.

Students took to social media in droves to protest the decision. The latest post on UTD's official Instagram account has over 300 comments objecting to the Spirit Rocks' removal and calling out what students perceive as censorship — specifically censoring opinions critical of Israel's military.

"#1 in silencing students! The rocks have changed from Israeli supporters to Palestine supporters all week! It's almost like you didn't want anyone seeing those Spirit Rocks right at the front of our school when people come to visit! Social and political discourse are important and you have ZERO backbone," one commenter said.

After Belford and Smith's conversation, a group of students painted several small stones with the Palestinian and transgender flags' colors and scattered them where the Spirit Rocks used to stand.

"Part of Trans Day of Remembrance on campus is always that we paint the [Spirit Rocks]," Audrey Neal, an ATEC junior who participated in painting the stones, said. "To wake up to the news they had been removed was distasteful, to say the least."

Neal said small painted stones were chosen to send a striking but minimally disruptive message. Palestinian flag colors were included because students felt UTD opposed pro-Palestine viewpoints. Groundskeepers removed these rocks and washed away the "CENSORED" message on the pavement the next day.

The website that provided guidelines for painting the Spirit Rocks, which was taken offline by Nov. 20, said students and student organizations are welcome to paint the rocks, provided the messages are in "good taste" and do not violate UTD's Handbook of Operating Procedures, or HOP. In a phone call for The Mercury's Oct. 16 story on the Spirit Rocks' politicization, Smith said UTD administrators do not police the content of the rocks and only get involved if messages violate the law or the Student Code of Conduct. It is not clear which policies the Spirit Rock activism violated.

Aside from Student Affairs executives, it is unclear what other parties were involved in the decision to remove the rocks. According to the former website, the HOP committee is responsible for recommending and reviewing university policies. However, SG President Srivani Edupuganti said there was no HOP committee meeting about removing the rocks and that today is the first time SG has heard about it.

"They claim to value student input and the student voice, but they took away the only form of student voice or student expression that exists on this campus," Edupuganti said. "These rocks have been removed before the start of the business day, so it's very clear that they were trying to do it as quietly as possible. The fact that they chose the first day of fall break to do it is another indicator of that."

SG will vote on a resolution concerning the rocks's removal at their Nov. 28 meeting. Edupuganti said SG is also working on creating a sticker wall project to provide an alternative for student expression.

The Foundation for Individual Rights and Expression, which challenges First Amendment violations on college campuses, said the rocks' removal is potentially unconstitutional. Graham Piro, a program officer with FIRE, said this depends on what speech was originally allowed on the Spirit Rocks. But without further clarification from administrators, this standard is unclear, given UTD has tolerated a variety of political messaging on the rocks since they arrived 15 years ago and encouraged expressive originality.

"If it is closing the forum because it now disapproves of specific political expression, that could be viewpoint discrimination, a potential violation of a state university's First Amendment obligations," Piro said.

Piro said that several other campuses have restricted and removed walls, rocks, and other landmarks used for student speech in recent years. Additionally, other universities' administrations have censored student speech pertaining to Israel and Palestine, for example, by dissolving Students for Justice in Palestine chapters.

"In all these instances, we urge universities to be mindful of their obligations to uphold student expressive rights," Piro said.

At 7:30 a.m., Instagram fan account UTD Rock Wars posted a picture of the missing Spirit Rocks. Later, at 8:01 a.m., Student Affairs released the email announcing the removal of the Spirit Rocks. Around 10:00 a.m., students wrote the word "CENSORED" in sidewalk chalk alongside a Temoc drawing in front of the Activities Center. By 11:48 a.m. landscaping was finished, with new patches of grass and six trees standing where the rocks once were.

"If they're going to take away our means of expression, then we should continue expressing our views louder," Neal said.
This story is ongoing and will be updated as soon as The Mercury has more information. If you have anything you would like to share, please contact us at editor@utdmercury.com and news@utdmercury.com or @utdmercury on Instagram.