Chants and calls to action echoed amidst the skyscrapers of downtown Dallas as hundreds of marchers demonstrated on July 27 to protest the death of Sandra Bland. Her arrest and subsequent death in Prairie View, Texas, under the supervision of local police has become a topic of national debate.
Bland was found hanging from a noose made from a plastic bag in her cell in the Waller County Jail on July 13 after she was arrested for allegedly assaulting a police officer during a traffic stop. Officials have said that the cause of her death appears to be suicide, but her family and supporters have clashed with this finding, saying there was no possible way she killed herself.
People of all races and ages were in attendance for the march, which was organized by the Next Generation Action Network, a local non-profit that focuses on civil rights. Among the marchers was former Dallas City Council Member Diane Ragsdale. Ragsdale said one of the main reasons the rally took place was to convey the message that the movement for justice couldn't be stopped.
"It's important to realize that we need to develop a system to rid this city and this state of problem officers," she said. "We believe that we can do that coming together, moving from protests to public policy changes, moving from protests to institutional changes."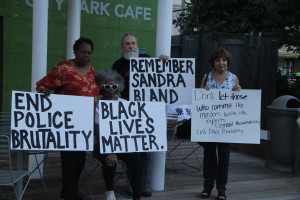 Chants of "Black Lives Matter" and "I Can't Breathe" were deafening as the demonstrators began to march through the streets. Bystanders on sidewalks looked on as they took out their smartphones to record the small army of people moving down Main Street.
Tensions began to rise between protestors and police when the march came to Dealey Plaza. Squad cars attempted to block off the procession from moving into the infamous plaza where John F. Kennedy was shot, but protestors moved around the blockade and continued down the street.
Once in Dealey Plaza, protestors confronted local police, who had formed a line preventing their further movement. Several members of the crowd were visibly upset and began verbally challenging the police.
"I wish ya'll would say her name!" one woman screamed at the officers during a chant of "Say her name, Sandra Bland."
After the march moved from Dealey Plaza, protestors headed to the Omni Hotel, where they faced off with the police once more. Hotel guests could be seen looking down from their rooms as the protestors converged on the scene.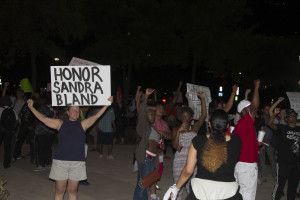 Following a quick break in Main Street Garden Park, the protestors moved towards City Hall and the Dallas Police headquarters. Police ordered protestors off the street and into the sidewalk and halted the march once again before it could reach DPD's main station.
The protest halted as police negotiated with the march organizers for several tense minutes. The crowd began to get uneasy as rumors of officers preparing to arrest demonstrators began to swirl.
After what seemed like an eternity, marchers and the police finally both backed off without further incident. Several demonstrators proclaimed the night as a victory as they prepared to go home.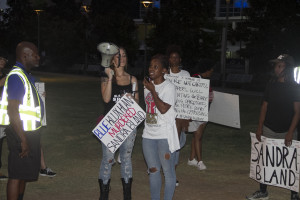 The march, which lasted several hours and covered most of downtown Dallas, was important for Lelani Russell, the chief of staff for the Next Generation Action Network, because her people are being murdered, she said.
"I'm out here because I'm tired of hashtags of black people that are being killed by officers," she said. "People keep saying black on black crime, but those black people go to jail. These officers get to go to work the next day. They get a pension, you know what I'm saying?…So I'm out here fighting for my people's rights. Black lives matter, we are American. We are just as American as anyone else."