A man was charged with the aggravated kidnapping of UTD alumna Christina Morris by a Collin County grand jury on March 10.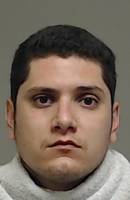 24-year-old Enrique Arochi was formally accused of kidnapping Morris with plans to terrorize, hurt and sexually abuse her, according to The Dallas Morning News. Morris is yet to be found.
Arochi could face anywhere between five years in jail to life imprisonment if found guilty.
Finding Morris remains a high priority for the Plano Police Department and the investigation into her disappearance is in full swing as Morris' and Arochi's families await the upcoming trial, Plano Police Chief Gregory Rushin said to The Dallas Morning News. No new details about the night have been released.
Arochi and Morris were former classmates at Allen High School and were out with friends at The Shops at Legacy in Plano. Police interviews revealed that Arochi was agitated the night Morris disappeared because his sexual advances were rejected by another friend.
Surveillance footage shows Arochi and Morris walking to a parking garage at the shopping complex on Aug. 30 just before 4 a.m. According to the probable cause affidavit, that is when he saw a chance to act upon his anger and frustration and attacked her.
Morris' car was in the parking lot until she was reported missing on Sept. 4. A significant amount of her DNA was found in Arochi's car, contradicting Arochi's earlier statements to the police.
Arochi has been held in the Collin County jail since being arrested on Dec. 13 with a bail of $1 million. Morris' family and friends have been protesting outside the jail and Arochi's house pressing for answers from the accused's parents.
Keith Gore, Arochi's attorney, said his client would plead not guilty in a statement to the The Dallas Morning News.
The Collin County district attorney's office spokesman said it is too early to name a date for the trial.