Updated: A previous version of this article was printed in error. Andaleeb Iftekhar's name was spelled incorrectly. The Mercury regrets these errors.
Miscommunication from healthcare officials leaves insurance customers confused
Somdeb Sarkhel was planning on flying back to India in the summer of 2015 after two years.
Late this June, he found out he wouldn't be able to go. His health insurance premiums for 2014-15 are going up, leaving him and his wife with very little to travel back home.

"Since we are international students we have to visit our family once in a while and now we (have been) forced to cut into our savings for the insurance and are unable to go to India. That's a big disappointment," Sarkhel, said.
But Sarkhel, a computer science doctoral student at UTD, is perfectly healthy and has not used his health insurance once in the past three years. So why is his annual premium going up by almost 100 percent?
According to the updated UT System Regents' Rule, all 16,500 international students in the UT System must now have health insurance that is compatible with the Affordable Care Act.
This means that while coverage will improve, international students have to enroll in UTD's student health insurance plan, or SHI, unless they are able to find comparable coverage through the federal marketplace.
The rule was updated only in May and the UT System finalized the SHI plan in late June, three months after open enrollment for ACA ended.
Sarkhel acknowledged that there are positives to the new plan because the coverage is much more extensive and includes pre-existing conditions and contraceptives among other benefits.
"That's great but the way capitalism works means that someone is going to pay for (these benefits) and that someone is us, which is terrible," he said. "(Several) international students have very little prospects of working in the United States after five or six years and will move anyway. So what's the point of paying such a high premium when I'm not going to cash it in?"
Until now, students like Sarkhel bought insurance from third party companies that provided the same benefits as UTD's insurance plan but at cheaper rates.
But now, with the new rules in place, he will pay $780 for the fall semester instead of the $300 he was paying before, amounting to an annual premium equivalent to his one-month salary as a research assistant.
Why the changes?
In spring 2012, the federal government put in place a set of dates in order to phase in ACA into student health insurance plans nationwide.
ACA, commonly known as Obamacare, was to be gradually implemented on college campuses starting July 2012. The last step of the implementation kicked in January 2014, and required all university insurance policies to be completely compliant with the act, increasing the coverage from $500,000 to unlimited benefits.
In order to keep up with the new mandate, the Regents' Rule was updated in May 2014.
The UT System then accepted bids from different insurance providers to compare prices offered by different providers. Officials picked Blue Cross Blue Shield, the largest provider in Texas, for its reasonable prices as the endorsed provider for its 15 universities and medical institutions, said Laura Chambers, director of employee benefits at the UT System.
After negotiating with the company, the System locked down on a Gold Metal Tier Plan, which has better benefits than the Bronze, and Silver plans.
"We're giving students a policy that is just as good as a $6,000 policy for a fraction of the cost, because they are students and we understand there's affordability issues," Chambers said.
Students, both current and new, however, don't think the currently offered plan, at $1,859 annually, is affordable for students, said Andaleeb Iftekhar, president of the Bangladeshi Student Organization, or BSO.
Unlike the marketplace, however, the SHI is an umbrella policy. It's the same for all students irrespective of their age, which while cheaper than the marketplace for students aged 30 or more, like Sarkhel and Iftekhar, is much more expensive for students 24 years or younger.
Many students could have bought insurance from the marketplace at $50 a month, but are now having to pay $150 a month, because open enrollment is closed, Iftekhar said.
"Why is it that university insurance is always more expensive — three times, five times as much — as we pay outside?" he said.
The insurance prices have only gone up by 30 percent from what students were paying for the university's SHI last year, said Lea Aubrey, director for UTD's Student Health Center, in a statement to The Mercury.
However, compared to what most were paying to third-party vendors, the price students will pay now has almost quadrupled, Iftekhar said.
Student grievances
The Student Health Center and the International Student Services Office, or ISSO, informed students late in June and early July respectively, of changes to the insurance requirements.
"First of all, the university didn't take enough initiative to let us know that these changes are coming up, to get ready for that," said Mohammad Nasim, public policy student and former Student Leader of the Year recipient. "Even when they did let us know, they didn't give us any alternatives. They just said this is what we have to offer, so we couldn't find anything. We just had to take that."
In October 2013, Sarkhel verbally asked a health center representative if he needed to do anything specific to adjust to the new ACA requirements. He was told to regularly check the health center website, which did not reflect any changes until late June, he said.
The website was updated only once UT System finalized the details for the new plan and notified the health centers of all universities.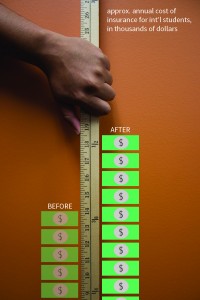 Sarkhel places the responsibility for the lack of communication squarely on the university and ISSO.
While the UT System's Office of Employee Benefits communicated changes to policies and plans with student health centers and international student offices across all 15 UT schools, the fact that ACA was open for international students was the federal government's responsibility and not the System's, Chambers said. Student health centers can only communicate details of the SHI to students, she said.
"The health center should not be advising students or employees on what insurance they should purchase," Chambers said.
The ISSO declined to comment on the issue stating it works with the health center and other departments to communicate regular updates to students when it is made aware of these changes, because other departments decide their own guidelines.
Sarkhel and Nasim said most of the students they interacted with in their labs and organizations were not aware of the fact that international students were eligible to enroll in Obamacare, since it has always been touted as a program for U.S. citizens and permanent residents. Iftekhar agreed that the ISSO should have done more to inform international students.
"We are paying them $100 and they are there to let us know (of these details)," Nasim said. "If they are not letting us know or if they are saying we rely on the health center to provide information, I don't think that is correct because it is their responsibility to reach out to the health center and check to see if any changes are coming up of which they should keep our students aware."
Moving forward
BSO has officially advised all its new and current students that enrolling into UTD's SHI is the only option for the fall semester.
With no time to come up with comparable plans, third-party vendors that solicited students were unable to provide any acceptable alternate plans through the marketplace, Nasim said. Hopefully, they will be able to provide new plans with updated requirements by the time the waiver period for the spring semester opens up, he said.
Meanwhile, in the computer science department, all TAs like Iftekhar and RAs like Sarkhel might get a raise after students filed a petition asking for a hike in their paychecks due to insurance rate increases. However, they are part of a small minority of international students who are teaching and research assistants.
For the others, the insurance premiums will pile on to their student loan debt, Sarkhel said.
It might work better in the future if the university endorsed two or three different plans so that students can choose a premium they can afford, Iftekhar said.
"From what I understand, they offer us this insurance because they want to offer the best one to students to make sure students are covered," Nasim said. "I have seen other universities that have worked with outside companies to provide reasonable insurance policies —like UNT — and UTA is doing that, but they haven't yet (finalized it)."
Given a choice, international students will opt out of the expensive SHI, Iftekhar said. That is how it has always been.
"We repeat this cycle. We spend hundreds of hours trying to figure out how to avoid this insurance, so whom does it help?" he said. "It's not helping anybody, it's just wasting time."
For the time being, existing international students are scrambling to find resources to pay their insurance premium. No one knows what they're doing for spring, Sarkhel said, but at least there will be more than a month to figure out what the ACA marketplace has to offer.
"What I would like (the UT System) to consider is that we don't have a lot of resources and even TAs and RAs are not paid a whole lot," Nasim said. "So they should consider that we're students, and that's what they should think of when they come up with these policies."