Summers and picnics go hand-in-hand, and if you are culturally inclined then you can enjoy the outdoor evenings with Shakespeare in the Park at the Samuell Grand Amphitheatre.The 2015 season runs through July 25 all days except Mondays.
This year Shakespeare Dallas is putting on two productions as part of their "Summer of Laughs and Loves". "Romeo and Juliet" plays Tuesdays, Saturdays and Sundays while "The Compleat Wrks of Wllm Shkspr (abridged) [revised]" runs Wednesdays through Fridays.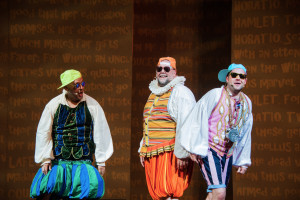 "Compleat Wrks" is a comedy that is put on by three male actors who try to perform all of Shakespeare's works in 97 minutes. In the play, they first perform Romeo and Juliet in the first 15 minutes, only to realize they couldn't possibly complete all the plays in the hour and a half.
"They do all of the comedies in about five minutes," said Jessica Helton, programming and marketing associate for Shakespeare Dallas. "It's sort of reader style where one of them writes a script and hands them to the other two and they act it out."
Directed by Raphael Parry, who has produced several Shakespeare Dallas plays before and is also its executive and artistic director, the play is a fun production with props that represent characters, and actors that have mental breakdowns as part of the script.
"Even if you don't know anything about Shakespeare, there will be something for you in that show," Helton said about the production.
"Romeo and Juliet" on the other hand, is a traditional production of the tragedy directed by Shakespeare Dallas' artistic associate René Moreno.
Students get a $3 discount off the regular price at the gate when they present their student ids. Tuesdays and Wednesdays are pay as you can while Thursdays and Sundays students can get in for $7. Tickets for students cost $9 on Fridays and Saturdays.