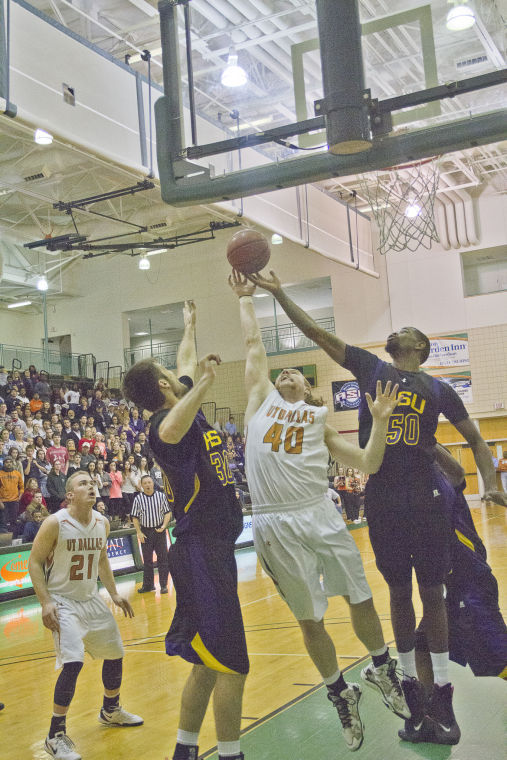 The men's basketball team face new opponents and challenges as they compete in the NCAA Div. III tournament for the first time since 2011.
The Comets will host Southern California Intercollegiate Athletic Conference's Chapman University, a team they have never played before, in the first round of the tournament on March 7.
UTD finished the season with the program's best winning record of 25-3 and also clinched the ASC conference championship title when it defeated Hardin-Simmons in a close competition on Sunday, March 1.
Chapman ended the season with an 18-9 overall winning record and won the SCIAC conference tournament when it defeated No. 4 seed Cal Lutheran 79-51 in the championship game. It enters the NCAA tournament on the back of a seven-game undefeated streak.
"I would define them as a very hot team right now," said head coach Terry Butterfield. "When you win seven games, clearly you are getting better throughout."
Chapman's junior guard Colin Zavrsnick and junior guard Taylor Hamasaki scored 497 and 492 points this season, respectively, and lead the league in the same category.
Zavrsnick shot 178-of-328 (54.3 percent) from the floor, 69-of-159 (43.4 percent) from beyond the arc and 72-of-86 (83.7 percent) from the free throw line. Hamasaki shot 162-of-358 (45.3 percent) from the paint, 28-of-71 (39.4 percent) from treys and 140-of-173 (80.9 percent) from the charity stripe.
They are at the heart of the team's scoring with solid percentage of shooting from the three-point line and are good drivers of the ball.
While, they may be the key to the Panthers' offense, the team is well rounded and any player is capable of causing sufficient offensive damage.
"They are multidimensional in their approach," Butterfield said. "They run good sets. They (play) a strong man-to-man defense and don't run zone (defense)."
Butterfield said he expects Chapman to be very similar to the Comets in terms of speed, quickness and athletic ability in comparison to the other teams in the ASC.
With shorter preparation time than usual, the players have to soak in the new opponents' plays and game very quickly.
"It doesn't bother me that we haven't played them before," Buttefield said. "It's more important to me that we look at the film and make good decisions about what we see and give that information to our kids."
Butterfield said the team has performed exceptionally well this year in terms of being prepared to face its opponents by locking in the schemes and strategies well and applying them in games.
The Comets will look to continue their solid and consistent performance into the NCAA tournament and will seek capitalize the home court advantage to the maximum.
The game against Chapman is scheduled for 7:30 p.m. on March 7.