Black leaders on campus discuss community, success
When the late historian Carter G. Woodson started the Association for The Study of Afro-American Life and History in 1915, his aim was to document the past and triumphs of African-Americans. He commemorated what he called Negro History Week in 1926.
In 1976, the U.S. government designated February as African-American History Month or Black History Month. This year marks the 100-year anniversary of Woodson's aims to celebrate the feats of Black Americans.
African-American leaders have been an important part of UTD since the early years of the university.
Among many black leaders on campus, George Fair, dean of the School of Interdisciplinary Studies and vice president of diversity and community engagement, may be one of the most prominent.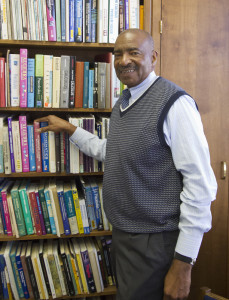 "History has a lot to do with where we are today and so I think it's important that we help students to understand what the history of African-Americans has been in this country," Fair said. "Just to give them a better understanding of where we are and how far we can go and how far we still need to go."
Fair moved to Texas from Pennsylvania in 1975 after one of his former colleagues and head of the math department at the time asked him to work as an assistant professor here at UTD.
Back then, the school was an upper division university meaning that it was only for juniors and seniors with most of the classes held in the evenings. Compared to the rich diversity of the campus today, he said things were quite different then.
"It was less diverse for sure at that time. Our diversity has increased over the years," Fair said.
Throughout his forty-year tenure, Fair moved up in the ranks of the university finally getting to the position that he's at today as dean of one of the university's seven schools. As a Black leader, he said being where he is now gives him a feeling of accomplishment.
"It's satisfying and gratifying that I came here, and I've been able to have some career success," he said.
Fair's contributions to the university also include extensive research and community outreach for homeless children. He's the primary coordinator for Kid's University, a program that provides children living in high-risk situations with the tools and knowledge to overcome their barriers.
Another respectable leader on campus, vice president for student programs Yolandé Evans is responsible for various aspects of campus life that include student involvement opportunities and activities.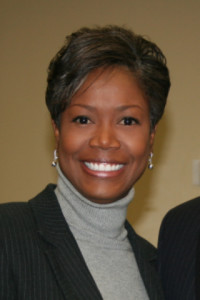 Originally from Lousiana, Evans moved to the Dallas area with her then-husband fifteen years ago. At the time, she was unemployed and found her way to UTD one day on a scenic drive through the area.
"I decided that the next day I would get dressed and go to HR," Evans said. "They had a job opening for academic advisor and so I filled out an application and got an interview."
Soon thereafter, she was given a better position as a program coordinator for the excellence scholarship program and over the years, worked her way up to position she holds now. As a Black woman in a leadership role, she said that she wants to exemplify how far Black America has come.
For Black History Month, Evans said that it's more to her than just a month to celebrate the community's accomplishments.
"I really try to do that on a daily basis," she said. "Especially with UT Dallas being so diverse, there are a lot of cultures who have never interacted with our culture so it's about bringing knowledge to our cultures and experiences, debunking the stereotypes and the myths."
As for future UTD leaders, Evans said that it's important for students to know their worth.
"I believe to whom much is given, much is required," she said. "These are students who are basically going to take over the world and prepare for persons coming behind them so it's just for knowing your worth and knowing your value."
Arthur Gregg is director of the Multicultural Center and the assistant vice president for Multicultural Affairs.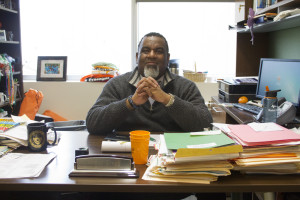 In his office, shelves are piled with awards, gifts from students, photos and UTD swag. Many of the photos are of his fraternity brothers from Alpha Phi Alpha, a black fraternity that he helped to charter here on campus. He's also facilitated the start of countless other groups and organizations for students such as Delta Epsilon Psi, the South Asian social service fraternity and the Palestinian Arab American Club.
Gregg attributed a story by Dr. Martin Luther King Jr. to explain the livelihood and future of the university.
"We're like his story about a family who will inherit a house and we all have to live in this house together," Gregg said. "Are we going to make this a house that will succeed or are we going to make this a house that will fail? I think that UTD is growing into a house that will be a great place to be."
Gregg first came to UTD in 1998 with the mindset that his job would be a stepping-stone in his career. At first, he applied for two other jobs to no avail. On his third attempt, he got a job at the Multi-Cultural Center as coordinator working with students of all backgrounds. Then, he knew it was his dream job.
"I am a Comet at heart because I believe in what UTD provides and the type of students that we have here," he said.
For Gregg, being a leader on campus is all about the passion inside. Sometimes, he said he feels like a father, not just to African-American students but to all students on campus who seek his help.
Bruce August Jr. is assistant director of programming and marketing at the Multi-Cultural Center. He's been working on campus for five years and was promoted to his current leadership position last fall.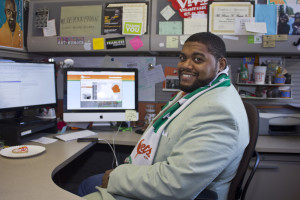 As one of the organizers at the center, August oversees the center's role in creating a variety of cultural programs for UTD.
August said that for this month, the center has planned movie screenings, interactive events with other student organizations such as the Black Student Alliance and African Student Union. The center will round off the month with The Big Dinner that will consist of a movie screening, live performances and soul food.
Keshia Neal, neuroscience senior and vice president of the BSA works closely with the center as a volunteer. Her work extends to helping organize this month's events.
"We're small but we're big," Neal said of the African-American community on campus.
Neal also said groups like the BSA and the Multi-Cultural Center helped her get through the struggles of college life and living far from home.
"This school can be quite difficult as far as the expectations go, but it's nice to know that you do have an organization that is like your extended family. They're going to help you," she said. "It's about uplifting the community."