Hundreds of students marched from TI Plaza to SSA at 2 p.m. Oct. 25 in response to UTD President Richard Benson's statement expressing sympathy for Israeli casualties without acknowledging Palestinian casualties in the Israeli-Palestinian conflict.
At least ten groups helped organize the march, including Students for Justice in Palestine and the Muslim Student Association. The walkout was a part of larger series of marches across the nation last Wednesday organized by the Palestine Youth Movement with others at UT Arlington and the University of North Texas. Peaking with 350 marchers chanting slogans such as "Benson, Benson, you can't hide, you're supporting genocide," and "Palestine will be free" in Arabic, the demonstration could be heard as far as UV Phase 3. Police were present near the protest for its entire duration. The Oct. 25 walkout is the largest protest SJP has held at UTD and the largest protest on campus since 2020.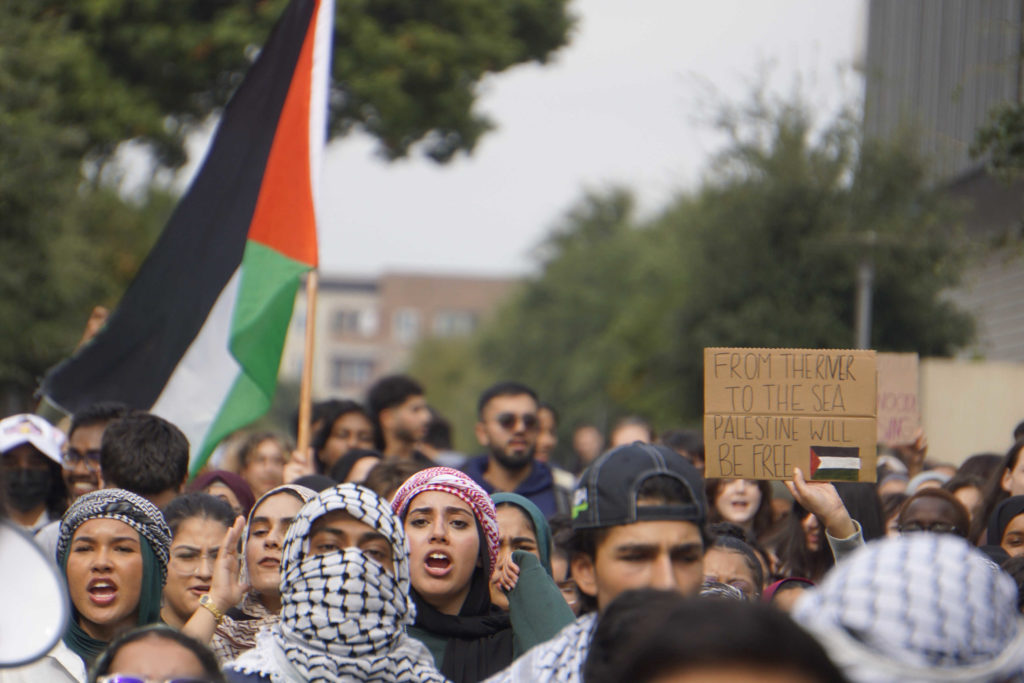 On Oct. 16, President Benson issued a statement condemning the militant group Hamas's Oct. 7 attack on Israel and expressing his condolences for "the people of Israel and for all those affected by the violence and inhumanity of Hamas." Despite commending the civil protests happening on campus and connecting students to the Student Counselling Center, Benson failed to acknowledge the simultaneous deaths of Palestinians in the conflict. The statement was widely interpreted by Comets as one-sided, as expressed by almost 4,000 students and community members on LinkedIn, X, Instagram and an email campaign to Benson himself.
"There are some people here who have lost dozens of family members in Gaza right now," SJP Campaign Coordinator Adam Hasan said. "To be callously sent that email was very disrespectful and offensive towards the Muslim, and particularly, the Palestinian community who have family in Gaza … He didn't even mention the word 'Palestinian.'"
President Benson did not respond to a request for comment. However, he released a new statement on Oct. 25 to Student Government President Srivani Edupuganti following a resolution passed through SG the previous day calling on him to acknowledge both sides' suffering. Edupuganti received the response shortly before the walkout on Wednesday.
More than 7,000 Palestinians have been killed since the beginning of the Israel-Hamas war, according to the Gaza Health Ministry, which released a list of casualties with the identities of the deaths. At the time of publication, the Israeli military says it plans to wage a "long and difficult" ground invasion into Gaza. Phone and internet services are unresponsive in the region after a round of airstrikes, meaning Gaza's more than 2 million residents remain blockaded from the outside world.
While many attendees were Muslim or had personal ties to Palestine, the protest showed a diversity in faith and nationality. Hasan said his parents were activists in South Africa, and that he had family in Palestine. Another protester who spoke with The Mercury identified as Mexican and had no personal connection to Palestine but supported the cause as a humanitarian issue. A portion of the crowd were affiliated with Young Democratic Socialists of America. Noor Rabudi, a member of SJP, said that resettlement in Israel reminded her of a similar struggle in her family's homeland of Kashmir.
"Already there are evictions and demolitions happening in Kashmir as we speak," Rabudi said during her speech at the protest. "I cannot explain to you the humiliation and helplessness of losing your people, your land, your dignity. There are no words for my pain. Genocide is a lonely thing to endure …We'll remember their [the Palestinians'] songs and their determination, the strength of their revolutionaries, upright and steadfast in their beliefs … They remind us that our suffering is temporary, and victory is certain and that liberation is near."
Protestors carried Palestinian flags and posters with slogans like "standing with Israel is standing with terrorism" and "you can't silence us." Some wore keffiyehs, a garment traditionally symbolizing Palestine, or masks on their faces.
"Where else is action needed more than in the heart of the empire?" Ayed, the president of UTD's chapter of YDSA, said. "We start in our communities. We start here on campus. We start by ending support for Israeli colonialism here, both financial and rhetorical. We take that millions that we invest in arms companies back … My message to Benson is as follows. You can hide in your office all that you want, but we will never be silent."
Protestors also demanded that UTD stop investing in weapons funding, following an SG resolution passed in April this year. SJP has pushed the campaign to "divest from death," asking UTD to stop funding and profiting from companies like Raytheon and Lockheed Martin, which develop military technologies used in the Israeli-Palestinian conflict. Despite student support for the measure, it is may not be possible to implement due to a Texas law passed this summer that prevents academic institutions from boycotting foreign countries. Hasan said that SJP was aware the law complicates the divestment campaign's progress, but that they had not given up.
"We do understand that the legislative avenue is very hard right now, but it is not impossible," Hasan said. "That's just one avenue that we are doing right now. But there's a lot of direct action that student orgs have done in the past … Student orgs are always the birthplace, especially for anti-war movements … We are very much an anti-war organization. We are pro-peace … And we know that we're young now, but the movement is growing ever so fast. This has never happened on UTD campus."
Despite constant police presence near the protest, the event was largely peaceful. Hasan said there was one counter-protester who became disruptive, calling the pro-Palestine protesters terrorists and attempting to shout over other speakers. They were removed by police to JSOM.