Hungry and tired after a long day of classes, three friends sat on the bus contemplating what to eat. Only then did they learn, a bit too late, about an event with free pizza on campus.
International students Sanjay Kurani, Abinav Kalidindi and Chandra Achanta channeled their frustration about the difficulty of finding affordable events on campus and came up with UNIBEES, a phone application to help other international students navigate UTD.
"UNIBEES is an application for students which will provide them information about all of the free events," said Kalidindi, a co-founder of the app and a finance master's student.
The application launched Aug. 18. Within the first 10 days, they gained over 1,300 users, surpassing their original goal of 100. As of Sept. 14, the app has 1,393 active users.
Achanta, co-founder and business analytics master's student, said the inspiration for the name of the application came from the way bees collect nectar and bring it back to the hive.
He said UNIBEES' function is similar in that it collects the "sweet" information on campus and brings it to students.
"Just like how bees collect nectar and store it in a beehive, our bees collect all the happenings in and around the university campus pertaining to free giveaways, deals and discounts, entertainment and store it in the app," he said. 
The inspiration for UNIBEES came from the difficulties the co-founders shared their first semester as international students, Kalidindi said.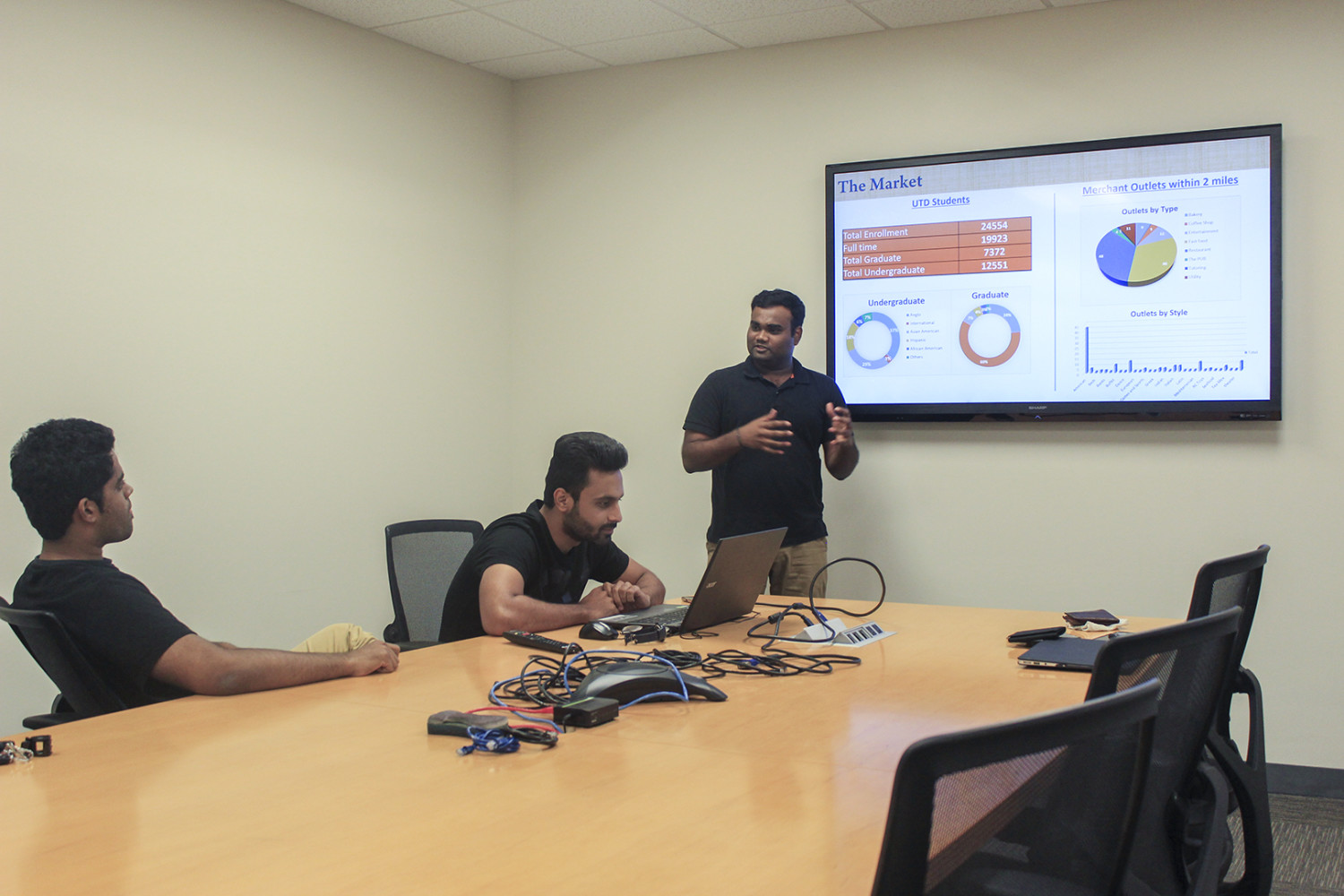 He said can be hard to navigate campus and the surrounding area while keeping a budget, which is why they wanted to create this resource for other students to use.
"Being an international student, we have a lot of financial burden because we pay out of state tuition and fees," Kalidindi said. "This app helps (students) to save a lot of money."
UNIBEES currently provides information in three categories: free, deals and entertainment. It lists on-campus events with free items, local businesses offering a student discount and concerts or movies.
The app also highlights exclusive deals the UNIBEES team secured with local enterprises.
"We directly approached vendors around campus and we told them that there is a huge market for them," Kalidindi said. "Most of the students coming for graduate studies are international students, which are not aware about the businesses around campus."
To put events on the application, they hand pick information from social media, the Comet Calendar and OrgSync.
"The quality of data might not be that good if it's a computer run program," said Kurani, a supply chain management graduate student.
To verify event information, they then call each organization to confirm the date and time.
"All the things that are in the app are verified events," Achanta said. "Whatever comes to UNIBEES, it is legit. You can trust us on that part."
Users can sync events from UNIBEES onto their Google calendars and can pin the exact location of an event with their phone's map application, Kalidindi said.
"The beauty of our app is if a particular student is an international student and he is new to this university, our app navigates the student to the location," he said.
While it only took them two months to create the app, Achanta said this did not come without complications.
Since all three of the co-founders are business students without a strong background in computer science, he said they hired an application developer to work with them on UNIBEES.

During development, they ran into some issues with time differences since their developer was in India. Their app was also sent back by Apple for re-evaluation when it had already launched on the Android system because it said "beta" on the landing page.
"Whenever we have an issue, we have to revamp our entire design and the developer has to do that too," Achanta said.
Ultimately, Kalidindi said the application fits their vision but they plan to add improvements like a point reward system and the ability for student organizations to add events by themselves over the coming months.
"Right now the app is vanilla and we are planning to put some sprinkles and some chocolate on it," Kalidindi said.
After talking with Jeremy Vickers, the executive director of the Institute for Innovation and Entrepreneurship at UTD, Kalidindi said they decided to join the Venture Development Center's incubator program to help their business grow.
The Institute for Innovation and Entrepreneurship created the VDC and it serves to help members of UTD create businesses, said Olia Bosovik, the assistant director of the VDC.
"Our mission and vision is to help companies started by students, faculty (and) alumni turn their vision into enterprise," she said.
Since coming up with the idea for UNIBEES last year, the business has grown with the implementation of a working app and an active user base.
"Looking at our progress, (Vickers) decided that we needed an office space, mentorship and resources," Kalidindi said.
Once UNIBEES moved into the office space in the Research Operations Center across Waterview Parkway, Kalidindi said the different types of businesses working in the space surprised him. He said research labs were located directly across from business desks, with people working on ideas from 3D printers to drones.
"The space is really nice and the beauty about it is that it has such diversity," he said.
As UNIBEES grows, Kurani said the team is looking toward expanding the application to other Texas universities by December 2017 to help those students find deals on their campuses.
"We feel that there is a definite need for such an application in other universities as well," Kalidindi said. "We are very excited for what's in store for us in the future."