Plano police officer Kevin Sasso confirmed on Friday what the friends and family of Christina Morris, the UTD alumna missing since 2014, have feared when talking about her search.
"I am looking for a dead body," he said.
As the trial of Enrique Arochi, the Allen man accused of kidnapping Morris in 2014, moves into its second week in the Collin County courthouse in McKinney, the actors and storylines in the disappearance are becoming clearer.
This much is already certain: On the night of Aug. 29, 2014, Morris and a group of friends, including Arochi, gathered at a friend's apartment at the Shops at Legacy in Plano before heading into the shopping center for a night of fun. After hanging out at a couple of bars, the group came back to a friend's apartment, where witnesses from that night testified nothing seemed out of place with Arochi.
Morris, however, seemed to be upset with her boyfriend, Hunter Foster. Although she had planned to stay at the apartment in Plano that night, witnesses say she changed her mind and decided to go to Fort Worth and visit Foster.
That's when she left the apartment with Arochi. Sasso said he believes Morris got into Arochi's car willingly, but he testified that at some point in the ride she gave up consent to be in the car.
Surveillance footage from that night shows the two walking through the Shops at Legacy back to the parking garage Arochi left his car in, even though Arochi told detectives he and Morris split up after leaving the apartment. Footage shows Arochi and Morris walking into the garage in the early morning hours of Aug. 30, 2014 and Arochi's Camaro leaving, but it never shows Morris leaving by herself.
Now, two years later, Arochi must wait for a 12-person jury to hear the Morris' story and ultimately decide whether or not he should be found guilty of aggravated kidnapping, a charge that can warrant a life sentence in prison.
Arochi, who sits at the end of the table on the left side of the room with the defense, usually looks on with a blank but attentive expression on his face as he watches witnesses take the stand. Collin County Prosecutor Zeke Fortenberry, who is currently calling in witnesses on the prosecution's behalf, is questioning almost anyone who had anything to do with that night: police officers, detectives, security guards and friends of Morris, among others.
Some of the testimony is purely technical, like that of the employees from Sprint and AT&T who came in to verify whether or not the phone records investigators obtained accurately depict the activity of Morris' and Arochi's cells from that night. Other testimony dives into the investigation, with everyone from security guards at the Shops at Legacy to lieutenants from the Plano Police Department detailing their work on the case.  On Friday, jurors got the chance to look at Arochi's Camaro, which has multiple dents investigators noticed appearedafter Morris disappeared.
Then there's the emotional testimony from the likes of Mark Morris, Christina Morris' father. As he testified on the first full day of trial, Mark Morris seemed a bit shaken as he answered questions from both the defense and prosecution about his daughter and whether or not she would walk alone at night or climb into the trunk of a car.
Mark Morris and Christina Morris' mother, Jonni McElroy, like a large chunk of Morris' immediate family who will be called to the witness stand, is forced to sit outside of the courtroom and wait as the trial progresses. For hours, he and other family members bide their time in the large, white hallways of the courthouse, waiting for any details on what's happening inside but restrained by their vows to not discuss the case.
The defense, led by attorney Keith Gore, takes their time with arguments, going over detail after meticulous detail to make sure they can portray their case in the best light possible. While the prosecution must prove beyond a reasonable doubt that Arochi took Morris away without her consent, the defense has to make jurors question whether  or not Arochi did it.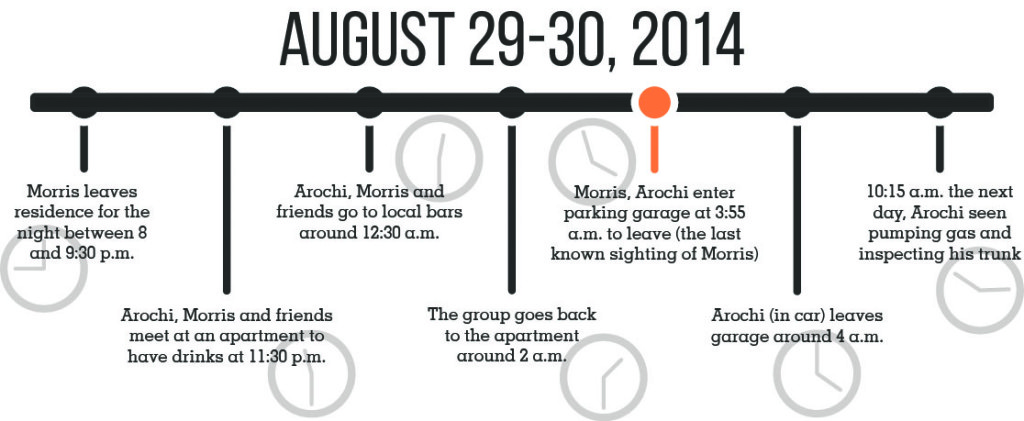 To do this, they're relying on some uncomfortable truths about Morris' history, like her relationship with Foster, who is serving a nearly three-year prison sentence on drug charges. Friends of Morris testified that she knew Foster sold drugs, as did the rest of her friends' circle. The defense has taken this a step further, claiming they can show Morris actively participated in Foster's illegal activity. This, they said, might explain her disappearance due to a drug deal gone wrong. They also have been throwing suspicion at Foster.
The trial is proceeding slowly. Spectators varying from extended family of Morris and Arochi to members of the press to curious onlookers fill the spectators' gallery each day, with every decision made by the judge met with silent gestures of victory or defeat.
There's likely no quick resolution to the case as the defense is still calling in witnesses for questioning. As everyone gears up for the next possible weeks of trial, however, the question still remains: What happened to Christina Morris on that now-infamous night two years ago?
Follow utdmercury.com for more coverage of the Arochi trial.