Each year, more than 1,500 international students arrive at UTD. As these students prepare to study in a new country, UTD's cultural student organizations prepare to welcome them and build an environment of home away from home.
President of the Indian Students Association, Vishal Keswani, said his organization helps nearly 700 international Indian students arriving at UTD each year. They focus on providing initial airport pickups and temporary accommodations in collaboration with the International Center at UTD, International Christian Fellowship, UTD alumni and current students.
"Our organization was set up with the mission of service before self," Keswani said. "Around 17 years ago, the Indian alumni came up with this idea (of setting up this organization) solely for the purpose of providing pickups and drops. It was a totally voluntary service and it still continues after 17 years."
Current UTD students assist the ISA in managing the large number of new students, and ensure they are completely settled before classes start.
Feng Zhang is president of the Friendship Association of Chinese Students and Scholars, assisting more than 300 Chinese students adjusting to life in the U.S. each year.
"Having lived in the U.S. for nine years, I am quite familiar with the rules … and I have the responsibility to help these students," Zhang said.
FACSS, with the help of the International Center and local church members, facilitate airport pickups and temporary accommodations for Chinese students.
"We also hold an event called the Local Help, which provides free transportation to new incoming students, which brings them to the mobile carrier store and bank branches," Zhang said. "There is one more event called the Safety Event. We invite three speakers; police officer, doctor and chief editor of life magazines to make presentations to discuss regarding safety and the law, house and medical care and life in Dallas."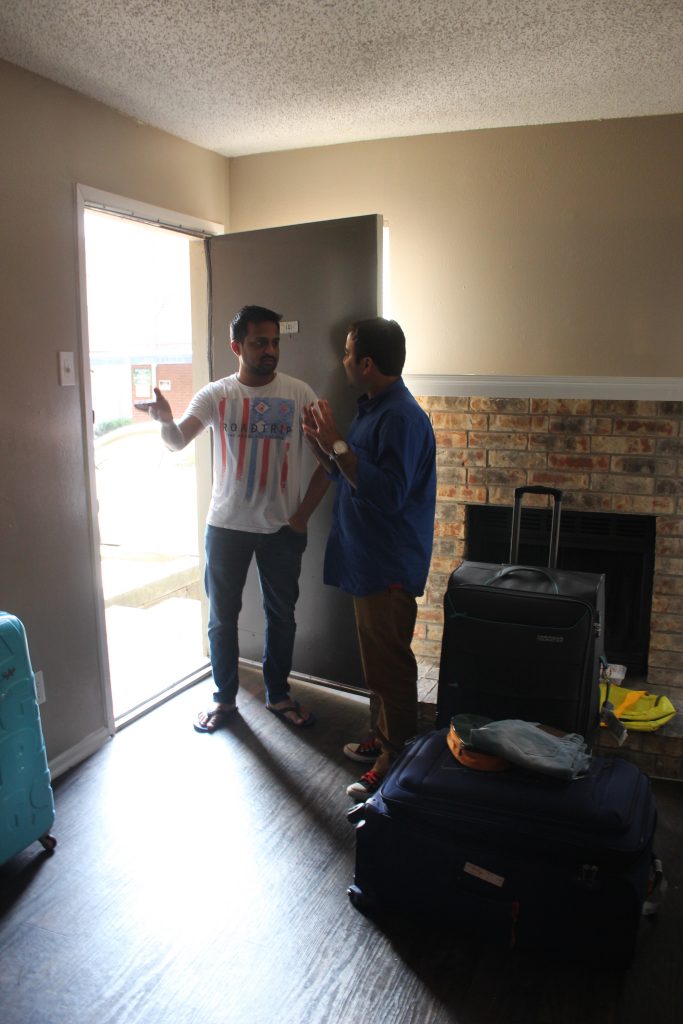 Jinchao Chai, a computer science graduate student, came to the U.S. in 2016 from China.
"I had already signed up for Local Help online. We just sign up there to tell when and where we arrive and how many of us arrive. (FACSS) connect us to the local church. They supplied a bedroom and the food. I lived there for four days. They helped me with everything, for the bank, phone number and took me to restaurants and supermarkets and helped me to move into my apartment," Chai said.
Chai is now a part of FACSS and handles their career development team, which helps Chinese students find jobs or lets them know about skills required for their career. He also volunteers to help out new students as part of FACSS' Local Help program.
"This is one way I get to know more Chinese students and the second is that I want to give back to their help. I want to thank them by supporting them," Chai said.
While Indian and Chinese students form a relatively large part of the international students arriving at UTD, Salman Kabir, president of the Bangladeshi Student Organization, said around 14 students from Bangladesh would be arriving at UTD this year. Each new student receives a mentor from the Bangladeshi Student Organization. These mentors ensure students are well aware of academic and on-campus opportunities.
"Whenever new students from Bangladesh come to UT Dallas, we try to engage them in on-campus activities that BSO does," Kabir said. "We also try to engage them with the external Bangladesh community so that they don't feel homesick."
Piran Vaharwala, an MBA student from India, arrived in the U.S. in July. He currently resides at a temporary accommodation provided by the Indian Students Association.
"It is not about what happens after landing (in the U.S.) because most of the anxiety is when you start from home. You don't know what you are going to do here," Vaharwala said. "The best part about what ISA is doing here is that you are already prepared, you know what is going to happen, you are assured that someone is going to come pick you up. You are assured that you will be given a lot of help in settling down. It is a great thing they do. It is a voluntary service they do and they don't expect anything in return except that we do the same things for the ones that come next year."