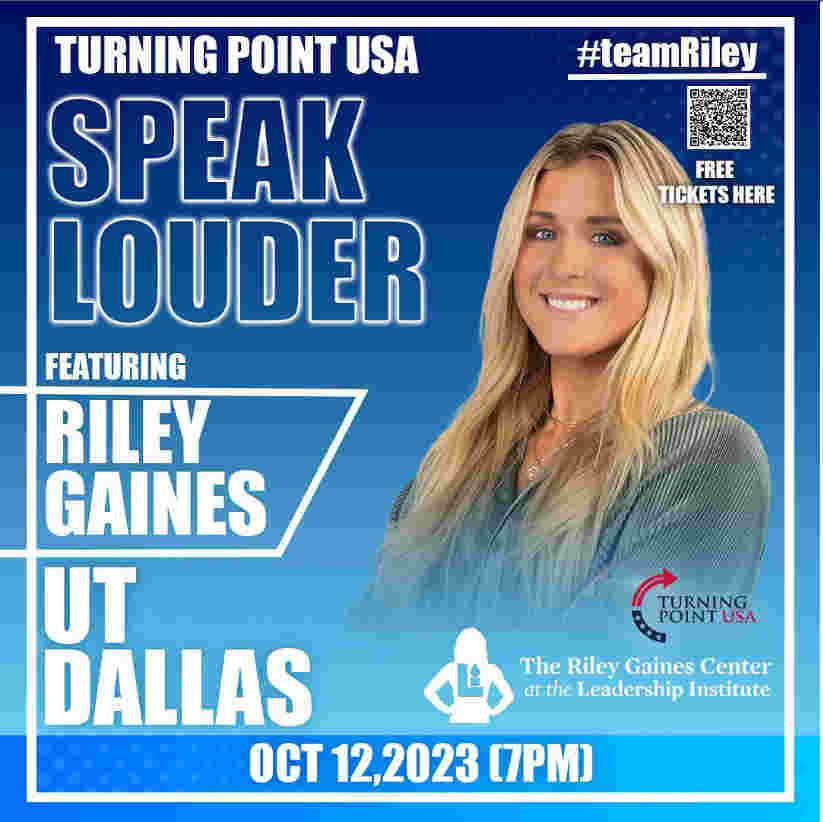 Turning Point USA hosted conservative speaker Riley Gaines on the night of Thursday Oct. 12, coinciding with the Galerstein Gender Center's event celebrating trans swimmer Lia Thomas, the swimmer who Gaines tied with, an experience that later became a focal point for Gaines' state and national activism.
Gaines, a former competitive swimmer, rose to fame after tying with Thomas for fifth place in 2022's 200-yard NCAA freestyle championship. In an Oct. 12 Instagram post, the Gender Center described Thomas as the "rightful NCAA Division I national champion." Thomas, a transgender woman, went on to win another event that season. Gaines stopped swimming competitively and became an activist with recurrent media appearances as a defender of "women's single-sex spaces" advocating for "safety, privacy, and equal opportunities," according to her website. In the past year, Gaines has spoken in front of Senate committees and appeared at protests and college campuses across the nation to advocate against the inclusion of trans women in women's sports. Bharat Nair, a finance senior and outreach coordinator for UTD's chapter of TPUSA, said Gaines was invited as a guest speaker with a less overt political focus.
"Riley was more about her explaining her story, how she had to face what she did in college … and making sure her story is being heard," Nair said. "All the people that came by, even they hadn't known her, so for the past two weeks we've been out at the Plinth tabling and promoting her event."
Around 180 people attended Gaines' speech, where she discussed her advancement in the NCAA, including her qualification for All-SEC Second Team in 2019 and 2020 as well as placing No. 7 in the 200-yard freestyle at the 2021 SEC Swimming and Diving Championships nationals. Gaines also told the story of her 2022 tie with Thomas and how she felt Thomas and other trans women's competition in women's leagues was unfair. Gaines spoke extensively about her opposition to changes to Title IX and her campaigning for "fairness in women's sports" bills, which have been passed in 23 states since 2020.
"Sometimes our side isn't heard as much, so we bring in speakers that speak on their experiences and how they're impacted," Nair said.
After TPUSA announced Gaines' visit to campus, the Galerstein Gender Center announced a concurrent event celebrating Thomas. At the Gender Center's event, attendees watched a group interview where Thomas and other trans athletes and activists discussed the hot political climate surrounding trans issues. Emails about the event emphasized that it was a safe space for gender and sexual minorities. Biomedical engineering senior Alex Mcspadden attended the Gender Center's Lia Thomas event and said they appreciated its presence as a safe space.
"They have a lot of resources, a lot of things that I can go to get help," they said. "They're a great way I can double-check things, make sure I'm still safe."
At least five attendees were aware of the simultaneous TPUSA event and conceptualized the Lia Thomas event as a "response" or "counter."
"They had one day where [TPUSA] were asking, 'Can men become women?' And all sorts of cringe like that," Mcspadden said. "And so, as a response, the Gender Center had tonight's event to make sure there was a safe space for trans people to come go to while this other event is happening."
15 people attended the Lia Thomas event, and attendees said they were grateful to the Gender Center for an event that centered trans experiences and focused on cultivating positivity. In the past year, TPUSA has hosted four other conservative speakers on campus, including Tomi Lahren, a Fox News contributor; this is the first time in recent years a university office has organized concurrent programming to a TPUSA event. Mcspadden said they believed that having concurrent safe-space events could reduce the risk of conflict.
Gender Center staff were unavailable for comment. Nair said that TPUSA was grateful for the Gender Center event, so "people who want to support that, they can."
"As long as everything is peaceful, as long as all sides of the equation are being heard, we're all good … It's a good thing UTD was sponsoring it too, that way it was very well organized, and I'm sure they did a very good job," Nair said.