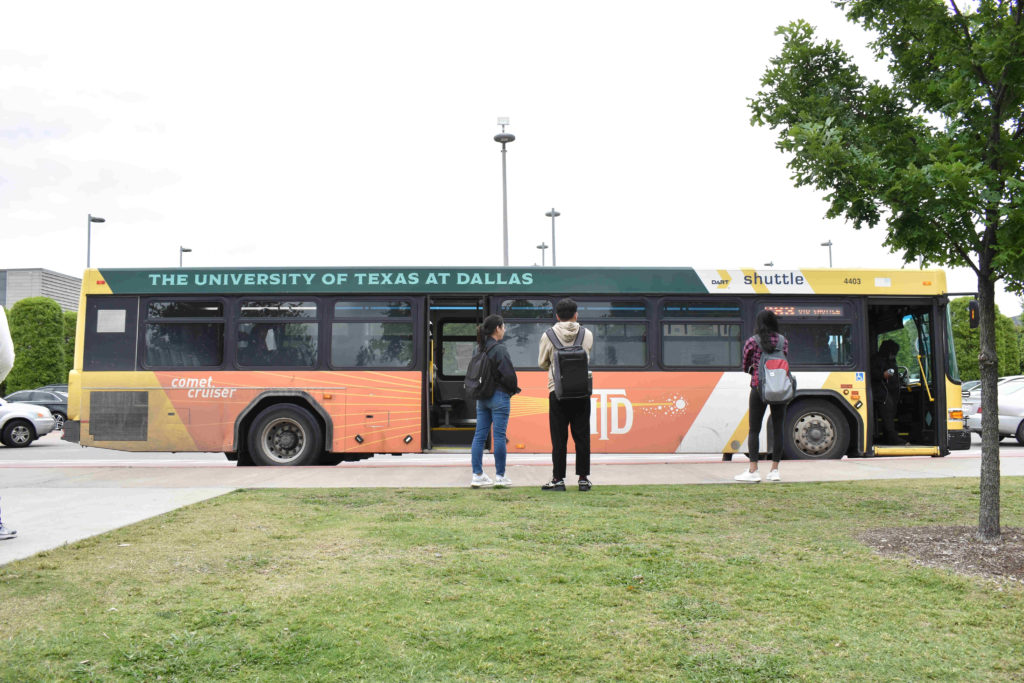 The Comet Cruisers, shuttle busses offered by DART, are a good way to get around the outskirts of campus to grab groceries or get dinner with friends!
Comet Cruisers are free and can be boarded by anyone in Richardson with no credentials needed. You can view the different routes the Comet Cruisers take on the UTD facilities website or on Google Maps. Make sure to thank your driver and let the people on the bus get off before you board.
The two main bus routes, 883 East and 883 West, are available all days of the week, and on weekdays the 883 East Express is also offered. 883 East connects campus to the Cityline train station, so if you have plans to go somewhere further out, take the bus to the station and save some money. The 883 West travels around north Richardson, passing several local stores including Tom Thumb and Target. It also travels to the Plano Super Walmart on Fridays and Sundays.
All the Comet Cruiser buses circle around their route but return to campus to pick up and drop off students at the Visitors Center.
On the bus route, be sure to check the stop closest to your destination and let the bus driver know when you are getting off. You can do this by ringing the bell through the button, pulling the cord by the window or by verbally asking the driver to stop.
Whenever you want to return to campus, walk to the closest 883 bus stop and make sure that you are being picked up by the Comet Cruiser. You can pick it out by its green and orange color scheme by day, or if it is dark, the bright panel on the front that says "883."
Comes Cruisers are a convenient access point to the city of Richardson and easy to navigate with the help of your cell phone. Visit Google Maps or the Facilities website for a route guide.