No matter how often you're warned not to judge a book by its cover, inevitably, you do. You are not immune to propaganda…propaganda being colorful graphics and a delightful decal edge. Fortunately, the beauty of "The Yiddish Policemen's Union" continues far beyond its surface.
In the 1940s, the United States Secretary of the Interior asked President Franklin Delano Roosevelt to host Jewish refugees in Alaska. FDR said no, because—well, that's how it goes with antisemitism. In "Policemen's Union," award-winning author Michael Chabom imagines a murder mystery set in a world where FDR granted that request and welcomed a thriving, Yiddish-speaking community to the northern territory, putting this book firmly at the intersection of thriller and historical "what if?" fiction.
While Alaska may seem like a bleak setting for a novel, Chabom's every sentence bursts with life, color and humor. "On a Friday night in season," he writes about a certain bar for example, "you can buy or sell anything from moose meat to ketamine, and hear some of the most arrant lies ever put to language." His sense of humor is immaculate, even in the snow-filled wilderness of Sitka.
With that icy backdrop, the main story's tale of murder and mystery pops like blood on snow. Literally: the novel begins with a dead body, and the only clues left behind are an abandoned game of chess and a fake name. Detective Meyer Landsman must navigate Sitka's cumbersome police bureaucracy, tight-knit community and deep religious history to solve the crime. On top of all of that, Alaska is soon due to take back its offer on hosting Jewish refugees from the war, an event called Reversion that sets a ticking clock on his time to solve the murder, save his job and get his hands on a visa. And the government is actively working to shut down the investigation. And his ex-wife is taking over the police department. Is it any wonder Landsman is in the midst of an existential crisis?
A reasonable person might give up, facing those odds. Instead, Landsman uncovers a buck-wild political plot and searches for the meaning of life in a desperate bid for redemption. Whether he succeeds in that last one is up to the reader's interpretation.
"Policeman's Union" keeps you on the edge of your seat—and sanity—with its perfectly-timed plot twists, not to mention Chabom's fantastic prose and use of figurative language. He's got this miraculous way of describing things that makes you both laugh and reconsider life, from a man with gray hair "all over his head, like beams of outrage in a newspaper cartoon" and "a voice like an onion rolling in a bucket," to describing a salmon as "that aquatic Zionist, forever dreaming of its fatal home…"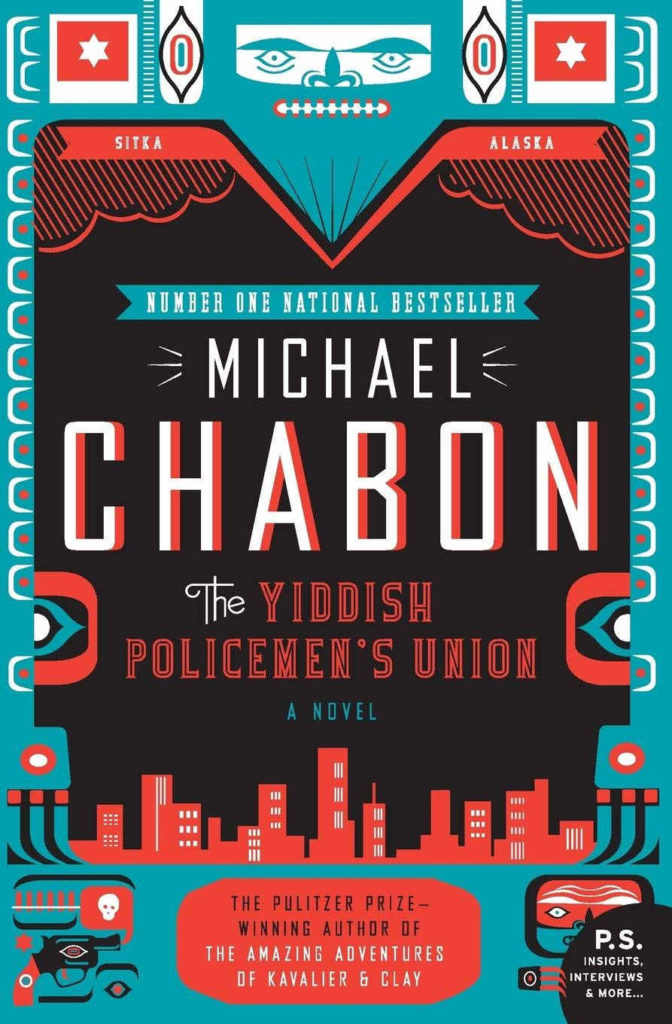 As that metaphor demonstrates, the narrative is steeped in references to Jewish culture and history; it's the breath and soul of the story. It remains accessible to outside readers, though, with a glossary in the back for real Yiddish and imagined Alaskan slang. Familiarity with Judaism is not required to understand the story but does add layers to it. Religion and generational trauma are key to the setting for obvious reasons, but also to the deeper message of the book's end.
The conclusion is fairly open. I'll admit, it isn't what you might expect from a typical police procedural. Much like the book's cover, it is enjoyable on the surface as a clever murder mystery; on a deeper level, though, it's a haunting investigation of redemption, salvation and everything that entails, which is something that will stick with you far beyond its last nicely-textured page.
Don't worry—the murder is successfully un-mystified. It just raises many, many more questions in its wake that will leave you wondering at three in the morning on a school night. As long as you're careful not to rush through the story in search of answers, you'll thoroughly enjoy this read. Take your time to enjoy the scenery—which isn't hard to do, with lines like "Every generation loses the messiah it has failed to deserve" along the way. Like, c'mon! That cooler than Alaskan frost.