Originally Posted October 13th.
A student was temporarily detained after interrupting a post-sermon drag show in the SU green on the night of Sept.12.
Economics freshman Kyle Randle was taken off-site by UTD PD after disrupting a sermon and drag show hosted by the Synergy Wesley Foundation. Halfway through the performance, Randle began shouting that the event was "not Christ-like." In response, the crowd booed Randle as "Move B*tch" played on the speakers, and organizers tried to prevent further conflict. Isaac Simmons–who performs as Ms. Penny Cost and is a candidate for ordained ministry in the United Methodist Church–then performed "You Can't Pray The Gay Away." After further discussion with Galerstein Gender Center Director Matthew Winser-Johns and a responding police officer, Randle was detained on-site away from the event. The show continued without further incident.
Simmons is the first drag queen and gay individual to be certified as a candidate for ordained ministry in the United Methodist Church and was invited to preach at UTD to celebrate National Coming Out Week. At Wesley's event, Simmons delivered a sermon about the androgyny of the biblical figure Joseph and how people should not be afraid to speak up against injustice. Afterward, Simmons said that they hoped to show that anyone should be able to preach.
"I come and I preach to be like, the pulpit belongs to all people," Simmons said. "And if a drag queen can be in it then anyone can be in it. So that's why I'm here."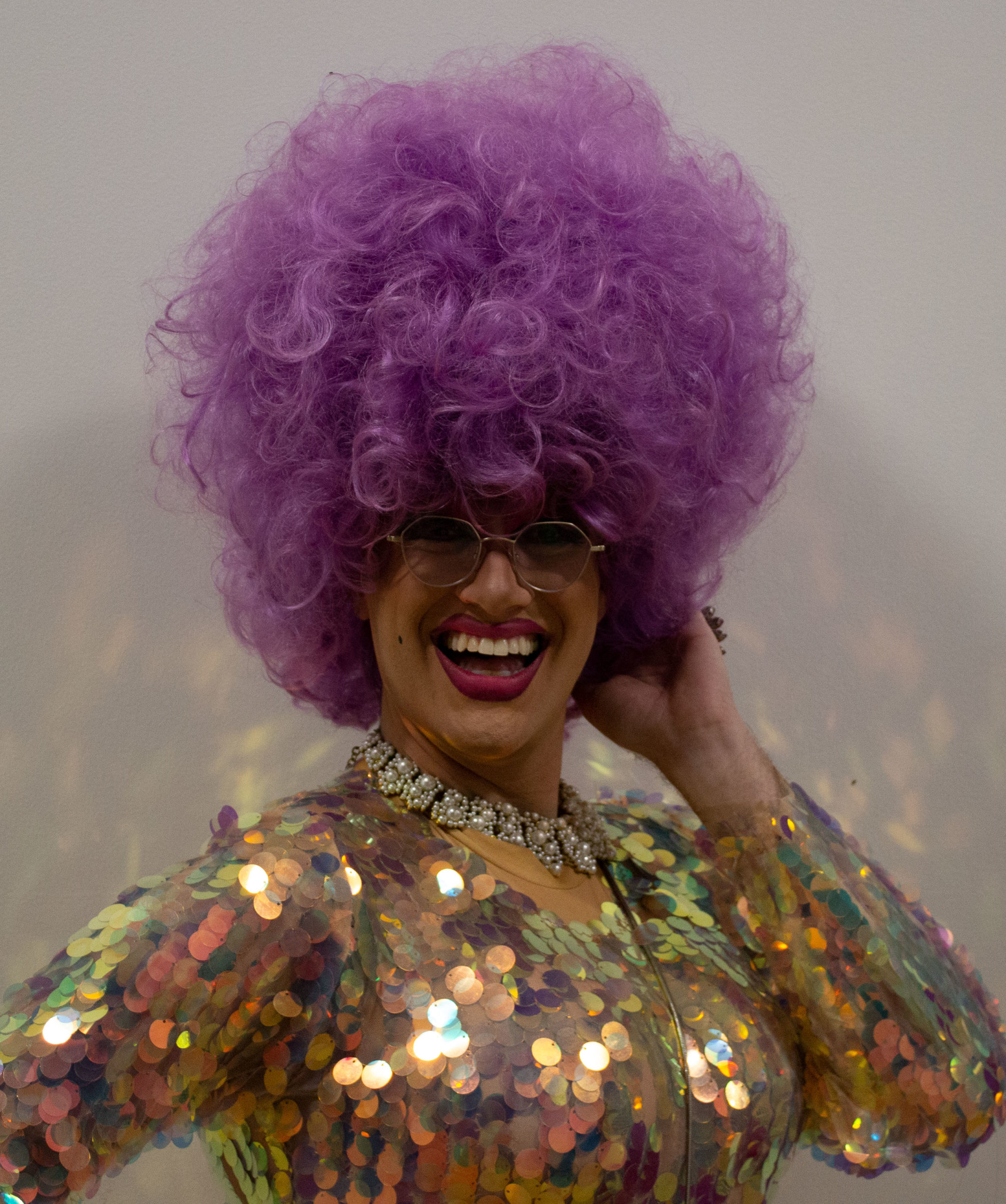 Isaac Simmons
Sebyul Baik, a literature senior and vice president of the Synergy Wesley Foundation, said that the group had concerns about the show because of recent protests at drag events. In addition, Simmons had received negative press online, as they were featured on conservative podcaster Matt Walsh's show on Oct. 11. Walsh criticized the presence of drag queens in Christian services, shared one of Simmons' performances of slam poetry and referred to their ideas as "cheap blasphemy" and "heretical nonsense." Wesley had originally planned to hold the drag show at Northside but moved it last minute due to safety concerns.
"The Matt Walsh show, they have a lot of listeners, and that happening the day before our event," Baik said. "We were really worried about the possible negative press of the name being more recognizable. And we already weren't really advertising the event online, but just to be extra safe, we decided to move it farther inwards toward campus to SU green. The last-second change was only made possible because of support from the Gender Center."
Baik said that while organizers were nervous at the start of the event, they became more comfortable until the end of the show, when Randle's interruption began. Baik said that they tried to guide the audience's attention away from Randle and keep the event moving.
"From the leadership perspective of things, I think that we handled it really well, and I was really surprised at how well our whole team dealt with things," Baik said. "We tried really hard to redirect the energy from being super angry or from engaging with him much. We tried not to let people yell back too much, we tried to keep the mood light, kept going on with the show. Chanted, did fun things, kept cheering."
Randle and other students came to watch the event after hearing Christian music. After listening to the sermon and seeing the subsequent drag show, Randle walked to where the performers were preparing to dance and spoke to the crowd.
"I go in the middle of the event and I say, 'This is not Christ-like,'" Randle said. "'This is disordered, perverted, it's not right what's going on here, especially combining it with perverted readings of the Bible."
Winser-John said that he took Randle aside in order to prevent either crowd members or Randle from getting hurt and to stop any potential conflict. Once he realized what Randle's opinions were of the event, Winser-John said he continued to try to defuse the situation so the event could continue without interruption.
"My efforts to defuse the situation were not being respected or honored," Winser-John said. "And campus police were called by somebody, not myself, but I did ask the student protester several times 'I don't want you to be detained, I don't want that for you.' He was asking me and everyone around him to be detained, which I told him I did not want to happen. I felt like this could be solved in a better manner than that."
After campus police arrived, officers continued to talk with Randle alongside Winser-John, but ultimately detained him away from the main event area. After the event, ODEI Communications Manager Alexandra Pirkle said that while students are entitled to their opinions, there is a line between behavior that is acceptable and behavior that is not.
"When it crosses that line into causing harm, that's when intervention is required," Pirkle said. "When the opinions exist on their own, that's a totally separate story. But it's when that line is crossed into being, in a way, inflicted on another person, that's when action needs to be taken, in our view."
Simmons and the other XAI drag performers finished the show after the interruption, and Simmons said they danced to show that they were ultimately unaffected.
"There's nothing people say that is new," Simmons said. "Queer folks have heard it all. It's the air we breathe, the society we live in. So, what better way to celebrate, then, by dancing? In the queer community, there's such an emphasis on dancing, on enjoyment and on just pure joy. And so that's the heart of drag for me, and that's what I hope to do in churches. And that's what we're doing with the protesters here. No matter what anyone says, we're gonna be ourselves and we're gonna have fun while doing it too. I believe that the divine is a being that is joy-filled and loves to dance, so why not emulate that?"