Winter has fully arrived, and like many others, I've been seeking solace in food to deal with the cold. After moving to Dallas, I desperately sought out the perfect meal to keep me warm and fill me up, and I quickly found that a big bowl of phố fit the bill perfectly.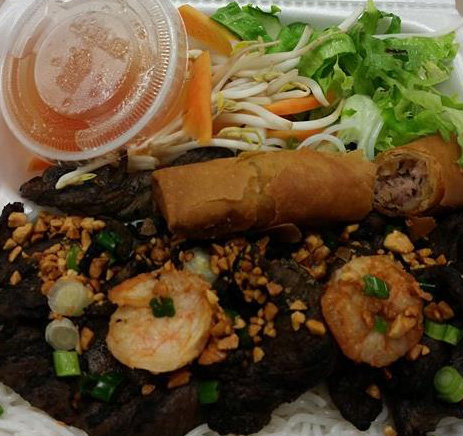 For those unfamiliar with this dish, Vietnamese phố is a traditional noodle soup usually made with either beef or chicken broth, that has long been a popular street food, and even breakfast food, in parts of Vietnam. Thin cuts of various meats are cooked in the hot broth of the soup, along with rice noodles and veggies like onion, cilantro and bean sprouts. Its popularity has grown exponentially here in the U.S. as the large portions and fairly cheap prices are any college student's dream, and Richardson is no exception. At last count there were at least ten phố specific restaurants in our town with many more Vietnamese and Asian restaurants throwing their hats in the ring as well.
Of all of these, one specific restaurant, Phố Truong, rises to the top.
While hidden in a shopping center off Arapaho and Custer, it has quickly become my personal favorite spot to kick back and slurp down some noodles. The place is quiet and in a dozen visits I've rarely found it packed making it ideal for dates or impromptu group outings. You also get plenty of attention from the friendly staff, headed up by the more than pleasant owner, Mai, and her brother. They make sure to remember their regulars, which just makes me want to keep on coming back for more.
After you've taken in the chill atmosphere and large menu, take my advice and get the fried egg rolls. Perfectly fried, these rolls are crisp and delicious with an especially meaty filling that has made it stand out from the many others I've tried. They wisely kept the appetizer section tight, going for quality over quantity which is a big improvement over places like Zenna's with 30+ starter dishes to choose from. Here, you can't go wrong with any of them. Not a fried person? Grab some freshly-made spring rolls. You've got shrimp, pork and tofu to choose from.
In case you get too eager starting in on those egg rolls, make sure to order one of their divine smoothies. I know it sounds weird at a Vietnamese restaurant, but these smoothies are a rich and fruity contrast to the hot broth of your soup. They're good enough to order in the winter and for me to say that is really something. You can't go wrong with mango, but expand your horizons and try the jackfruit as well, and of course it's your choice whether to add tapioca bubbles or not.
A vast selection of entrees makes it a great meal. Non-soup highlights include their large portion of well-seasoned fried rice and the standard lineup of fresh vermicelli bowls and bahn mi. But what you're really here for is Phố.
That's why you go to a place like this. Flip that menu to the back and find the list of options of meat choices. Fear not at the mention of beef and fish balls, they're simply a Viet style of meatball made smoother with pulverized meat. Once you have your specific soup picked out, you're set! One tip for newbies, you might think you can take on that extra large size, but you've been warned! The smallest size available, the large, is more than enough for even experienced phố eaters.
Lastly, vegans, rejoice! Phố Troung has not forsaken you. When it comes to finding good vegan phố, it can be difficult but believe me, this is your place. Sure enough you have your own section of the menu that includes a hearty veggie version of the traditional phố.
Now that I've given you the full rundown on the best Phố in Richardson, take a break from class and give it a try. You won't regret it.