Manny's Uptown Tex-Mex Restaurante offers upscale menu items, decent food
Located on the intersection of Coit and Campbell, Manny's Uptown Tex-Mex Restaurante made its debut on Aug. 1.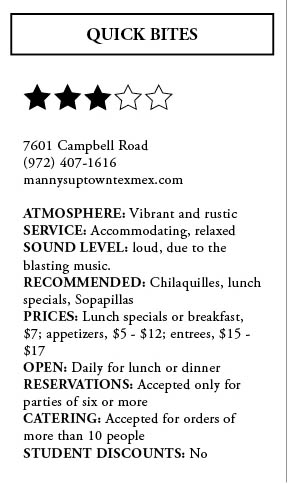 The food selection is diverse and breakfast is served all day, but toast and drinks are conspicuously missing from the menu.
For those who prefer their salsa to have a kick, the restaurant offers fresh, homemade spicy salsa with chips as complimentary appetizers.
Chilaquilles, a popular breakfast option recommended by the server, are composed of savory scrambled eggs with tortilla strips, bell peppers and onions — all sautéed to the perfect chewing consistency. But, the sides included bland roasted potatoes and boiled beans.
The C.H salad consisted of a mountain of lettuce with a few cucumbers and tomatoes, topped with a large onion ring served with grilled beef fajita and ranchero sauce. The beef was full-flavored with spices and well done.
Manny's sopapillas were warm, little pillows of bread sprinkled with cinnamon and sugar crystals. The honey syrup used to glaze the puffed bread complimented the pastries.
The restaurant's style borders between rustic and retro with lively Hispanic music greeting customers upon entrance. It feels energetic with southwestern-style aesthetics and vibrant artwork scattered throughout the restaurant.
There's an outdoor dining area, which creates a natural garden atmosphere and allows for a pleasant dining experience for those who like the summer weather. It's an excellent place for a family outing or for students to mingle after class.
The service was excellent except an instance when the server disappeared for some time, but overall, the staff is friendly. They'll accommodate dietary needs by removing cheese or recommending vegetarian options.
Additionally, the restaurant provides catering and delivery options for groups of more than ten people.
Overall, the menu feels slightly too upscale for the offerings since the taste is mediocre, but the nice ambiance, energetic atmosphere and great service makes Manny's a good option for a casual outing.