Search committee recommendations are in, selection announcement imminent
After a final round of mid-August interviews with UTD police employees, student leaders and members of the search committee chaired by Vice President for Student Affairs Darrelene Rachavong, UTD will soon have a new chief of police.
From an applicant pool of more than 40 of three candidates, the field has been narrowed to three: retired Richardson Police Chief  Larry Zacharias; Asst. Chief of UT System Police Michael Tacker, who is Interim chief at UTD; and Adam Garcia,  Director of Police Services at The University of Nevada in Reno.
Vice President for Business Affairs Calvin Jamison will make the final hiring decision as to who replaces former UTD Police Chief Colleen Ridge, who resigned May 11 while on administrative leave pending investigation.
The following information about candidates was provided to groups that participated in interviews or came from candidates' statements. They are listed in the same order as the scheduling of their interviews.
Larry Zacharias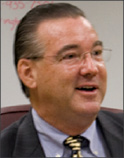 Zacharias graduated from Thomas Jefferson High School in Dallas before attending Sam Houston State University in Huntsville, Texas. There, he was the first junior elected president of the university's equivalent of Student Government.
Larry Zacharias joined the City of Richardson Police Department in 1977 as a patrol officer. In 1993, he was part of the 224th graduating class of the F.B.I. National Academy.
He became chief of Richardson's police department in July 2002 and has served as chair of the Texas Police Chiefs Associations Legislative Affairs Committee.
Zacharias said he retired from Richardson because he had achieved his goals for Richardson's police department and wanted to begin a second career instead of retaining the city's chief title indefinitely.
He'd discussed his interest in working at UTD with his wife years ago, he said, and has put another job offer on hold until the outcome of UTD's selection process is known.
A Leadership Team that confers on major departmental decisions is at the core of Zacharias' plan to take UTD's police department in a new direction.
He implemented a similar team structure at Richardson's police department.
Michael Tacker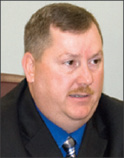 Between 1989 and 2005, Tacker rose to the level of detective sergeant at the Odessa Police Department after graduating from Odessa High School.
In 2005 he became Chief of Police at UT Permian Basin and in 2007 became Assistant Director of UT System Police in Austin.
Tacker earned his bachelor's in criminal justice from UT Permian Basin in Odessa, Texas in 2008. He is currently enrolled at Mountain State University, where he's studying strategic leadership and is slated to complete his master's in March 2010.
In Odessa, Tacker worked in investigations ranging from forgery to homicide, he said, including high-profile cases that included a sizeable prostitution ring bust, and another that led to convicting members of a violent white supremacist group. As assistant director of UT System Police, Tacker oversees training at the System's Police Academy in Austin.
Tacker said he believes university police need to be community service-oriented and that a chief sets the tone for the department.
Adam Garcia
Garcia completed a bachelor's in criminal justice from Saginaw Valley State University, where he also earned master's degrees in criminal justice and political science. He's currently pursuing a doctorate in public administration at the University of Nevada.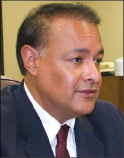 Garcia started his law enforcement career in 1983, serving as a police lieutenant at the City of Saginaw in Michigan until 1998. That year, he became director of public safety in Center Line, Michigan. He has been director of police services at The University of Nevada, Reno since 2001.
Between 1998 and 2001, he was a faculty member at Delta College in University Center, Michigan.
Garcia said serving students is the main purpose and primary reason for campus policing, meaning police need to be visible at events and on campus, rather than functioning as a response agency.
Garcia said each police employee must serve as an ambassador for the department's values, and that hiring people who want to buy into the idea of service-oriented policing is key.
Watch www.utdmercury.com for updates and announcements on this story.