A 24-year-old man has been arrested and charged with aggravated kidnapping in connection with the disappearance of alumna Christina Morris, who has been missing since August.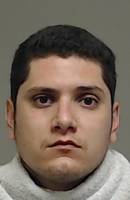 Plano police arrested Enrique Arochi early on Dec. 13 at his home according to public information officer David Tilley. He said the police carried out search warrants on his house and car after the arrest. Arochi's car was later impounded, and he is currently being held at the Collin County Jail on a $1 million bond.
Tilley said the police made the arrest after DNA samples found in Arochi's car in September helped to connect him to the disappearance of Morris.
Morris, who graduated from UTD in 2013, was reported missing on Sep. 4 after last being seen at the Shops at Legacy on Aug. 30. Surveillance footage showed a man later identified as Arochi walking Morris to the parking garage in the shooping center that night. Arochi was also charged with interfering with the investigation in Nov. when investigators found several contradictions between statements made by Arochi and evidence they had.
Tilley said there are no other suspects at this time. He said the case has taken top priority for Plano police, who have assigned multiple detectives to finding more information about Morris.
"We're committed to finding her, determining the cause of her disappearance and bringing the person or persons responsible to justice," he said.
Anyone with further information on Morris' disappearance or whereabouts can contact Plano police at 972-424-5678
UPDATE: 380 District Court Judge Benjamin Smith denied a request on Jan. 15 from Arochi's attorney to lower his bond or dismiss the case after testimony from Plano police.
Police revealed they found Morris' DNA on Arochi's trunk mat in his car. They also said there was more than just trace amounts of Morris' DNA in his car.
There has not been a date set for a grand jury to hear evidence in the case.
The search for Morris is still ongoing.