Student musician releases EP
By day, Justin Mills works with numbers as a mathematics senior at UTD. But some nights, he trades the calculator for an extra-long banjo and takes the stage as one-man folk outfit, Levees.
With the help of fellow mathematics senior Molly Harras, Mills' unofficial manager and girlfriend, Levees has been producing music since the summer of 2018. Prior to that, Mills performed under other stage names.
The two met in 2015 during their freshman year at UTD. Harras said it was the banjo that brought them together.
"Our PA learned that we both played banjo and encouraged us to meet," Harras said. "It was my roommate who finally brought Justin over."
Harras said she's been able to live out her "banjo dreams" through Mills.
Alongside Harras' banjo, it's easy to see why Mills refers to his Deering Long Neck as "ridiculously long." The bodies are the same, but Mills' banjo boasts about an extra foot of fingerboard.
"If I swung around really fast without looking, I might take someone out," he said.
Yet in Mills' hands, the large instrument seems to fit perfectly, nestling comfortably against his chest.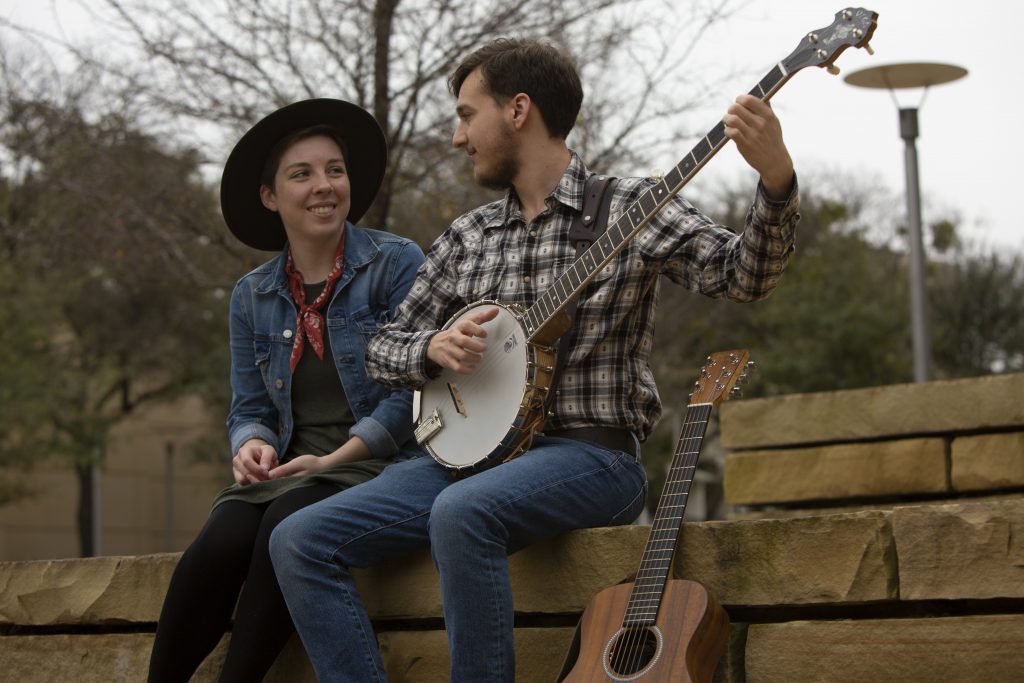 The long-necked banjo has a range that is more closely suited to the male vocal reach. Legendary American folk singer Pete Seeger was rumored to have commissioned the first long-necked banjo shortly before being deployed during World War II. Instead of the G-tuning of a standard banjo, Seeger's banjo was tuned down a minor third to E.
Mills said he was initially leery of the banjo for its "old-timey" reputation.
"A lot of people say they can't stand the banjo," Mills said. "But I've had people come up to me and say, 'I usually don't like the banjo, but I like what you're doing.'"
Mills said he approaches his music like he's telling a story. There's a whole universe of "slightly broken people" wandering around in his lyrics.
On Levee's newest EP, "The King of Lean Cuisine," Mills taps into this talent. On the titular track, he is transformed into an off-the-clock grocery store cashier who dumpster dives for TV dinners. In "Candles," he's a stunned kid in a gas station watching in morbid fascination as a friend bleeds out after an attempted robbery.
"I had someone come up to me at my last show and ask me if it was real," Mills said. "I just laughed."
Most of the time, Mills' voice is strong and clear, a refreshing foil to the lilt of his banjo. But every so often, there is a note of desperation in his youthful confidence. Occasionally, Mills ornaments his voice with little trills.
For Mills, there exists no barrier between his own memories and someone else's. In the song "False Memories," Mills utilizes his storytelling talents to unmask his own childhood.
"There are images that I could summon that feel like memories. They're bright and blurry and feel like memories. But I know they didn't happen," Mills said. "They're so immutable to my image of childhood (in DeSoto) – I'm like, 'Ah!' That definitely could have happened to me."
Mills said he has a phantom memory of biking the length of one of the pylon trails that snake through the metroplex. In Richardson, there's a similar trail that runs along Meandering Way.
"I know I never did that," Mills said. "But there it is, vivid as ever."
Mills said his sound is still evolving. He takes cues from lyric-rich groups like AJJ, formerly Andrew Jackson Jihad, and The Mountain Goats, but already, Mills has managed to incorporate a substantial amount of his own background into his music.
Part of the growth of his sound comes from the name. Mills has had several names in his years playing music, but after releasing his "Salt Water River" album, he felt it was time for a change.
"It was something like 'Bear Fist' or 'Bear Gun.' Just like, somebody could be so cool with this band name, but it would not be me," Mills said. "I'm a fake punk all the way."
Mills and Harras eventually settled on Levees. It's a local reference to the levees that hold back the Trinity River floodplain near Mills' hometown of DeSoto, a suburb in South Dallas.
"If you go to the levees on the southern side of Dallas along the river, it's the best place to see the skyline," Mills said. "That's where I've had some of the most memorable experiences. It's floodplain culture."
In "Salt Water River," the listener finds their way through a sweeping soundscape. Sometimes, it's watching the landscape change from the open door of a boxcar or running barefoot on hard-packed dirt.
Dallas is a city built on a crossroads. Even in Richardson, the distant roar of a freight train can sometimes be heard, passing through the night. To some, Mills said, it's like a siren song.
"It's this intoxicating taunt that I think some people have and some people don't," Mills said. "There's this urge to just drop everything, get on the nearest vehicle and leave."
Harras and Mills both said while they've both felt that urge to leave, the feeling seems to have mostly passed. Harras said the looming transition from school to a nine-to-five job has been on their minds the past few months.
Levees will continue to live on as a side project. Mills said they plan to maintain financial security before jumping in head-first. For him, listening to a lot of older musicians has helped to put things in perspective.
"I feel like I have a lot more time than I did a couple years ago," Mills said. "I was like, 'In two years, I gotta be on this music thing, or my whole life is going to be ruined and I'll be throwing away my dreams to corporate America.' But that's just not how it works anymore."
Both Harras and Mills will graduate this May and expect to accept jobs as data analysts for the same oil and gas company.
In Dallas, the Trinity River floods may come and go, but with any luck, Levees, like its namesake, will be around for a while.