Aromatic food stalls, pounding music and cheering lit up the Plinth on Thursday Oct. 12 at Students for Justice in Palestine's annual poetry night fundraiser. More than 200 people attended at the event to unite with other students and discuss the Palestinian struggle.
With recent conflict in Gaza, the Plinth steps and stage were swarming with Comets who showed their support by wearing the keffiyeh, the traditional Palestinian headscarf. SJP raised over $2,000 for the Palestinian Children's Relief Fund by selling traditional Palestinian and Middle Eastern foods such as muhallebi, warbat, and shawarma while students performed powerful prose of living in diaspora and wanting to return to their homeland. Poems and performances centered on justice and solidarity,inaugurated by an opening speech calling on the U.S. to withdraw support from the Israeli military, speaking out against colonialism and apartheid.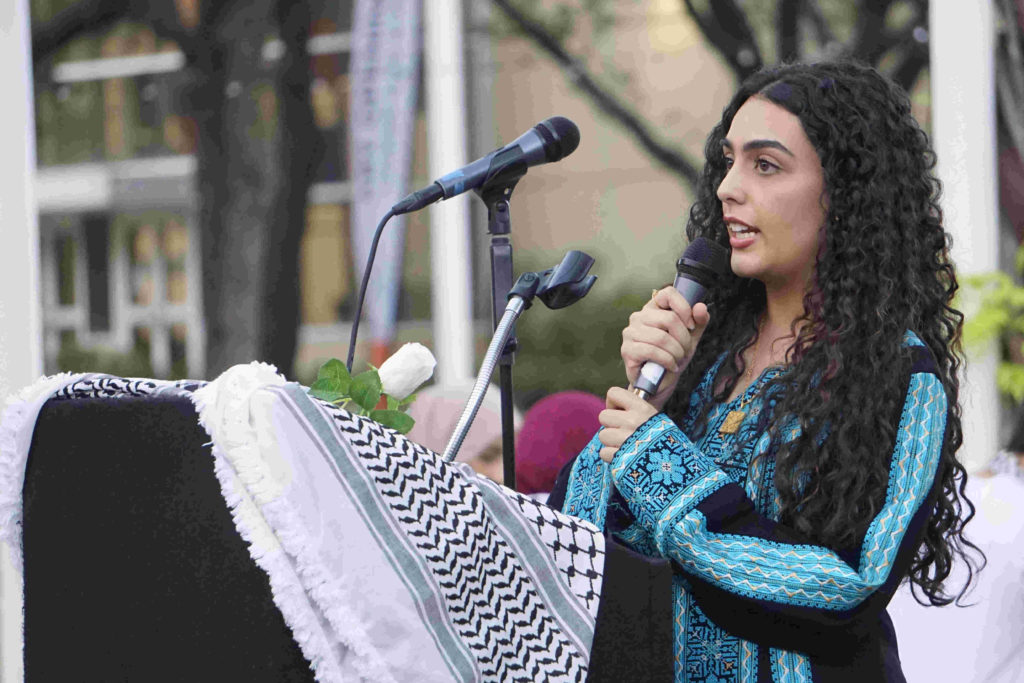 "We're here to listen to poetry, mostly by Palestinian people … it's meant to give them a voice," Psychology junior Dena Salem said.
This year's poetry night was not planned to fall during the current contentious geopolitical climate. SJP plans each poetry event months in advance to accommodate vendors and performers. The recent events, however, motivated students and community members to discuss the conflicts that worsened through misinformation on social media. Performances discussed experiences of oppression from around the world, focusing on a call for unity.
"A lot of people come here already knowing what to expect, but for the people who wouldn't … a lot more empathy, a much bigger heart for the people who are struggling," Salem said.
Yazan Natsheh, a Palestinian community member and former UTD student performing at the event, said his inspiration for carrying on his culture was his mother, and that his poetry represents the children robbed of their childhoods due to the decades-long conflict.
"My performance mainly speaks to the lifetime of displaced Palestinians," Natsheh said. "I've taken a lot of personal remembrances of my journey, going in and out of Palestine … Even though I was born there, I'm considered a tourist. I'm not human, in a way. I'm just passing through these lands."
The event lasted over two hours, featuring performances in multiple languages, before concluding with upbeat music and dancing. Attendees could drink tea, purchase food and buy cultural items, but the festivities never overshadowed the atmosphere of solidarity. Nearly everyone in attendance was wearing a keffiyeh, a traditional Palestinian garment worn on the head, face or shoulders that is said to symbolize olive trees and fishing nets, keystones of Palestinian cultural pride. The checkered black-and-white cloths created a unified sea in the crowd.
"Remember the people here … are just human beings struggling," Salem said.