After a year-and-a-half hiatus, food trucks are back on campus!
If you see a crowd gathered outside the Student Union between 11 a.m.-2 p.m. on a weekday, they're probably getting lunch from the day's lineup of food truck partners. With 11 different trucks on rotation, food options range from egg sandwiches and boba to pizza and even Asian-Cajun fusion.
Michael Luttinger, owner of the food truck Eggstand, has been serving at UTD for about three years. The truck serves all kinds of sandwiches—ranging from burgers to a spinach grilled cheese—but the unifying theme is that each one comes with a fried egg. He says the inspiration came from seeing something similar during business trips to the west coast.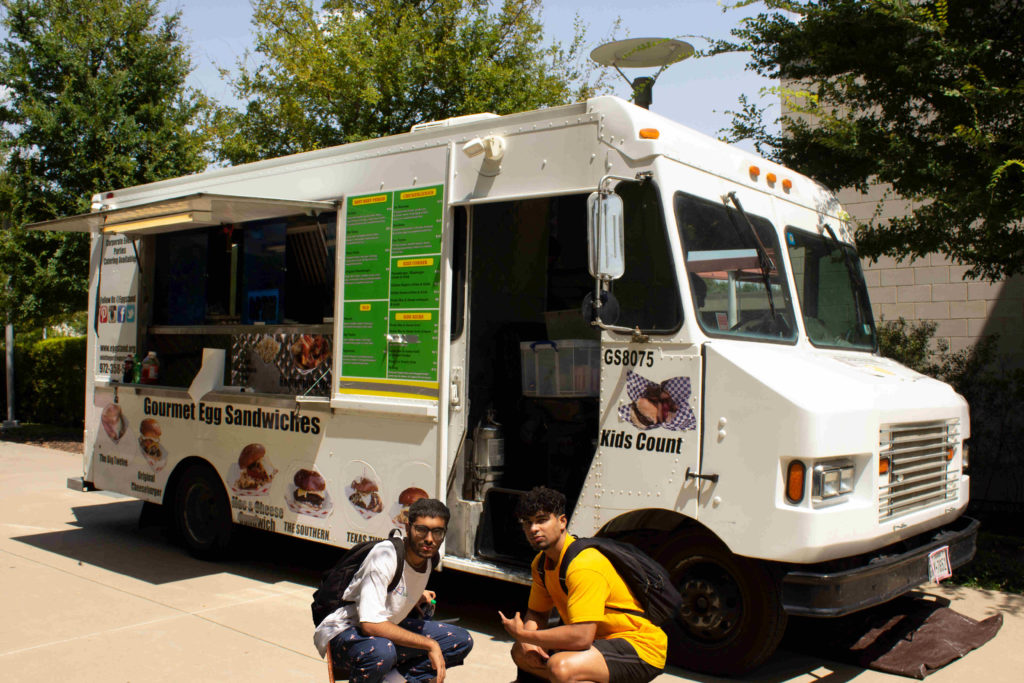 "I started this truck about five years ago after being in sales management, where I was traveling the country three weeks out of the month. When I saw something similar on the west coast, I just knew that I could get into the business," Luttinger said. "So, I came up with the idea and put basically the entire menu together in the middle of the night because I knew eggs were a hot commodity, people love them and they're healthy."
Interestingly enough, it was at the behest of Comets that Eggstand first got involved with UTD's Food Truck program.
"I had a lot of the kids coming to events, or when I was serving food at apartment complexes and they kept asking for me to come to campus," Luttinger said. "So, we figured out how to make that happen, and now we're excited to be back in 2021. I love it here. I don't know how many trucks give away free drinks with their sandwiches for lunch, but we do. We appreciate the opportunity to serve here, and we want to give back something to the students."
By all accounts, the food trucks' return to campus has been met with enthusiasm at every turn. Bobaddiction manager Jailine Chavezran food truck operations at UTD in 2020, up until the disruption of the semester. Regarding the turnout last week, she said:
"This is our first time this year, and I'm very impressed with the crowd that we got. We were not prepared to have crowds as big as we did last year, but man I had a line going all the way down Food Truck Alley. I was so surprised; I thought it was going to be super dead, but looks like people love boba."
This surge of business is a welcome transition from operations during the pandemic. Both Chavez and Luttinger noted the difficulty of driving business in a food truck when large groups are out of vogue.
"During COVID, we weren't doing a whole lot of food truck events," Chavez said. "A lot of weddings and events like that were canceled, so business was basically just run out of our storefronts."
Luttinger, meanwhile, got creative with the places that Eggstand provided service, saying:
"We served home developments, apartment complexes and some of the businesses that were bringing in lunch for the few employees that were coming into the office. Mostly, we took it one day at a time."
If Wednesday's line of students was any indication, Luttinger won't be needing to take Eggstand back to apartment complexes anytime soon. It remains to be seen whether the students or the food trucks are more excited about the program's return, but either way, food trucks on campus are a win-win. As Chavez put it:
"Thank you to everyone for welcoming us back on campus! The administrators are super helpful, the students are so nice, and we are very excited to be back … the tips have been awesome, and we love you guys so much!"