Locally made goods sold at Four Seasons Farmer's Market in Richardson
Every Saturday at 9 a.m., dozens of tents pop up and form a snaking U shape in a large parking lot on the corner of Floyd Drive and Campbell Road, just five minutes away from campus.
Customers pull up in the parking lot and hop out of cars, eager to begin meandering through stands chock-full of locally made goods.
The marketplace smells of freshly made tamales. The tents selling inedible goods are covered with splashes of color from homemade quilts and jewelry and clothes. Somewhere, a man's voice booms out, pushing a customer to take advantage of his two-for-one deal on pastries.
The Four Seasons Farmer's Market opens for business as local vendors hang signs, arrange tables and prepare to greet visitors with smiles and free samples.
The Cowgirl Whey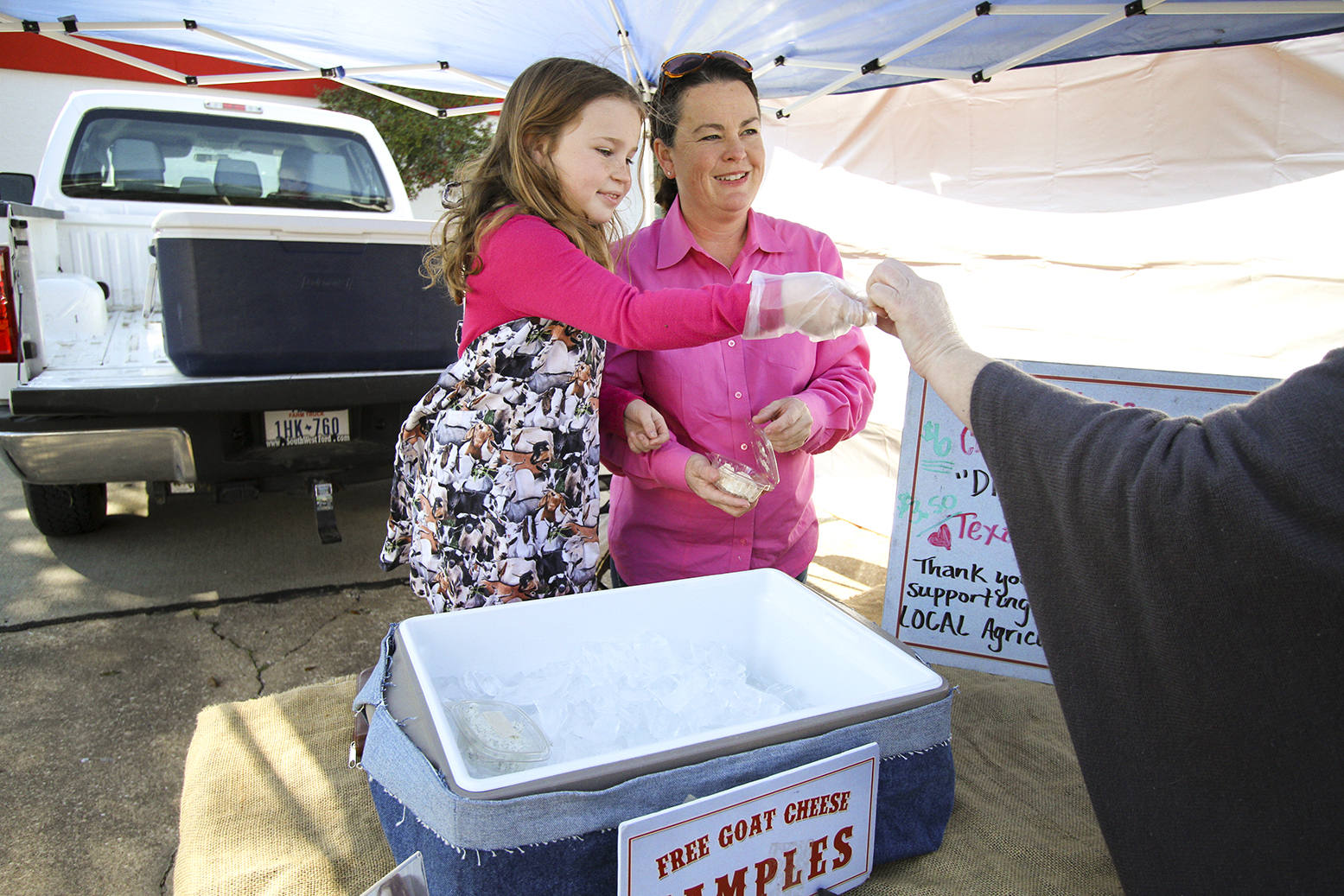 Jennifer Daniels runs The Cowgirl Whey with the help of her husband and two daughters. They sell "chevre" — or goat cheese — and goat milk soap. The family has been running its business now for seven years.
"It started with my daughter. I got her a pony for her birthday and she said, 'Oh, how cute, but can I trade it for a goat?'" Daniels said. "So I knew I was in trouble then on many different levels."
Pretty soon, the Daniels family went from owning two goats to seven, until finally they ended up with 40.
Ideally, Daniels said, she likes to make cheese the same day she milks. All the Daniels' dairy goats are milked twice a day. Then, Daniels low dip pasteurizes the milk, cultures it and lets it hang in a muslin bag for two to four days.
Although her husband works off the farm, Daniels said running The Cowgirl Whey is more than a full time job.
Before starting the family business, Daniels used to be a guidance counselor. Even though working on a farm and raising dairy goats is a change of pace from her previous job, Daniels said she feels satisfied with her decision to switch.
"It's crazy, but it's good," she said. "I feel … very busy, but very fulfilled because I feel like we're making a quality product that's locally made without chemicals or hormones or added preservatives. I feel good about it."
Evil Cowboy Hot Sauce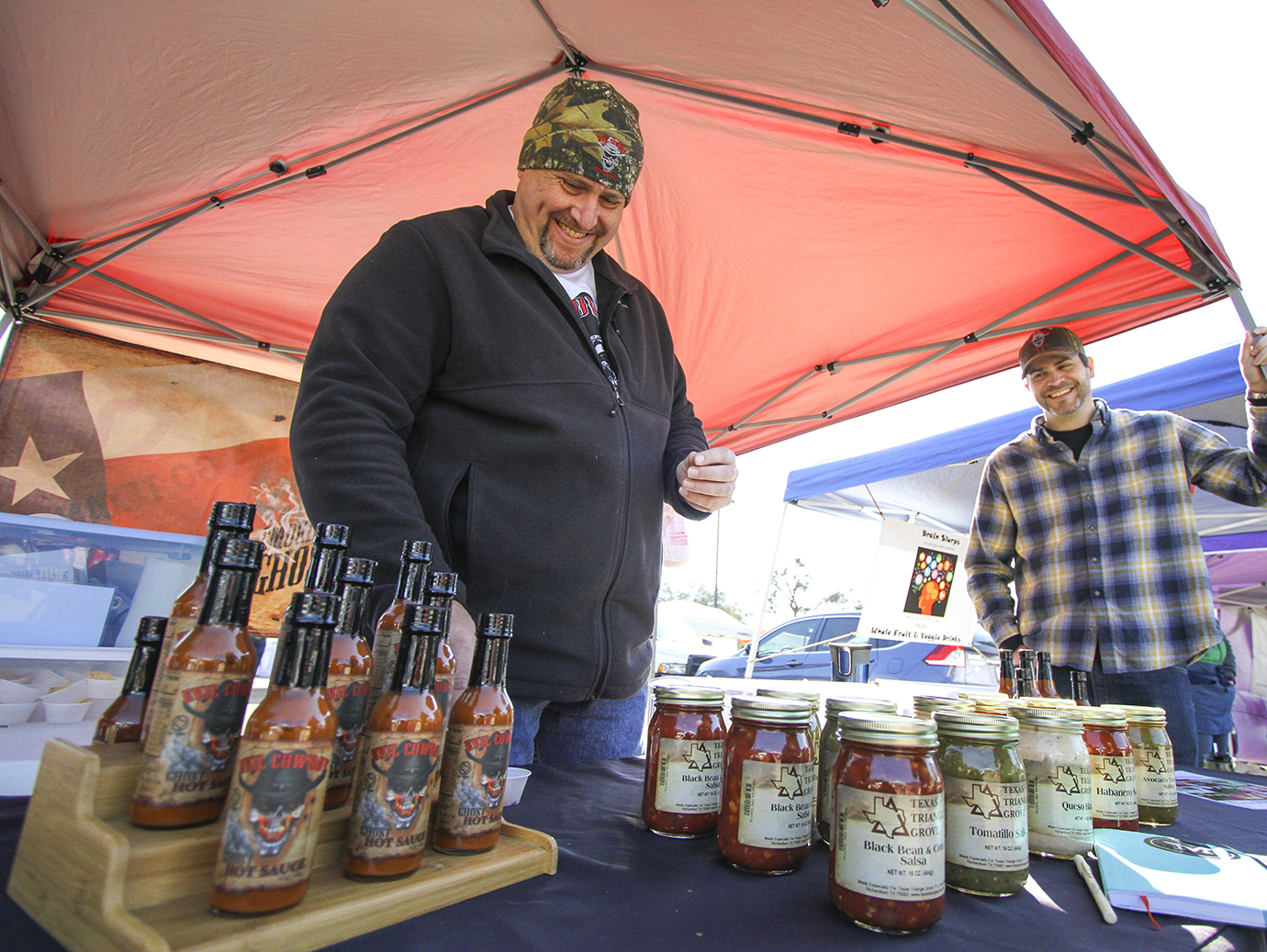 Kurt Riddlesperger's company, Evil Cowboy Hot Sauce, is also a family affair. His grandfather used to run a meat market and his old recipe for cooking sauce is the base of Riddlesperger's product. His father grew up selling the hotdogs cooked in the sauce at rodeos. And now, Riddlesperger and his brother have been selling the family product commercially for seven months.
"It's been fun," he said. "We've entered in a lot of competitions. We've won some awards in the hot sauce world. And then we wanted to start here at the farmer's market so we could meet our customers and talk to them and let them try it."
Although Riddlesperger said running Evil Cowboy Hot Sauce is time consuming, he still works full time at an investment company in Addison.
"It's work. It's definitely work (to manage both). You have to prioritize your time," he said. "I had to make sure I had permission to do it from my company. It's really just prioritization and taking one day at a time."
One thing he said he loves about running his side business is getting to connect with the whole family.
"Our nephews are involved, our nieces are involved, so it's brought our family closer together and then it's been fun," Riddlesperger said. "We've been able to take something we enjoy and share it with everybody else."
Eileen's Pralines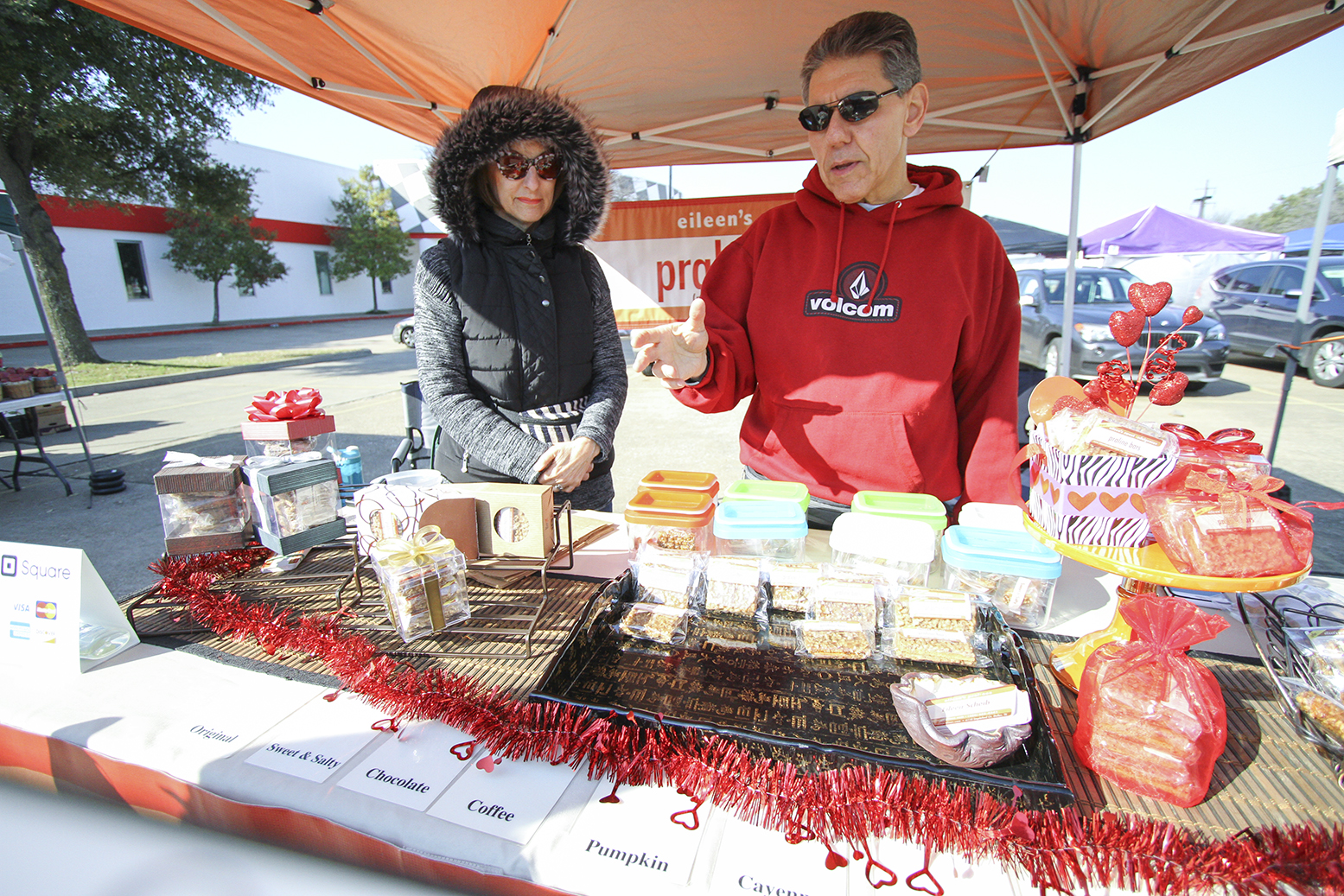 Eileen Scheib has been making her praline bars for 40 years. She and her husband went into business selling them about five years ago.
"Our younger son suggested it a few years ago after the boys were out of the house out of college. He said, 'Mom, everybody loves those bars that you make, why don't you think about making a business?'" Scheib said.
With the help of her husband running the business end, she decided to give it a try. She said having her husband's years of experience running his own business — which he still does alongside helping with Eileen's Pralines — has made it easier.
"It takes a lot of time because we really do everything ourselves," she said. "We do the baking. We do the packaging. We do the marketing."
Scheib said the most difficult part of starting this business for her was getting used to selling her bars instead of giving them away. She also said having to work with her husband, to whom she's been married for 35 years, can sometimes be hard to navigate.
"For the most part, it's fine (to work and live with him)," she said. "Like any married couple, you're going to get on each other's nerves and that happens. But we have similar values and our goals are the same. We just make it work."
Although working together provides ample opportunity to butt heads, Scheib said she still appreciates the time they spend together.
"It's fun," she said. "It's different to be doing something together and so it is fun and, for me, one of the big pleasures is when people like them."