As part of his last art show of the semester at UTD, Master of Fine Arts candidate Clayton Harper created the piece "NextGen10" as a criticism of society's idea of the future. His work incorporated stock videos of smiling people testing VR sets juxtaposed with images of litter in the ocean, all displayed on large TV screens resting on full trash bags.
"I found these beautiful, if taken out of context, videos of trash in the ocean, but there's something really sinister and sad about those images so I liked pairing those two images together," Harper said. "So now they're immersed in this environment that's much more real and tangible of the future and visually stunning but also hinting at something really disgusting and sad. I liked the idea of a virtual reality that kind of immerses people in that reality."
Harper was one of six Masters of Fine Arts candidates who displayed their work in an art exhibit in the SP/N gallery this semester. The exhibit, titled "Oddities MFA 2018," was on display May 18-June 9 and featured a selection of the six artists' creations. The works comprised various forms of digital art, sculpture, videography, audio, oil and acrylic paint and fragments of electronics. Arts and humanities professor John Pomara said the show was the first time the artists did an installation of art on their own and could choose what art to display and how.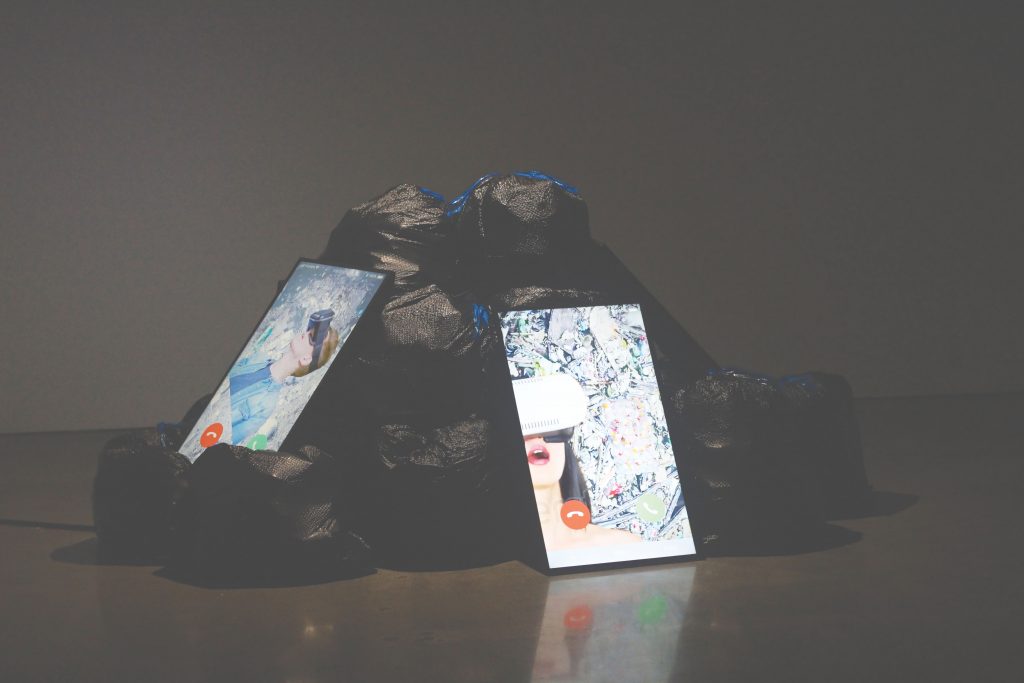 "They're all oddly unique but they fit together as a group really well," Pomara said. "We spent two days in the space talking and moving around, talking about how they would install their work and make it so it would feel comfortable going from one area to the next."
While differing in media and installation, the works share a common goal of serving as social commentaries on feminism, internet privacy and social media addiction.
Heather Valcik, one of the six artists featured in the exhibit, said their similar creative outlooks helped the project come to fruition.
"Luckily, we were all pretty like-minded so we got to do 80 percent of it in the dark because most artists want light," Valcik said. "It was cool that everyone was pretty similar in aesthetic."
Valcik's pieces — including "Wiped," "#hashtag" and "Virtually Infatuated" — employ both video and audio footage, as well as sculpture-like elements such as makeup wipes and dolls. To create "Virtually Infatuated," Valcik made an online dating profile and posted photos of herself. She incorporated the audio messages that men sent her into the exhibition, allowing the viewer to listen. She said she hopes her pieces will start a conversation about technology and how people choose what they post.
Carion Jackson, another artist, employed the concept of social media and internet obsession in several of her digital prints. Each of her pieces made use of vibrant color and bold, dark lines, except for "Presence," which was monochromatic and combined both video and digital print.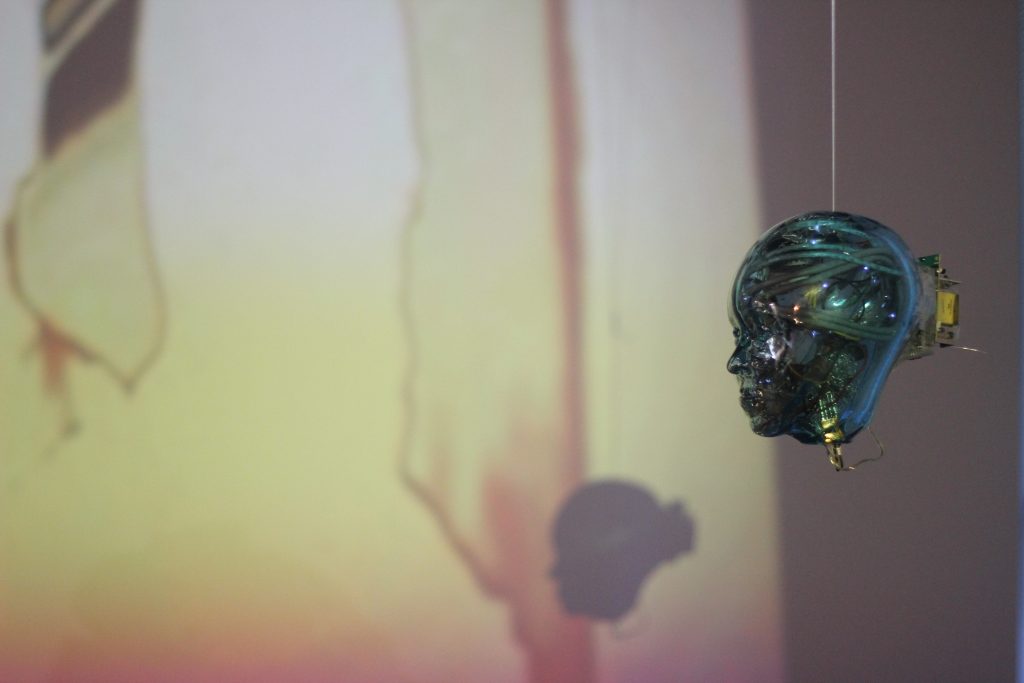 "Some of my pieces were created before others, but all of them have a common theme of commentary on society and social media, and we're not necessarily present in things at times," Jackson said. "We live through these social media devices as opposed to kind of living life and talking to other people and experiencing life as it is."
One of her pieces, "PixeLife," incorporated paint swatches to emulate pixels in photos of a palm tree. The piece was inspired by a trip to Disneyland, where she constantly saw parents have their children take photos of them for their social media accounts rather than enjoying their time with their kids.
"We live through these pixels instead of living our life, and it really disturbed me. I mean, you're sitting there with your husband and the kid wasn't in any of the pictures—the kid was basically their photographer," Jackson said.
John Pomara said art has become less of what is called "traditional art," as traditional art no longer connects to the current generation in the context of their current experiences in the world. Instead, artists are reacting to changes in society and making statements about them in pieces such as the ones in the Oddities exhibit.
"Our world is becoming more and more urban, and people live on the internet and they're experiencing that vernacular language. These are young artists reacting to that and what they're seeing and what they're experiencing," Pomara said. "Heather went to those dating sites and her friends went on those dating sites and she wanted to investigate that because it's a daily reality for a lot of her friends. That's pretty traditional, that's the new tradition. So, maybe what we call traditional is changing."