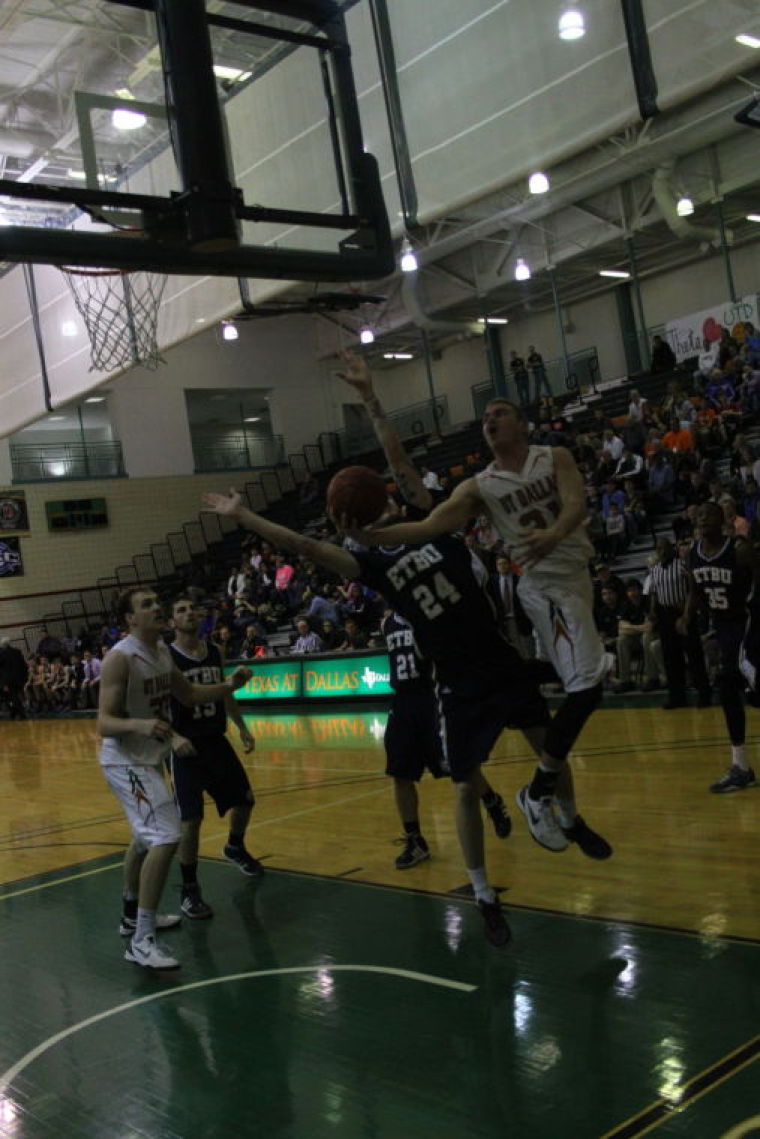 The game on March 8 was riddled with poor play and missed chances. At the end of the night, the Comets shot just 34.9 percent from the floor.
Senior forward Kyle Schleigh blocked Whitworth's shot and raced down the court on the counter and missed the easiest of layups. Chris McOmber, another senior forward, squandered an open field goal and the Whitworth Pirates scored a 3-pointer on the counter.
Despite the struggle to score points throughout the game, UTD managed to win the game with a hail-mary 3-pointer at the buzzer by junior guard Nolan Harvey to catapult the Comets into the Sweet-16 round of the NCAA Div. III.
The No. 16 Comets face No. 3 UW-Whitewater at 5 p.m., Friday at UW-Stevens Point for a chance to play in the Elite Eight round.
"(UW-Whitewater) is an outstanding defensive team," said head coach Terry Butterfield. "They really get up in your space. They are tenacious. We are going to have to run very precise to free up the players."
The Warhawks' efficient man-to-man defense will be a huge threat to the Comets' offense. The key will be creating a high number of uncontested shots which might prove to be difficult for UTD.
UW-Whitewater averages 60.7 points per game defensively and ranks second in its division. The Comets, in contrast, average 66.5 points per game defensively.
The Warhawks have a strong offense and are the best in their division, averaging 79.2 points per game.
"They feature two strong inside players and three very skilled offensive players," Butterfield said. "They kind of play a three guard offense."
Whitewaters' KJ Evans, who leads the team in offense, averages 16.2 points per game. The Warhawks have three more players who average in double-digits.
"I think their team is the prototypical recipe for outstanding division III basketball," Butterfield said. "What they do is that they have really good guard play and they have a couple of strong insiders to go with guard play, and that is kind of the recipe for success in division III."
The Comets also feature four players averaging in double-digits. Schleigh averages 17.9 points per game. Junior guard Matthew Medell averages 15.2 points per game, followed by Harvey and senior forward Dmitriy Chernikov who average 13.7 and 11.2 points, respectively.
UTD has shown two sides in the first two rounds of the NCAA tourney. It was at its explosive best in the first round against Chapman and abysmal against Whitworth, but one common theme has stuck out in both the games — grit.
In its game against Whitworth, UTD's never-say-die attitude shone brightly as players made repeated comebacks to stay in the game.
Butterfield said the fact that they were able to come back from trailing 15 points was one of the most amazing things.
The Comets will be brimming with confidence from their win against Whitworth and will hope to capitalize on it.
Wisconsin is a state in which Div. III basketball is at its best.
"(The team) have got to be excited about going to an area where division III basketball is really celebrated and is very good," Butterfield said. "The Wisconsin league is one of the top leagues in the country and we have got to have a little bit of confidence going into this thing after all that's happened."