After negotiations between DART and UTD, on Aug. 7 the Comet Cruiser east line began running every 15 minutes on weekdays instead of every 30 minutes.
Following years of high ridership, the pilot program will run until Dec. 20, at which point UTD and DART will evaluate if the frequency increase solves crowding problems; until then, the 883 East Express line, which used to run directly from Rutford Avenue to CityLine, is discontinued. The change comes after a ridership shift from the west line to the east line — according to figures shared by Director of Parking and Transportation Cristian Aquino in the Aug. 9 Staff Council General Meeting — and was influenced by recent student advocacy efforts.
"We are confident that we'll be able to extend [the pilot] once we review ridership, because we know that the ridership is there," Aquino said.
Linicha Hunter, a project manager with DART, is the sole planner for the 883 route, though she also coordinates with contractor ECHO and DART's procurement and paratransit services. Initially, the 883 East route operated at a 20-minute frequency; in August 2016, the timing was increased to 30 minutes after ridership shifted to the west line. In recent years, demand for the east line has once again increased, which Hunter attributed to new housing development along the east line, the end of the COVID-19 pandemic and UTD's increasing number of students. Today, the 883 is the DART bus route with the highest ridership in the entire DFW metroplex, followed by the 57 and the 22, which both operate at 15-minute peak frequency. Hunter said that the next few months of observation will help DART and UTD decide if the frequency increase is necessary, or if the overcrowding might stem from students waiting "[until] the last minute to board the vehicle to get to school."
"Right now, it's a pilot, so this is not permanent," Hunter said. "And [we're] looking to see … does it make it better for the students?"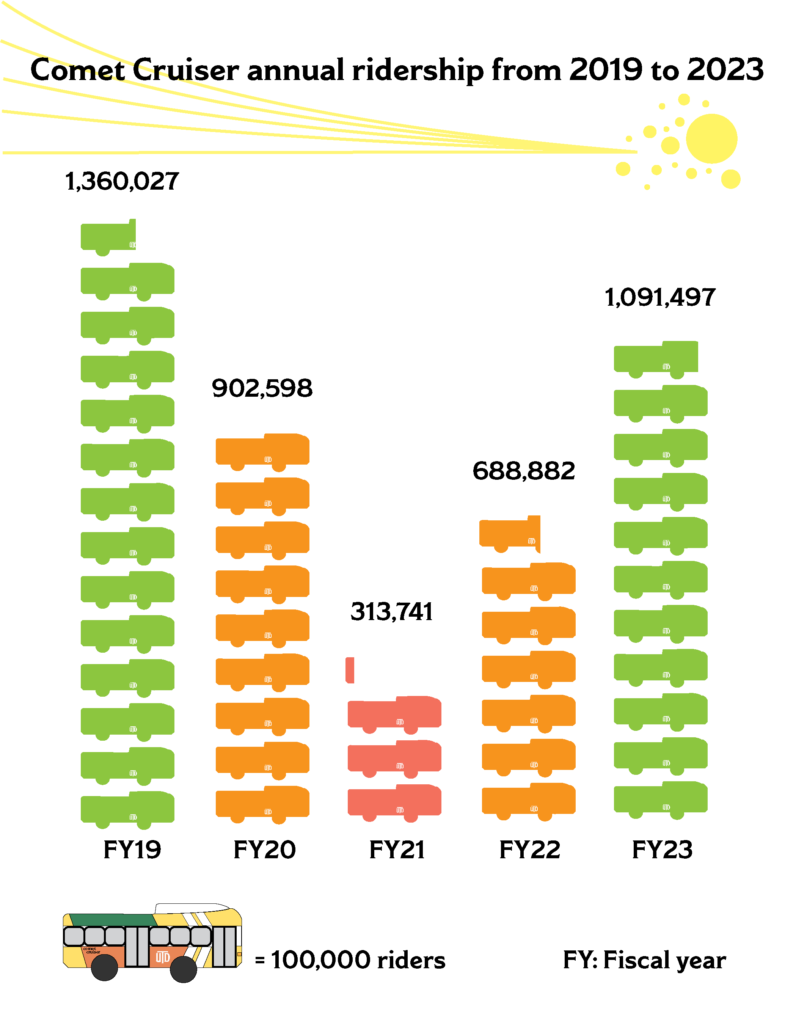 Hunter said that DART had noticed ridership increasing after the COVID-19 pandemic; statistics shared by Aquino showed that Comet Cruiser ridership more than doubled in the last two years, increasing from 313,741 in 2021 to 688,882 in 2022. DART also received complaints from students, some of whom spoke at their board meetings. History senior Daniel Yahalom, president of the advocacy group Comets for Better Transit, said that the organization first started advocating for a frequency increase in fall 2022 after hearing that UTD and DART were undergoing negotiations to make changes to the route. Their efforts included circulating a student petition as well as asking Student Government to pass a resolution endorsing the change.
"DART's board members don't have a lot of direct experience with the passengers and what it's like to take the system on a regular basis," Yahalom said. "Beyond whatever ridership they do directly … because of that, any sort of way to bring up our perspective to the board members is really valuable, because they don't get enough of it. And the most direct way of doing that is going to board meetings."
Hunter said the standard 883 buses have a capacity of 37 people; they are not considered overcrowded until they consistently hit 150% capacity. However, there is an extra barrier to load counting for the route, as some of the 883 vehicles do not have Automatic Passenger Counters, which on DART buses count the number of people entering through the doors. As a result, ECHO drivers often must count passenger loads manually, which Yahalom said may not be as accurate as numbers gathered automatically. After experiencing the overcrowding firsthand, alumnus Connor Hulla was inspired to document the conditions by taking photos inside the 883 east during peak hours, which he submitted to Citizen Action Committee member Hexel Colorado.
"I actually rode it once and saw how crowded the 883 east got, it was so full, people couldn't get in," Hulla said. "It was shoulder to shoulder, Tokyo subway levels of crowded."
In the Aug. 9 staff meeting, Aquino said that the cost of the frequency increase for the pilot program was an additional $245,000, which is split evenly between UTD and DART. This is about a 7% increase from the annual cost of running the Comet Cruiser, which Aquino estimated at $3,266,966. Due to both parties splitting the cost, any changes to the 883 route require both of their agreement.
"Before we do anything, it has to be an agreement," Hunter said. "It has to be a compromise, and it has to all be based on analysis. Ridership is gonna impact the students, and also not just the students, because with the contract, the 883 is an open system. That means not only UTD students can use it, DART customers can use it as well. We have to agree, or we can't do it. Period."
Yahalom said he hopes the frequency increase will improve student flexibility and reduce road traffic. Along with Hulla, Yahalom said that students have a powerful ability to improve their community.
"You actually have a lot of influence on local level issues," Hulla said. "Even doing something as simple as emailing a city council member about an issue can do so much. They will respond to you, and they will often do some action … it's very small scale, it's not like a federal-level thing where someone has a hundred thousand constituents. No. They don't hear from a lot of people, so you can have a very powerful voice in local politics."