Opening the doors to La Casita Bakeshop, a gentle aroma of freshly baked delicacies and warm smiles greet visitors as they peruse through the shop. Only open on the weekends, La Casita is run by Marisca Tresco and Alex Henderson in an old plaza located off of Arapaho and Custer.
The bakery's name derives from Tresco's mother's habit of adding "ita" to the end of words to describe them affectionately as cute or petite in Spanish. Tresco and Henderson wanted to create a business that would feel like home to customers while also making an impact on the food scene in Dallas. To keep things fresh, they change their menu weekly. Otherwise, Henderson says, "after a month of eating the same stuff, why would our regulars come back?"
La Casita also regularly collaborates with other local businesses like restaurants or pop-up shops that would like a bread and pastry supply. Their most recent collab was with The Boba Plug, a local boba pop-up, where their menu was based off Asian cuisine such as their spam musubi croissant (a slice of Spam on top of a bed of rice wrapped up in a croissant and topped with a piece of seaweed and sesame seeds). As weird as it sounds, the croissant is such a flavorful, crispy, flaky, buttery pastry that I would love to have it again. Upon my visit this time though, I was given a small trip around the world through the various pastries and sandwiches that I tried.
One of the pastries that La Casita places on their menu each week is the cruffin. A cruffin is a muffin that is made of croissant dough – which helps to give the cruffin its flaky layered appearance – and was created in Australia. These cruffins come in various flavors, but the one I happened to try was their Reese's Cruffin. The exterior resembled a churro with visible layers of flakey dough encasing a hidden whipped peanut butter cream in the center. It was topped with a chocolate glaze and Reese's peanut butter chips. The slightly salted peanut butter cream balanced the sweetness of the chocolate glaze, and the varying textures of the cruffin gave a different experience with each bite.
Then, I tried the orange almond bear claw, a sweet pastry with a similar flakey texture to a croissant but shaped like a claw with a sugar glaze topped with thinly sliced almonds originating from Denmark. The claw had a flaky texture with a subtle buttery taste and an orange jam filling inside. The glaze helped add a contrasting flavor to the buttery taste of the pastry itself, while the almond slices added a nice crunch. The harmonious balance between the contrasting elements of taste and texture combined to create the scrumptious experience of the orange almond bear claw.
Visually, the most breathtaking pastry was their smoked chocolate honey caramel tart that stood out as a simple, yet elegant piece of art. Encased in a thin cocoa brown shell, a small bed of caramel hid underneath a thick and rich creamy chocolate ganache topped with three golden pieces of honeycomb candy. The crispiness of the tart blended in with the smooth texture of the bittersweet chocolate ganache, and the hidden caramel helped to enhance the sweet taste of the chocolate.
A cruffin is a muffin that is made of croissant dough, which helps to give the cruffin its flaky layered appearance and was created in Australia.
Other than pastries, they have an assortment of eight savory sandwiches, three of which I have tried. My favorite of the three has been the spicy chicken sandwich which replaces sandwich buns with thick waffles. The fluffiness of the waffles made for a perfect replacement for buns, and they helped to soothe the flavor of the spicy Chex fried chicken that is made using Chex mix in the batter, giving it a satisfying crunchy texture. Although I am not a fan of pickles, they did help add a bit more of a twist in flavors to the sandwich. In terms of texture, the waffles were like soft cushions that your teeth could sink into, only to discover a crunchy center when they encountered the chicken.
The second sandwich on my list was their Cubano sandwich, which consisted of a toasted baguette encasing Mojo marinated pork, ham, mustard, swiss cheese and pickles. This sandwich is the tastiest sandwich on their menu that I have tried so far and has one of the most balanced flavor palettes. Each ingredient smothered the tastebuds all at once, enticing one to bite into it over and over to relive the experience. There is even a hint of a smoky scent on the pork pieces that really invigorates the senses, creating an immersive experience with every bite.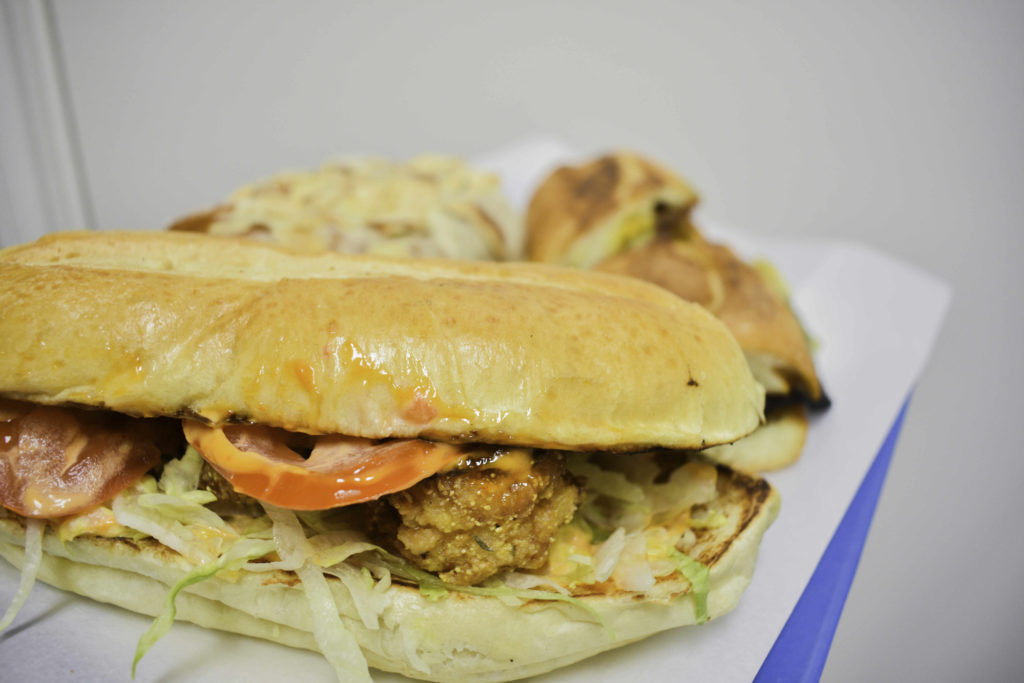 I had the Shrimp Po Boy for the last sandwich, which was less toasty and crispy than the other sandwiches but still just as satisfying. It consisted of a lightly toasted baguette and jumbo fried shrimp on a thin layer of lettuce covered with slices of tomato and a special sauce, making the sandwich extremely juicy. The shrimp had the same crispiness as the fried chicken but with a thinner layer of batter.
Overall, La Casita's menu brings a new, delicious experience for customers each week. If you're in the Richardson area on a weekend, be sure to stop by this wonderful little shop and see what the week's menu has to offer you!