Before leaving the witness stand of the 401st District Court in the Collin County courthouse for the final time, Mark Morris had something to say to Enrique Arochi, the man sentenced to life in prison for the aggravated kidnapping of his daughter and UTD alumna Christina Morris.
"I hope you rot in hell," he said.
For the last two years, the story has been told over and over again: On Aug. 30, 2014, security footage captured Arochi and Morris walking together to a parking garage at the Shops at Legacy in Plano after a night out with friends. Morris has not been seen since and is presumed dead.
A Collin County jury unanimously found Arochi guilty on Sept. 21 after 17 hours of deliberation, agreeing with the prosecution that Arochi's misleading statements to investigators, Morris' DNA found in the trunk of Arochi's Camaro and phone records placing Morris and Arochi in the same locations at the same time the night of the disappearance proved the defendant took Morris against her will. After Arochi waived his right for a jury to determine his sentence on Sept. 27, Judge Mark Rusch sentenced him to life in prison on Friday.
The sentencing hearing came at the end of a trial that stretched for nearly four weeks. After Arochi announced he would have the judge decide his fate, the trial stalled for another two days.
On Sept. 30, a crowd of around 50 people anxiously waited outside the courtroom for the hearing to commence. Around 8:45 a.m., they began to stream in, starting with Morris' family.
As the hearing began, prosecutors announced they would request a life sentence and would additionally bring up evidence from a separate case Arochi is involved in where he allegedly sexually assaulted a minor, along with evidence of deviant sexual images found on Arochi's phone.
Despite the defense's objections, Assistant District Attorney Zeke Fortenberry presented evidence from both the sexual assault case and the information found on Arochi's phone. Detectives from the Plano police department testified Arochi had a sexual relationship with a 16-year-old when he was 22 where Arochi choked the victim, who went by the pseudonym of Jennifer Smith, on more than one occasion during sex.
Detective Aaron Benzick also testified he found at least 20 pornographic images of women tied up, raped and mutilated on Arochi's phone, as well as links to two movies involving rape, torture and murder.
Fortenberry then brought Morris' family to the stand to testify, starting with her mother, Jonni McElroy. She held back tears on multiple occasions as she described her experience looking for her daughter over the past two years.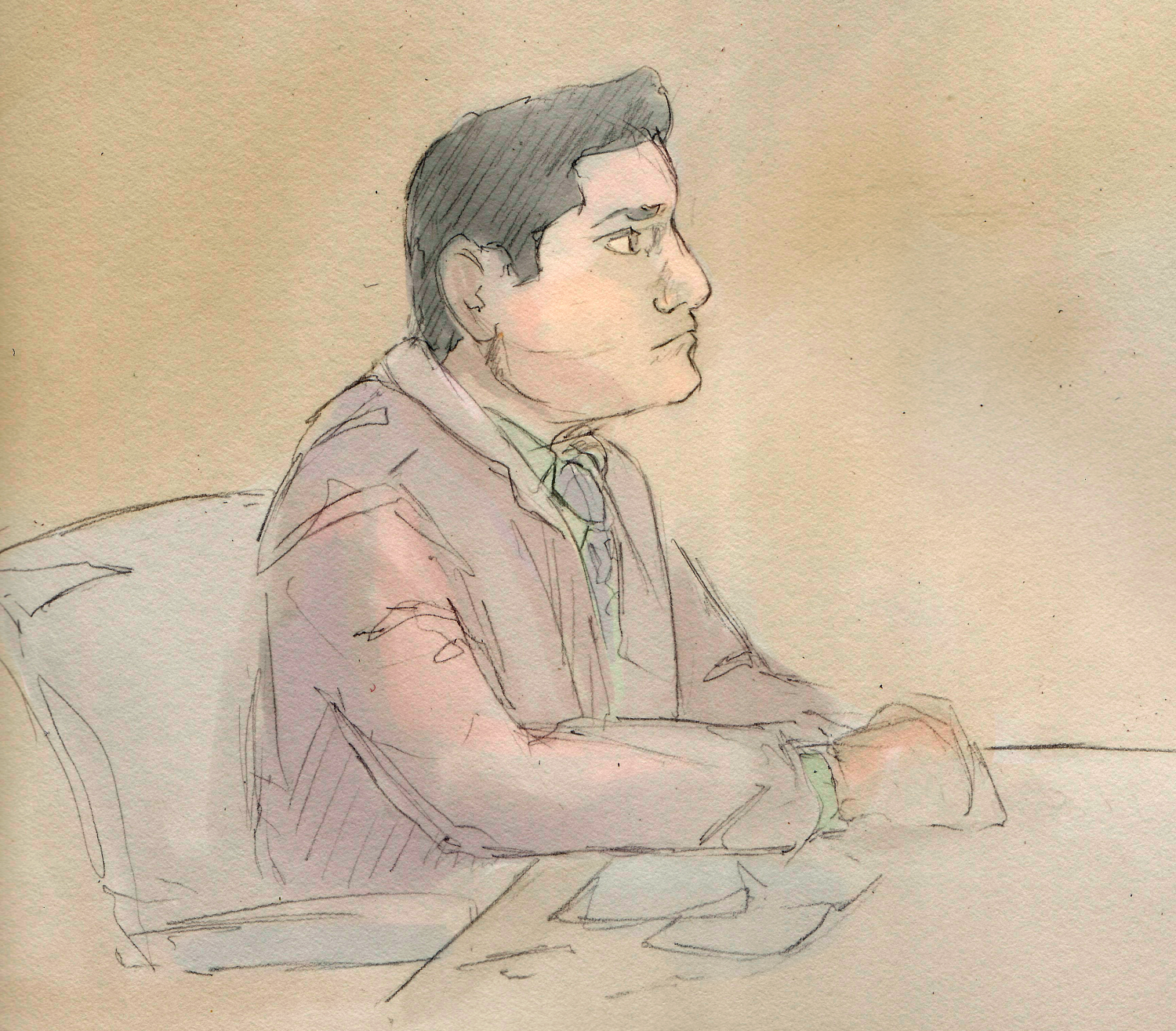 "I searched and I didn't stop," she said.
McElroy eventually lost her job once she moved from Tulsa, Okla. to look for Morris full-time. She described how she finally gave up hope of ever finding Morris alive around November of last year.
The gallery was filled with Morris' supporters, clad in varying shades of purple — Morris' favorite color.
Mark Morris, Christina Morris' father, came up next to tell his story of searching for his daughter. He started off by recounting how he began by gathering information about what happened the night she disappeared.
"As a dad, you're supposed to protect your kids and knowing that you weren't there to do that, I can't tell you how that feels," he said.
Before he stepped off the stand, Mark Morris looked directly at Arochi and told him he is constantly "thinking about what you could have done with my little girl."
Arochi's lawyers had no questions for either parent.
After hearing the testimony of Morris' parents and the argument from Fortenberry that the evidence shown in court proved Arochi presented a danger to others, Rusch announced his decision to sentence Arochi to life in prison. The defendant, outfitted in a grey suit and tie with a mustard yellow shirt, looked on upon hearing his fate.
The court then allowed Morris' family members to speak their piece to Arochi before he left. Arochi mostly looked down as Jake Morris, Morris' younger brother, McElroy, Mark Morris and Anna Morris, Morris' stepmother, came up to the witness stand.
McElroy promised to be at every probation hearing for Arochi, warning him she would be the voice for her daughter.
"I will fight … to make sure you never see the light of day," she said.
Arochi remained silent when Morris' family members asked him to tell them where she is.
Although he mostly averted the family's gaze, Anna Morris made Arochi look her in the eye as she challenged him with a simple question.
"Why?" she asked. "Why would you choose to create this much suffering?"
After hearing the family's final words, the judge ordered the bailiff to detain Arochi until he could be transferred to a prison.
He walked out of the court one last time in the same manner he came in — in handcuffs.
As the court recessed, attorneys traded handshakes and Morris' family members and friends gave each other hugs as the room slowly emptied. After nearly a month, the trial of Enrique Arochi had come to a close.
At a makeshift press conference held in the lobby of the courthouse for the dozens of reporters and cameramen present, Steve Miears, one of Arochi's lawyers, said he'd be appealing the sentence based on the sufficiency of the evidence, the venue where the trial took place and the suppression of evidence in the case.
"We think that our position on appeal is one that is strong," he said.
After Miears finished, Morris' family and friends, accompanied by the prosecution team, members of the Plano Police Department and the Collin County District Attorney, also talked briefly to the press.
Rumors had been swirling about a possible plea deal where Arochi would give a location for Morris in exchange for less time in prison, but Fortenberry said no arrangement had ever been made.
"I can't get into the specifics of what our negotiation was and what the hold ups were, but we weren't able to reach a resolution," he said.
As the conference came to an end, the prosecutors, police, Morris' family members and friends talked before saying their good-byes and trickling out of the courthouse.
Even though the trial of Arochi has wrapped up, however, Morris' case is far from over. Her supporters, who came to the courtroom day after day, will still continue their search, going out on the weekends to comb the fields and woods of North Texas for any clues of Morris' whereabouts.
After all this time, one question still remains: Where is Christina Morris?
"She's not home yet," McElroy said. "We will not stop searching until Christina is found. Christina deserves closure, we deserve closure, no matter what that may be. She deserves it and we will not fail her, we will find her and we will not give up until then."