When Mimi Newman was diagnosed with Ehlers-Danlos syndrome-Type III with Marfanoid characteristics, a disorder that leads to chronic joint pain, she withdrew herself from her surroundings to numb the shock of hearing about her condition — but it hurt more than it helped.
The arts and performance junior was 20 years old at the time of diagnosis and she said closing herself off from the world made her feel helpless.
"Being lonely is the most disabling feeling in the world and I deal with 24/7, nonstop chronic pain," Newman said. "Feeling lonely and like you don't have anybody … is not fun, especially in a situation where there aren't that many people that are dealing with this."
After coming to UTD in December 2014, she said she found a community that supported her and was attentive to her needs. Despite her positive experience on campus, the state of accessibility for students with disabilities continues to undergo changes and improvements.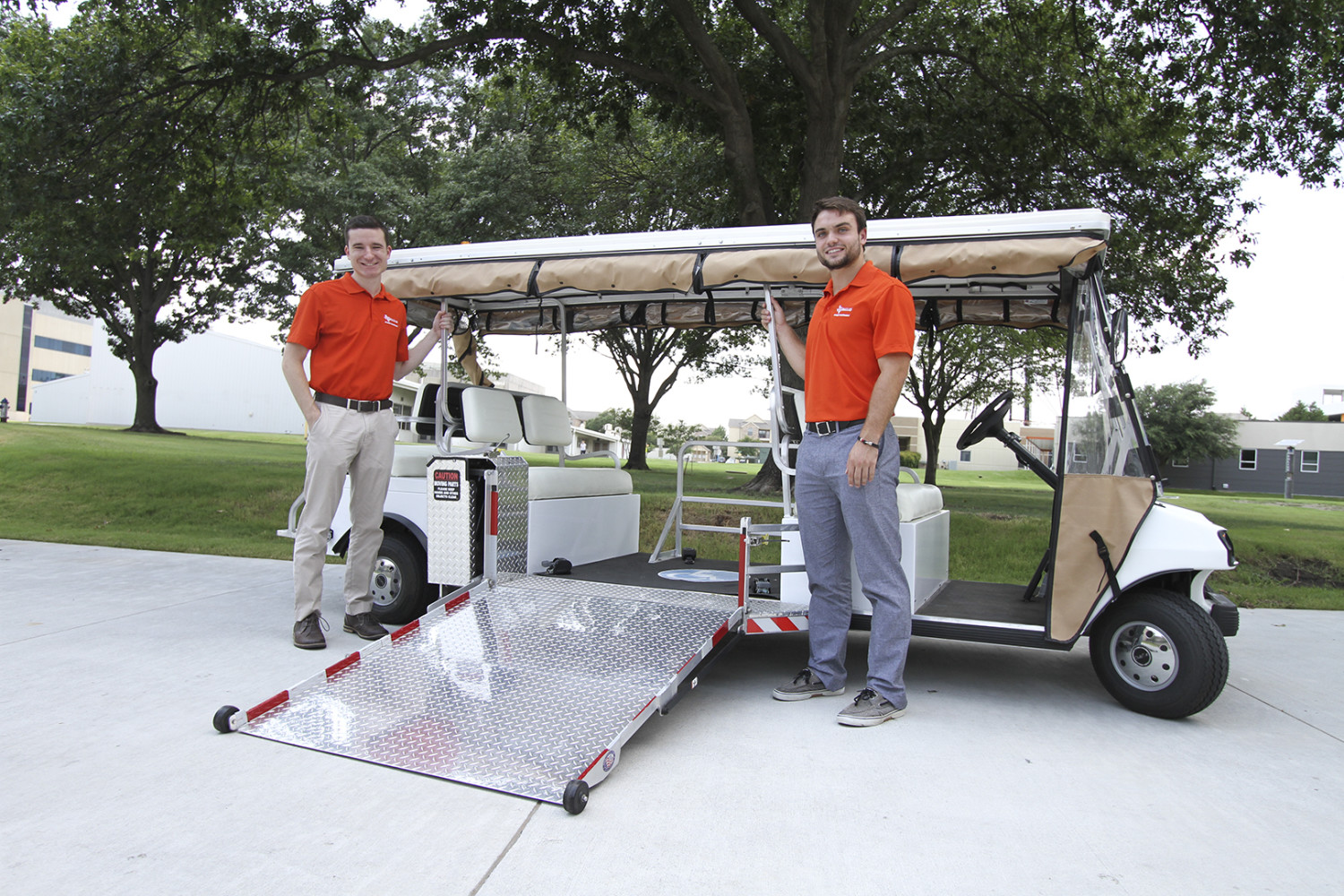 Newman, who's from the U.K., had looked at 20 different schools, but said she chose UTD because the Office of Student AccessAbility offered her more accommodations than the other institutions she was considering.
"It's very lonely moving out to a different country from your parents and everyone else so I really felt like I needed somebody who was going to fight in my corner for once," Newman said. "I felt like (the) office here … could actually fight for me and give me the accommodations that I needed to succeed."
OSA has arranged for Newman to have extra time on exams, an assigned caretaker to substitute for her in class if she's not feeling well and had classrooms moved for her to make the commute between classes easier.
Although Newman said the OSA has given her tools to succeed at UTD, discussing her concerns and voicing her complaints to professors are issues she's still working on.
"For me, I need to learn to be pushier, but sometimes being pushy when you're a level below somebody not only professionally but also physically, it's really hard to say, 'I don't think what you just did was fair,' so I have to work on that," she said.
Newman said she feels supported by OSA and the arts and performance faculty, but feels the school isn't focusing on issues important to students with disabilities, especially when it comes to construction.
Some pressing issues she pointed out were that the  restrooms in the Erik Jonsson Academic Center are not accessible because of the heavy doors and little space to turn a wheelchair in a bathroom stall. The green bus stop shelter near the JSOM roundabout only has space for one wheelchair user at a time, so if it rains, a second user would be caught in the shower, she said.
Kerry Tate, the director of OSA, said she hears concerns like these but stressed that the size of the project affects the amount of time it takes to address the complaint. However, the Office of Institutional Equity and Compliance ensures that every complaint voiced on the Americans with Disabilities "Report a Barrier" form on its website is addressed, Tate said.
***
Newman also highlighted the difficulty of getting from the Erik Jonsson Academic Center to Green Hall for someone using a wheelchair, and although the route is long, Director for Physical Plant Services for Facilities Management Kelly Kinnard said mapping safe paths to get around construction is factored into planning a project.
"It's UTD's responsibility to make sure that we have accessible pathways," Kinnard said. "Sometimes they're a little more circuitous than we would prefer but ultimately we do provide a pathway. It may not be the most direct route, but it will be ADA compliant."
The Americans with Disabilities Act guidelines and the Texas Accessibility Standards are followed to ensure compliance with construction projects, and the stricter code is applied in cases where guidelines differ, Kinnard said.
Neither ADA nor TAS requires automated doors to be installed in buildings for handicap access, which is why they're missing on older buildings on campus. Kinnard said the design for newer buildings will consistently include auto doors.
"In all of our new projects, even though it's not code, we put them in because it's the right thing to do," he said. "If it's an older building, one that does not currently have one, if someone wants one, we can put one in for them. It's typically paid for by that department."
Student Government Senator Grant Branam said the Comet Cab facility wasn't providing the same service to students with disabilities, so last summer he worked with other SG members and OSA to bring an accessible Comet Cab onto campus.
"We thought, 'There needs to be some sort of service or way that we can ensure that people who have wheelchairs … (can) get around campus,'" he said. "We started talking about having the equivalent of a Comet Cab and we looked into … what other schools were doing and what was right for our campus."
After discussing it with administration, one accessible Comet Cab was brought to campus in January, but issues arose when it didn't meet the weight requirements to support a wheelchair user.
The accessible Cab is also different in that it won't follow the designated routes and is instead an on-call service.
"We don't have that many students on our route that need to take advantage of the service but we want to have the service for the students, so making it on-call allows it not to get lost just in the general routes," said Joey Campain, the SG vice president.
If Cab drivers notice a student on their route who needs an accessible Comet Cab, they call the Parking and Transportation office to have it sent to the location. As of now, there isn't a formal process for the students themselves to request the Cab other than by calling the parking office.
Campain said once the weight issues are resolved and proper testing is done, the service would be formally announced and promoted both through SG and OSA.
***
Despite the difficulties construction and other aspects of campus life pose for students with disabilities, Newman said the UTD community has been attentive to her needs.
"This school has done so much for me," she said. "I'm so supported by most of the professors here. … I don't want to complain. … They fight for me."
In the last four months, Newman's health has deteriorated, so she's nervous about starting classes this fall, but said she knows the campus community and the resources it offers will support her and put her fears to rest.
"I'm a 4.0 student," she said. "I don't want the reason (it drops) to be my health. That's a stupid reason for me to have to think that I've not done the best I can. It's scary. From my semesters at UTD, I'm confident that they will work with me to get to where I need to be."