Students navigate external, internal ways of expressing their faith
Editor's note:
Students interviewed for this article constitute a random cross-section of religions and is in no means complete in its coverage of all faiths. The views of sources interviewed for this article are their personal accounts and not necessarily representative of the faith in entirety.
Iqbal Gill remembers being bullied in the first grade for wearing a turban and having long hair.
He remembers coming home one day and making the painful decision to take his turban off, despite his parents asking him not to.
"I'm not going to lie; it was sad," Gill, now a biology sophomore at UTD, said. "It was hard."
Gill is a member of the Sikh community, the fifth-largest religion in the world. Yet, the lack of awareness among the children back in his school continues to astound him, he said.
"A lot of people don't understand," Gill, who is also secretary for the Sikh Student Association here, said. "They didn't really want to understand or try to understand. They just wanted to make fun."
In American schools, only the three Abrahamic religions — Christianity, Judaism and Islam — are brought up, Gill said. Children aren't really aware of Sikhs, who wear a turban and grow out a full beard, just like Muslims, but are very different in their faith, Gill said.
Gill's experience in elementary school is reflective of a lack of knowledge in American communities about diverse religious representations and symbols of those faiths. The freedom to express one's beliefs through rituals and symbols makes for a unique conversation.
For Sara Melnick, arts and technology and computer science double major, religion is a right of expression.
"When I think of religion, I think of the First Amendment and the right to practice that religion," Melnick, who is Jewish and the president of Hillel at UTD, said. "It might be wearing the hijab or a cross or a yamaka."
Choosing to wear a symbol of one's religion makes an immediate statement about one's faith, but sometimes faith need not be quite as obvious, she said.
The sacred thread
Hindu Brahmin boys between the ages of 8 and 16 traditionally go through a sacred thread ceremony, "Upanayanam," which marks the start of their learning and a devotion to the spread of knowledge. At the ceremony, they are required to wear a cotton thread, a combination of three threads, which they continue to wear around their upper body at all times for the rest of their lives.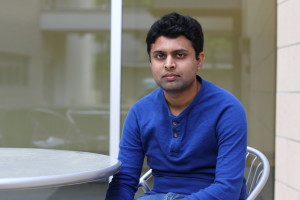 It is with this thread that Ramakrishnan Pitchai Kumar chants to the gods every morning, afternoon and evening for 20 minutes.
As he chants, he performs yogic breathing exercises at the same time focusing on cleansing his mind, body and soul of toxins and sins.
He adorns his forehead with "vibhuti," or burnt ash, and prays.
Traditionally, Brahmins are not supposed to partake in external pleasures because they are supposed to be the preservers of knowledge. They're not supposed to have meat, fatty food or even spices, Pitchai Kumar, an information technology management graduate student, said.
Today, a lot of Brahmin boys have let go of these restrictions, he said. Among his friends and peers are people who have told him repeatedly that most of what he does is simply a ritual — meaningless and silly.
"Sometimes I feel if no one else performs these rituals then why should I?" he said.
When he was baptized as a Brahmin, he was a fifth-grader who went through the motions without realizing the importance or reason behind the ceremony.
As he grew older, ridden with doubts, he explored the historic meaning of the ceremony and found out the true significance of these
Each thread represents gratitude and indebtedness to teachers, parents and the saints who created knowledge, Pitchai Kumar said. The knot that holds them together stands for the single dot that is the start of the universe while the thread is the circle of the universe itself, he said.
With time, he realized performing these rituals had a calming effect on him, he said. He could focus on his goals better and be more disciplined in life.
Wearing the mezuzah
Melnick often likes to accessorize with symbols that represent her faith.
She wears a Star of David ring along with Star of David earrings and the mezuzah, a long, columnar pendant with Hebrew letters on it.
A gift from her grandmother, the pendant is a door adornment that has Shin, the first letter of the Words of Shema, a Hebrew prayer.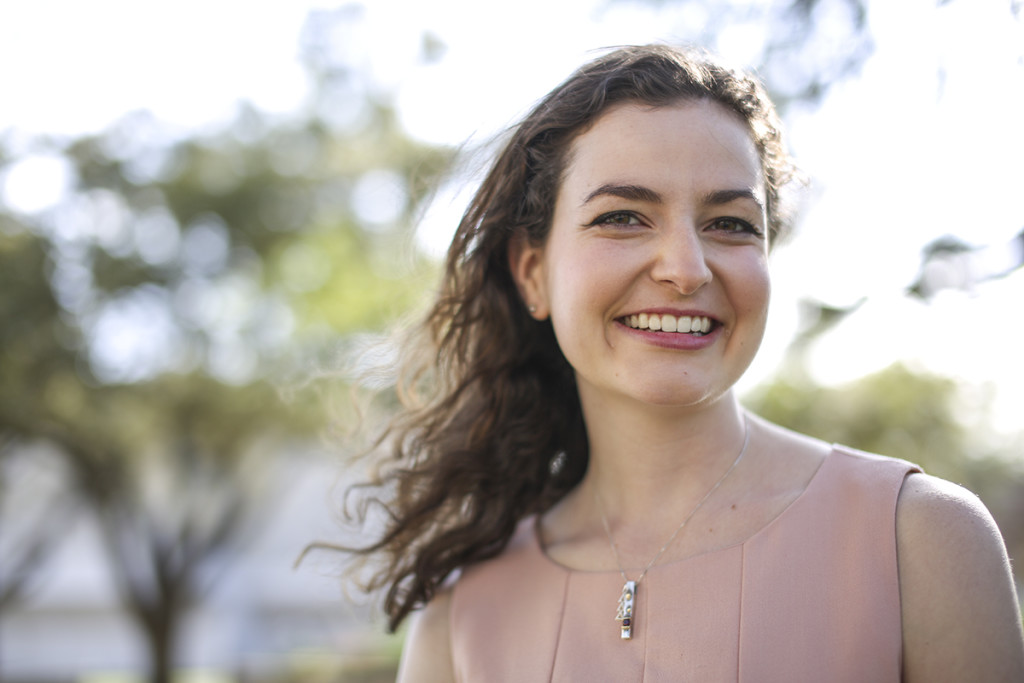 It can be anywhere from three inches to a foot long, and is considered a form of protection for the Jewish household, Melnick said.
Usually, she wears these ornaments on Jewish holy days, but sometimes she wears them just to remind herself of her religion, she said.
There are three levels of observance in Judaism — the orthodox, who are the most observant, the conservatives and the reform, who have assimilated their religion with the modern times, Melnick said.
It's easy to spot orthodox women, who are required to dress modestly and cover their heads after marriage. A man wearing a yamaka or a tallit, the cloth with the tassels on them, is also easily identifiable as Jewish, Melnick said.
But for her, the fact that her religion is a more personal, less overtly visible aspect of her life is desirable, she said.
"It's not always obvious, which is kind of nice because you don't want to feel like you are immediately judged based off of something as special as your faith," Melnick said. "I personally like that."
"There's always food."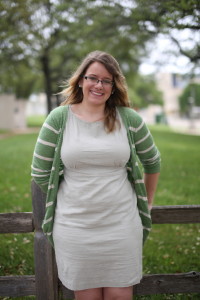 The United Methodist Church stands for many values, but when Emily Hardwick, a historical studies and gender studies senior, thinks of her denomination, she likens it to having of lots of food and being welcoming.
Baptism and Communion are the two sacraments of her Church, but unlike other Christian denominations, United Methodists allow anyone to take Communion and eat the bread and grape juice at an open table, Hardwick, president of Wesley at UTD, said.
"To me, being a United Methodist is to be a welcoming community," she said. "We're very very open."
For Hardwick, religion isn't about external symbols but about building a community with strong relationships around her, she said.
She likes to surround herself with people that will help her grow spiritually and personally, who she can also help in their times of need, Hardwick said.
She said she believes that Jesus, to her, is a man who stands for the persecuted, and it is her duty to help those who feel persecuted through her daily activities.
"A lot of what I believe that I am called to do is to help the different communities and the different people that feel oppressed or feel like they're being persecuted by others in whatever ways possible," Hardwick said.
These communities include the LGBTQIA community and the impoverished.
Recently, she was at a Plano city council hearing advocating for the equal rights ordinance for LGBTQIA people, and she maintains strong ties with the Rainbow Guard in advocating for their rights, she said.
As a gender studies minor, a lot of what she studies has to do with minority communities and their development which has helped her identify with their oppression and fight for their rights more, Hardwick said.
"I feel like a lot of times Christians in America are really privileged compared to a lot of religions, and it's not that I'm saying people are not persecuted for their beliefs in different areas around the world," she said. "It's just that here, I feel there are other communities that are probably infringed upon more."
Yet, she too has suffered from stereotyping.
Growing up in a conservative community where everyone expected her to believe in the same things they did, being a misfit and not agreeing with all the commonly held beliefs often got her into arguments. At one point, she just started agreeing with what others had to say.
It wasn't until she stepped out and joined Wesley at UTD, that she realized it was alright to have different beliefs, and it was acceptable to voice her opinions, she said.
"Now, as I've grown, in both my faith and in my life, I've realized that I'm different and I've realized that's OK," Hardwick said. "It's been a really difficult task of just stepping away from what I used to believe that I believed to what I believe now."
The hijab
Perhaps one of the more widely discussed symbols of Islam, the hijab is a head covering for Islamic women that adds to their modesty and prevents any other man but their father or husband from seeing their hair.
What isn't discussed perhaps as much are the other aspects of religion that come along with wearing the hijab.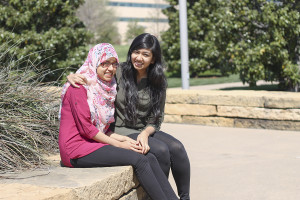 "What is a hijab, what does it do? It's just a piece of fabric," said accounting junior Zarah Barkatullah. "If you're not modest, if you're not religious from within, what difference would a piece of fabric make?"
With a hijab comes the commitment to pray five times a day, eat halal food, wear modest clothing and going to the mosque regularly, among other requirements, said accounting sophomore Sumaiya Sayeed.
Without incorporating these changes to lifestyle, wearing the hijab is meaningless, she said, which is why she doesn't wear one herself.
"I'm waiting to wear the hijab until I'm ready for it because I don't want to wear it and then take it off because then it just seems like a joke, I feel," Sayeed said. "When I'm ready, it's going to be full on. If I'm not ready, I'm not doing it halfway."
Sayeed, a dancer, knows that once she wears the hijab she won't be able to perform. She also knows that she won't be able to eat any kind of meat that is not kosher. She said she needs to make these changes and become more religious from within before she starts wearing the hijab.
Barkatullah said wearing the hijab would be very superficial for her as well, although she tries to pray five times a day.
"I've seen so many families which force girls to wear the hijab and then when they go out, they just take it off," she said. "That just sends the wrong message out."
Barkatullah's younger sister, Zarifa Barkatullah, a business administration freshman, however, felt the urge to wear the hijab at the young age of 13. To her, the covering is as natural as her glasses, and she can't imagine going out without it, she said.
"It was good to start early, because when you start early it becomes very natural for you," Zarifa Barkatullah said. "When you start early, I don't think people say too much to you."
In the United States, it hasn't been too hard for her to wear the hijab, but when she studied in London about five years ago there was an incident that made her feel unsafe.
She and her classmates were walking down the street with their teacher in London, all wearing hijabs, when some men in a car pulled up and shouted profanities involving religious slurs at them. The incident left her shaken but didn't deter her from taking off her hijab, she said.
For Zarifa Barkatullah, praying five times a day has become the norm from the time she was nine, and the usual impediments that women her age face, having to tailor their fashion to a modest standard, doesn't bother her at all.
Yet, the two sisters differ on the way they are perceived with a hijab on.
Zarifa Barkatullah doesn't feel people treat her differently because of her hijab, but Barkatullah said the one time she and a friend chose to leave their scarves on after praying and venture out, she felt people weren't as welcoming as other times.
People didn't smile as much at her and seemed wary of her, a feeling she didn't think she had when she stepped out of the home without any overt symbol of her religion on her, Barkatullah said. Women who choose to face that judgment on a daily basis and still wear the hijab are very brave, she said.
The iron bracelet
Of the five symbols of Sikhism — the knife, the long shorts, the long hair, the comb and the bracelet — the iron bracelet, or "kara" is perhaps the most common identifier of Sikhs.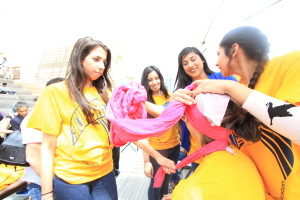 Gurbani Makkar, president of the Sikh Student Association and neuroscience senior, said wearing it reminds her to do the right thing every time she writes or performs any action with her hands when she sees the bracelet or hears it clang.
A baptized Sikh has to wear all five symbols at all times in addition to other lifestyle changes they must make, and Makkar hopes that one day, she will feel close enough to God to be able to do that.
As a child, Makkar kept her hair long, never cutting it as per the edicts of Sikhism, but as she grew older, societal peer pressure got to her and she cut off her hair to look fashionable, she said.
Now, she wants to go back to wearing her hair long and praying more.
For Iqbal Gill, taking off the turban didn't impact his beliefs in any way.
"If you believe, you believe," he said. "It doesn't matter if you have a turban or if you have a beard or cut hair."
He still holds firm that taking off the turban, while hard, was still the right thing for him to do. He wasn't forced to do so, he made a choice.
"I had the choice of putting up with the bullying and trying to explain to them," he said.
In his own way, he practices the single most powerful teaching in his faith — equality. Equality between men and women, and the awareness that in no one should be embarrassed or hurt by any of his or her actions, Gill said.
"With the life that God gave me, I try to make the most out of it and represent my Sikh community in front of everyone else as well (as I can)," he said.