Two UTD students and an alumna have returned home safely after being caught in the middle of last night's gunfire ambush in downtown Dallas that took the lives of five police officers.
A Black Lives Matter protest, which started at Belo Garden Park off Main Street in downtown Dallas, was organized to mourn the losses of Alton Sterling and Philando Castile, who lost their lives in altercations with the police on July 5 and 6, respectively. Deadly gunfire broke the peaceful protest around 9 p.m.
According to CNN, after several hours of negotiations with the lone shooter in the incident, Micah Xavier Johnson, a Dallas police bomb squad robot detonated an explosive, killing him around 3 a.m. this morning.
Alumna Angelicque Roa, historical studies junior Tony Nguyen and sociology senior Erika Bocanegra attended the march with a group of friends.
"We got there around 7 p.m.," Roa said. "We (marched) a block and then we ended up at the (Old Red Courthouse). We stopped there again and then they said, 'This is our last leg, we're going to head back to the park.' We start up again and then all of a sudden … you hear gunshots."
Roa and her friends were towards the front of the march, but she said she didn't recognize the sound of gunfire because it didn't occur to her something like that could happen at the civil protest.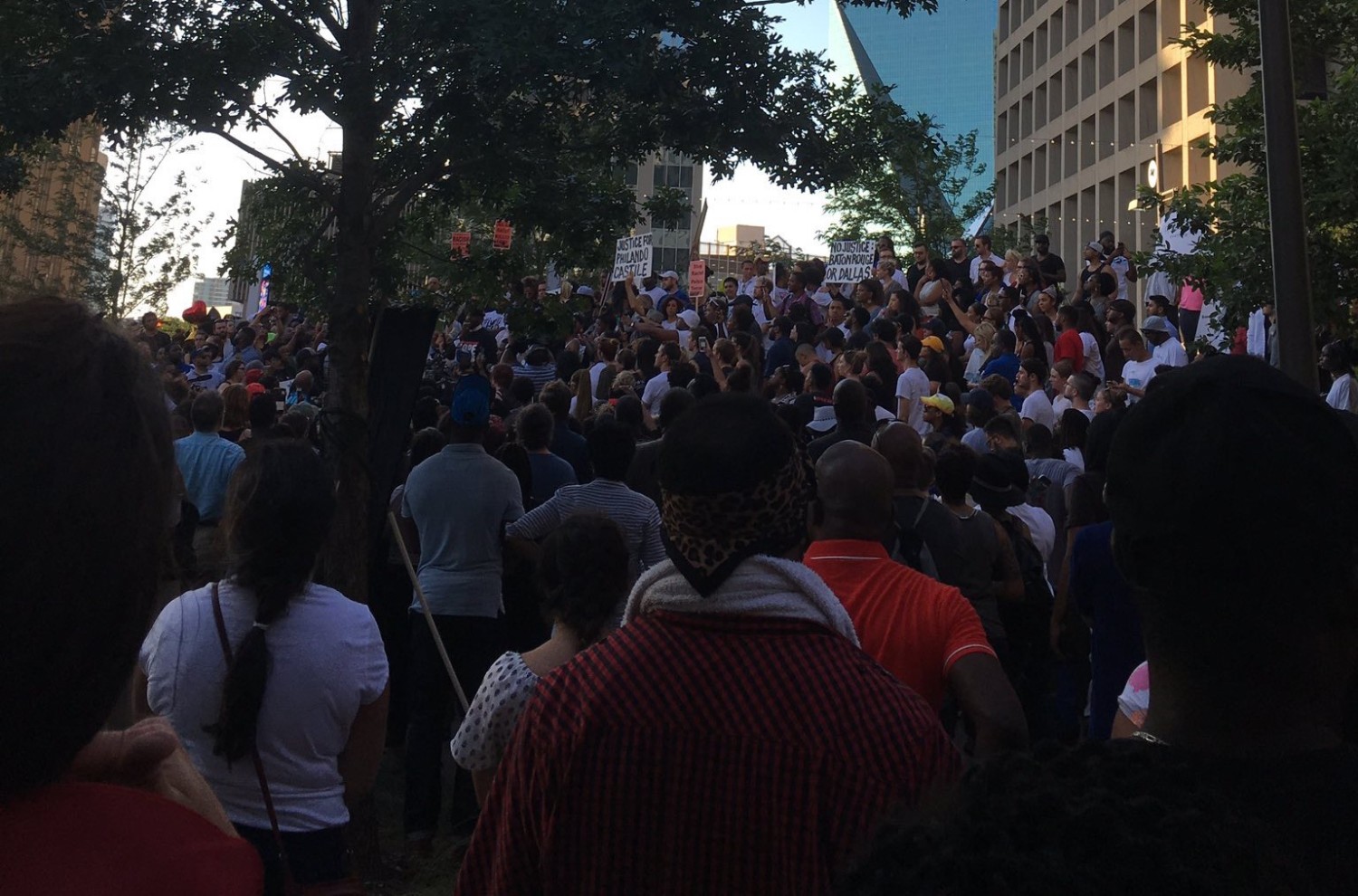 "I mean, you heard it but it didn't sound like gunshots. In my head I was like, 'OK, this can't be happening right now, … this is a joke. Someone is overreacting or something,'" she said. "My first instinct was doubt because (of) the irony of what (was) happening. It was such a peaceful protest."
Once Roa's group saw people were running, they joined them and regrouped at the courthouse — but didn't stay there long.
"You didn't want to stay in one place," she said. "Whenever you were running and you would stop somewhere and then people would still be herding you out. You're like, 'Is there any place here that I can be safe in? When is this going to end?'"
The group briefly lost track of Nguyen, who was helping three people who'd been trampled in the chaos.
"People were just going in all sorts of directions," he said. "I got separated from (the group) in order to figure out what was really going on, processing what (had) just happened but also being concerned (about) people being trampled."
The group made it to Union Station around 10 p.m. and the building went under lockdown at 11 p.m.
"We didn't have any source of media," Roa said. "We all had our phones but there were no TVs, so we're all sitting ducks stuck in this building. We know we're safe but we're also like, 'We're not doing anything.' People get antsy. I was lucky to have … my friends there."
When they were able to wrap their minds around the situation, Nguyen said he couldn't place a finger on how he was feeling.
"When everything settled, I was just mainly confused," he said. "We were trying to figure out what was happening. There was no information. (The protest) was just so peaceful that you really didn't expect that this would ever happen. So, (there was) confusion, grief, anger — anger to really no one. It was just anger that this whole situation just came out of thin air."
While they were holed up in the station, they received calls and messages from friends and family asking their whereabouts. They also heard people speculating about the situation unfolding around them.
"You would hear so many things like, 'There's a shooting at West End. People are at El Centro and then the Omni,'" Roa said. "We were so close to all of that it was like, 'Why did I choose to get stuck here?'"
She said people seeking shelter at Union Station had the option of leaving before the building went on lockdown, and afterwards only authorized personnel were allowed in.
"Only the Dallas PD could come unlock the doors," Roa explained. "When people (knocked) to get in, we weren't allowed to bring (them) in. If you wanted to leave, you were allowed to leave, you just had to sign something and go."
They were permitted to go home around 1 a.m., but Roa said no one was eager to leave.
"People were not very trusting of anything," she said. "There was a taxicab outside. They were like 'Did anyone call a taxicab? Does anyone want it?' If I didn't call it, then I'm not getting in there. People were just so hesitant to go outside."
They finally left at 1:30 a.m. when they were able to get a ride home.
Roa, who had never been to a protest before, said she attended to see firsthand how people were responding to the two consecutive shootings that happened earlier this week.
"The two videos that were released the night before — that's a lot to handle," she said. "And I think emotions were high. I wanted to go … not only to support Black Lives Matter but (I was) also curious to see how people are reacting and what people are saying about this."
Chants of ,"Send those police to jail because the whole damn system is guilty as hell," which representatives of Mothers Against Police Brutality started, were interspersed with protesters shouting "Fuck the police," Roa said.
Nguyen added that "Hands up, don't shoot" and "No justice, no peace" were also repeated during the protest.
Roa said the violence that erupted during the march wouldn't stop her from attending other protests, because it's important to understand the Black Lives Matter movement to bring about a change.
"People are like, 'All lives matter,' and that's not the point," she said. "Of course all lives matter. This is why we need to have black lives matter. It's (a matter of) getting yourself educated on that so you can help other people understand as well. (The shooting has) really setback the movement and you're just going to have to rebuild from there again."