Sushi has long been a staple of every college student's dreams — delicious but unaffordable as a regular meal. Or that's what I thought before I started looking around Richardson and realized we were blessed with not one but at least three different restaurants serving unlimited sushi for lunch around $10.
I know what you're thinking —"No way Jose" or "It's probably bad." Well surprise! It's actually pretty decent, and I know my sushi. You can trust me on that. While I'm a longtime favorite of the Zenna's Happy Hour, we'll save that for another time and stick to my three favorite sushi restaurants.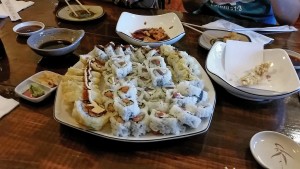 First up, we've got Sushi Shack. Located on Independence and Parker, it's a straight shot from UTD and you can tell by the typically young clientele. For the last two years, some friends and I have done a regular "Sushi Friday" here, and they've always delivered. Consistently good, nothing on their menu is innovative but is simply solidly-done basic rolls. Their unlimited lunch deal has gone up in price a bit recently, but is still about $11. The real perk here is that this includes unlimited sides like fried rice, tempura veggies, fried calamari and miso soup. The only real issue with eating here is that you must order whole rolls, and they charge a fee per piece left uneaten. So, it's better suited to groups so you can get a variety of rolls and finish them all easily. Bonus points to Sushi Shack — it's BYOB.
Then we have Sushi Hinoki. Located in the same shopping center as the Tom Thumb on Campbell, it's the closest to our campus. What sets it  apart is the buffet. Last count there were over 10 rolls out when I went by plus miso soup and rice. Just like Sushi Shack, the sushi is decent, but it's fresh,cheap and will fill you up for sure. While there are less additional items included, they have a much better variety of baked rolls and a lot of options that Sushi Shack is missing. I've found Hinoki is the best choice if it's just two of you as you can each get what you want without being obligated to share.
Lastly, there's Sushi Envy. The unique part about Sushi Envy is that it's a rare conveyor belt sushi restaurant. While it is the furthest, at least 15 to 20 minutes away in Plano, it's worth going as the sushi is good and the experience is interesting. They've expanded their different unlimited options in the last year, starting with lunch. You have the choice between a buffet option, for about $13, or All you can eat $2 plates (including nigiri!) for about $18. Heading into the lunch hours things change again, with separate roll buffets ($18) and nigiri buffets ($23.) That's in addition to their Happy Hour (Monday from 5-9 and Tuesday/Thursday 5-7) where it's all you can eat from the belt for $12. While the priciest and furthest away, I recommend at least including it in your list of restaurants to check out.
There you have it — three unlimited sushi options, each with their unique take on the special. Grab some friends and head out for your own Sushi Friday, it's truly the best way to end a hard week of school.