Searching for a tranquil escape from the hustle and bustle of student life? Okaeri Cafe may just be the haven you've been seeking — this delightful Japanese cafe offers a vibrant atmosphere and a diverse menu of dishes and refreshing drinks, all wrapped in a cute and cozy ambiance.
Located off Greenville Avenue, Okaeri cafe is a mere 10-minute drive from campus or a quick ride on the 240. The cafe is the ideal spot for a hangout with friends, whether you want a quick study break or a leisurely lunch. The welcoming atmosphere, delicious and affordable menu options and refreshing drinks make it a go-to destination to recharge and refuel. Okaeri is open from 8 a.m. to 8 p.m. from Monday to Saturday and 10 a.m. to 8 p.m. on Sunday. If you can, try to stop by outside peak dining times, as it can get quite busy. Okaeri is more of a socialization spot, with noise during its busiest hours and meals served on tables, with less room for laptops and study packets. But rest assured, you can always pick up a quick drink to accompany your studies elsewhere.
With walls scattered with doodle patterns and colorful decor, Okaeri serves happy vibes with its aesthetically pleasing food. Plush animals and characters fill the back shelf behind the ordering counter, and wide windows bring light into the space, brightening the mood. The seating is diverse, with standard tables and chairs but also ground seating booths with pillows for visitors to enjoy their meals. The dishes and drinks are aesthetically pleasing to look at, from their neatly presented omurice to their ombre matcha lattes.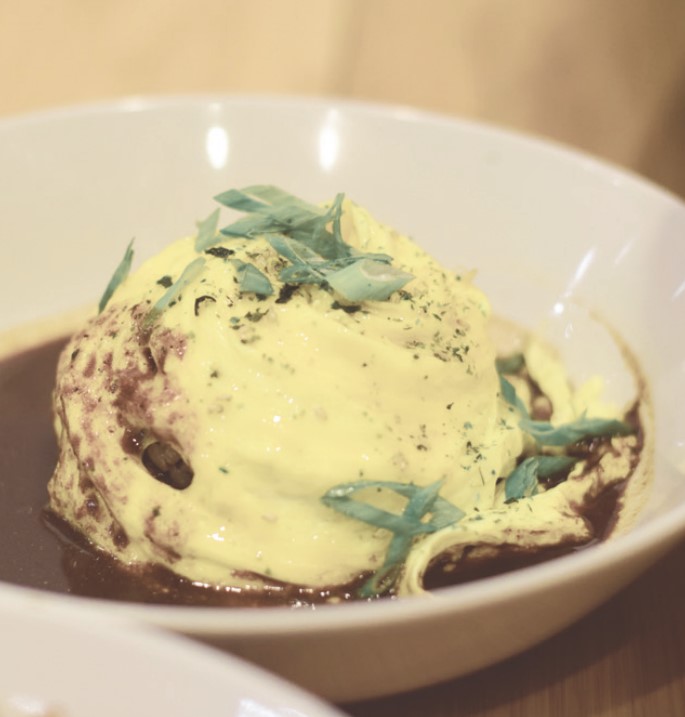 But Okaeri Cafe isn't just about looks – it offers a wonderfully flavorful range of Japanese meals and desserts. The Tofu Katsu Bento at $14.50 is a must-try. It features breaded tofu katsu served with short-grain rice, and you can choose various salads as sides— potato, pasta, seaweed or garden — with a tangy sesame dressing, all complemented by tonkatsu sauce. The Okonomiyaki Pancake, priced at $9.00 is another great savory choice, made with wheat-flour batter and cabbage, pan-fried to perfection and topped with furikake flakes, bonito flakes, green onion and Okonomiyaki sauce. They also offer sweet roll cakes and mochi ranging from $4.50 to $5.75.
As for drinks, Okaeri Cafe offers a delightful selection of beverages, including their fall specialty Oat Milk Chai Misu, a "Cinna Bon Bon" cinnamon latte drink and a classic Pumpkin Spiced Latte. I recommend the Oat Milk Chai Misu, a perfectly sweet taste of autumn that is not watered down. Other drinks, like the Strawberry Matcha, can be on the sweeter side, so if you lack a sweet tooth, be sure to order something with a more balanced flavor profile.
After a long day of classes and assignments, Okaeri Cafe is the perfect escape for UTD students. It provides an inviting and relaxing atmosphere to socialize, unwind and recharge in. Whether you are in the mood for a savory treat or a refreshing drink, Okaeri Cafe has something for everyone.