Two UTD student teams were declared winners of three spot prizes at HackTX 17, the largest annual hackathon in Texas on Oct. 28.
One of the teams won Facebook's "Community Building" award for building Friendzy — a Facebook native chatbot that connects you with similar people in your local area.
The other team won Microsoft's "Best Microsoft Hack" award along with ExxonMobil's "Gas Station of the Future" award for building Tunify — an application that creates interactive music communities through location-based playlist tagging.
HackTX 17 had a turnout of almost 800 participants. Out of 40 other teams, Friendzy was declared the winner of the Facebook award. The team members said their main objective was to create something geared towards community building. 
Brian Hoang, a software engineering senior and member of the Friendzy team, said they added to the idea that a community starts with two people, and that it would be helpful if they could build something that would help them bring two people together.
"We were strategically aiming for Facebook's prize, and Facebook has a huge user base. We thought, 'Let's use something that's native to Facebook,'" Hoang said. "You can go into our Facebook page, chat with the chatbot, and it pulls information from your Facebook profile, as well as gets what your input likes are. It's going to take that into consideration and use that to pair you with the best likely match in your area."
The chatbot retrieves a person's information from their Facebook profile. An individual can decide on the name he or she wants to use while talking to another person anonymously. Devesh Laungani, a computer science senior and member of the Friendzy team, said they designed the chatbot to prioritize the user's interests.
"It asks you for a particular topic you want to talk about at that time," Laungani said. "It gives higher priority to that and we used machine learning algorithms for that. It compares your Facebook interests in the backend and comes up with a matching algorithm to match you with others. When you find a match, you send a message and that person gets to confirm."
The Friendzy team said they believe the feature that sets their app apart from other competitor projects is the layer of consent that acts as a security barrier. Marwan Kodeih, a computer science senior and Friendzy team member, said he feels that this barrier is important so that people don't receive messages from random strangers who they wouldn't want to talk to.
"When we showed it to the Facebook judges, we really stressed about the security aspect because Facebook is about security," Marwan said. "We get the benefit of leveraging Facebook's info while still protecting the user's security when they're talking to people. We want to make sure there is consent from both sides. Once the two users consent, they are directly connected."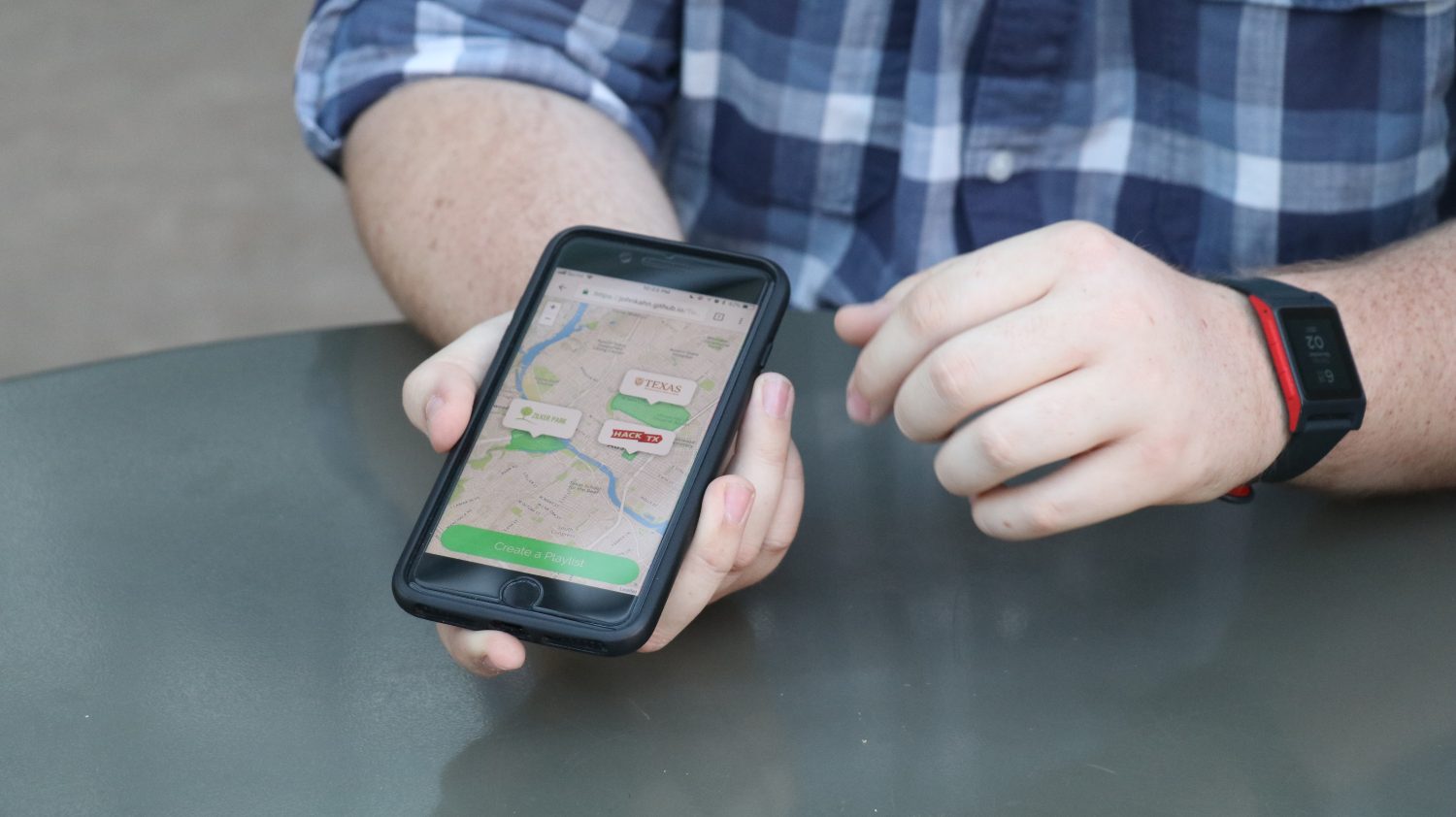 The Tunify team was declared the winner of the Microsoft award out of the 23 competing ideas. Using Spotify, this team built a web-based application that put collaborative playlists on a map that people could share. Users can click on any place on the map, add music to any playlist and share them with others. The team had asked other participants and sponsors to add their songs to the playlists.
Swarn Singh, a computer science freshman and Tunify team member, said that this was his first hackathon experience and that the entire environment was buzzing with excitement.
"I understand why the hackathon environment is the coolest," Swarn said. "If you tell four or five computer science majors that they need to get something done, it may take a while. But if you tell them it has to get done in 24 hours and here's a lot of free food and free stuff, they'll be more motivated."
Karan Shukla, a computer science graduate and a Tunify team member, said one of the best things about hackathons is their similarity to how productive people are when they study in the library.
"People are productive studying in the library because they are surrounded by other people studying," Shukla said. "Hackathons are like that for building. You never see people building software when you are just wandering around campus. In this hackathon, it was just a hotel full of people building software."
John Kahn, an interdisciplinary studies junior and Tunify team member, said they had to use new Microsoft tools to make their pitch better. He said the team is looking at a tentative release of Tunify in January on the Android and iOS platforms.
After winning the Facebook award, the Friendzy team qualified for the Facebook Global Hackathon, held at Facebook's Headquarters on Nov. 16-17. They will be competing with participants from eight countries around the world.