Group of 26 riders travel from Connecticut to Washington D.C. to bring lawmakers gun control petitions
Arts and Humanities Ph.D. candidate Julie Gavran was held at gunpoint one night by a male freshman in her dorm hallway when she was a senior at Ohio Dominican University. He then pulled the trigger.
"It didn't go off. I don't know if it was loaded or if it jammed," she said. "But I started questioning what happened that night and (wondered) how this could have been different if I had the gun. It would have ended up deadly because he was much bigger than I was and could have wrestled it out of my hand (and) used it against me."
In her efforts to push for gun control legislation, Gavran is using a unique platform — her passion for cycling. She started mountain biking 20 years ago before focusing on endurance cycling. After moving to Richardson in 2006, she joined the UTD cycling and mountain biking teams.
"It's a great way to clear your head and get lost in the repetitive motion of cycling," she said. "Some of the places I've been to on my bike are just beautiful."
While working as a regional coordinator for the Campaign to Keep Guns off Campus, a nationwide movement created in the wake of the 2007 Virginia Tech shooting, Gavran learned about Team 26, a group of cyclists that rides from Newtown, CT — the location of the 2012 Sandy Hook Elementary School shooting — to Washington, D.C. to deliver gun control petitions to Congress.
When Gavran attended a benefit for her non-profit this past March, she met Monte Frank, founder of Team 26, and talked about her background as a cyclist and her work with the Campaign to Keep Guns off Campus. Frank subsequently asked her to join the team.
"Because of our organization and the fact that (Team 26) was (partnering) with us, I've actually been following their rides through Twitter over the last couple of years," she said. "I was very familiar with the event."
She and 25 other cyclists — one for each of the 26 people who were killed at Sandy Hook — will participate in the fourth Sandy Hook Ride on Washington, a four day, 400-mile ride. Starting on April 9, Team 26 will host a rally in Newtown before the send-off. The cyclists are scheduled to make stops in New York, New Jersey, Pennsylvania and Maryland for rallies and benefits before arriving in the District on April 12.
The Campaign to Keep Guns off Campus and Team 26 are starting to gain national attention. Several prominent figures will be joining Team 26 on parts of their journey from Newtown to Washington. Jack Markell, Governor of Delaware, will ride alongside the cyclists for a few miles. State representatives from New Jersey, Delaware and Pennsylvania as well as the mayors of Philadelphia and the District will also be a part of the event.
"This isn't about me or the 25 other riders, it's about those who have lost their lives to gun violence," she said. "I was lucky to get a second chance."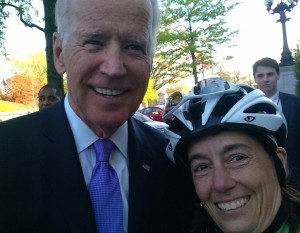 Update: Team 26 finished the bike ride to D.C. on April 13.