Student Government and SUAAB registered 1,200 students to vote with the intention of encouraging students to become more politically excited and active.
With the presidential election coming up in November, SG moderated a mock debate on Oct. 11 to address current political topics. Along with the debate, SG and SUUAB hosted multiple events throughout the week, all with the goal of registering students, said SG Vice President Joey Campain.
"The purpose of our three events this week (was) to get people excited about the political process and kind of become more knowledgeable, while at the same time just overall pique their interest in politics in the U.S.," Campain said.
No Labels President Nancy Fairbank and SG Senator Songar Ideus served as the moderators for the debate. Each representative got two minutes to answer each question as well as a one minute rebuttal time. Groups that participated in the debate were the national bi-partisan political organization No Labels, the Democratic Socialists and a representative of the Republican Party.
One of the pivotal points of the debate was that individuals with different opinions came together to discuss major issues in American society as well as the candidates said Christian Filsouf, SG legislative committee chair.
"As an alternative to the actual debate, it gives students a chance to hear other students give reasons why they support or do not support the candidates, and also gets the gears turning to help them start thinking about voting," he said.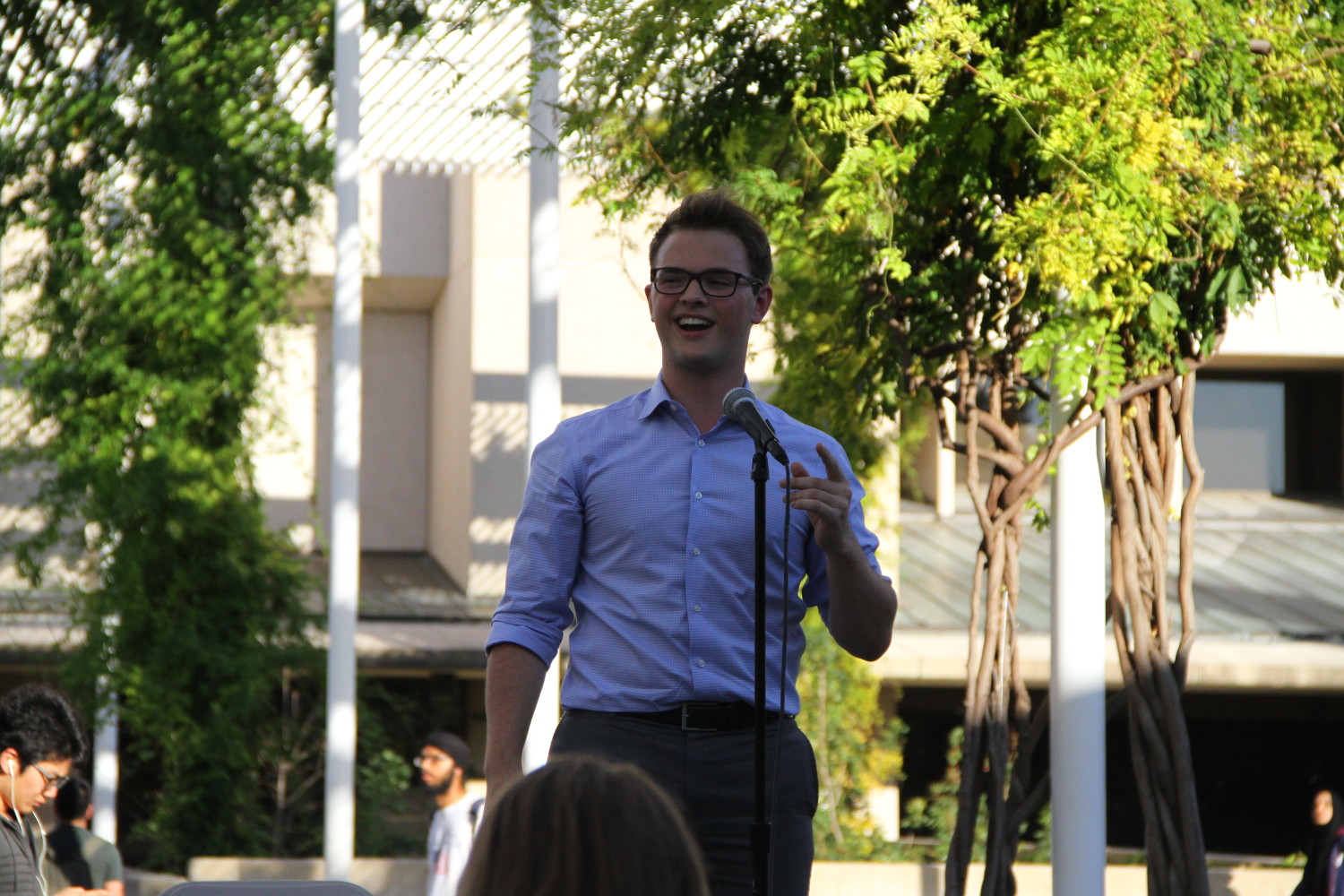 Unlike a typical political debate, the SG debate consisted of a segment in which the representatives got to physically battle out their differences in a boxing ring.
"The inflatable boxing ring added a unique humor aspect," Campain said. "After (the candidates) debate the topic they will box it out in the ring. It is a satirical take on the presidential debate because a lot of the national debate this year has been personal attacks, so it represents the nature of politics and how it can become literal personal attacks."
Representing the Democratic Socialists, physics senior and club president Nicholas St. John said the group represents a wide range of people's ideological beliefs. To better address that, the representative for the group swapped out every few questions.
"I was hoping that the audience could take with them some of the political views that they could identify with, but maybe after they heard us talk they would be interested in coming to our meetings," he said. "One of our main goals is to get our ideology out there."
One of the topics discussed was gun control policy. No Labels representative and sophomore Harris Chowdhary and the Democratic Socialists were against campus carry and for gun control. However, Republican Party representative Alex Holcomb and the College Democrats, represented by junior Jason Purcell, were against gun control, but with limitations.
"We aren't for taking guns away, but there are certain regulations we think could be taken and most align with Hillary's viewpoint," Purcell said. "We should reduce magazine capacity as well as make sure that people on the terror watch list do not have access to them."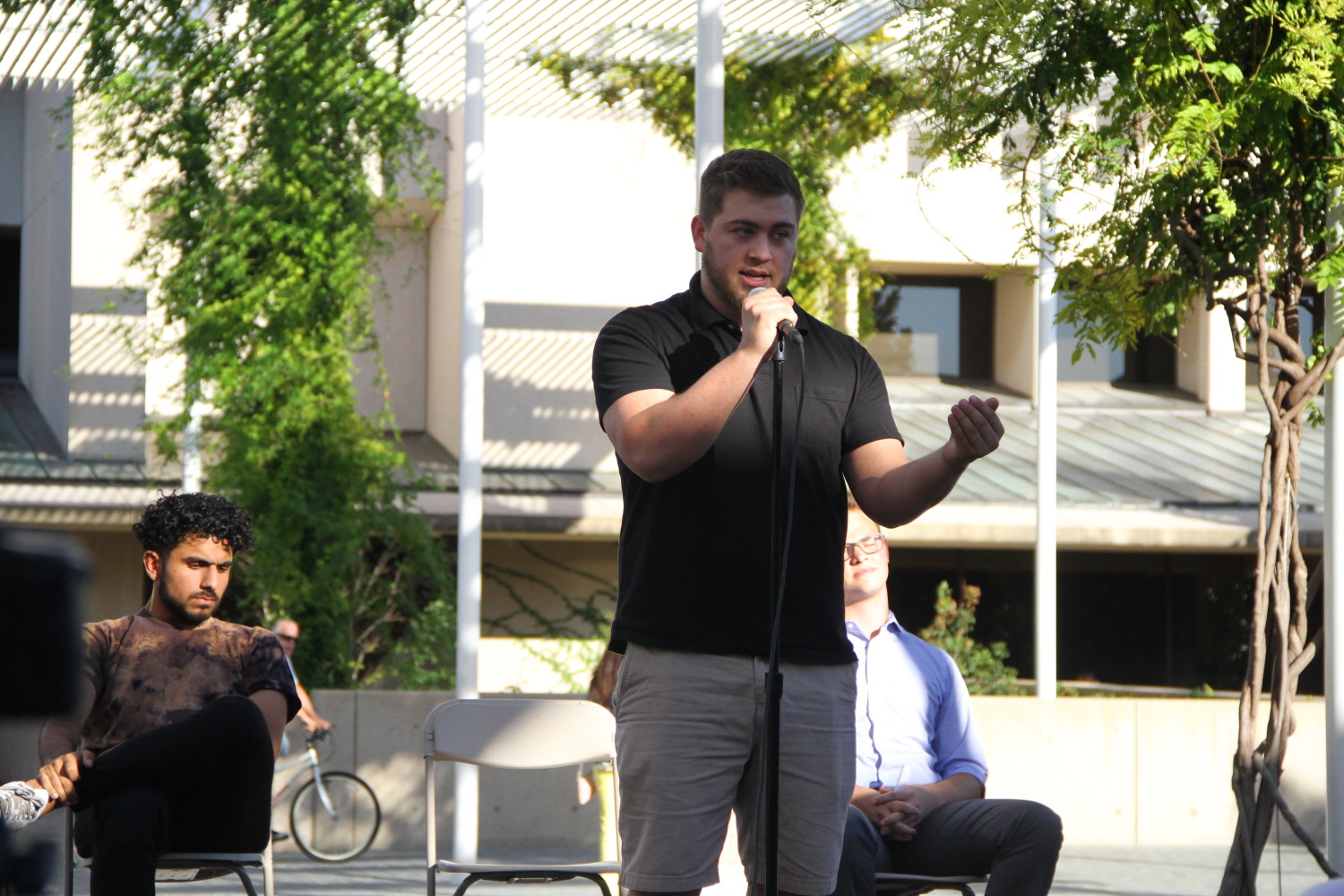 Fairbank said while No Labels is a bi-partisan group that encourages maintaining an individual's own views, they also focus on a universal idea that the government should be about fixing, not fighting, and that political involvement is crucial.
"It's very important we have events related to politics on campus," Fairbank said. "It doesn't matter the side, and a lot of millennials are apathetic and that needs to change. We want students to go out to vote and that they can change the political system for the better."
Although the deadline has passed to register to vote for the general election, SG will continue to provide opportunities for students to get politically involved.
"We will be hosting more voter registration booths for upcoming spring elections," Filsouf said. "We just want to help students educate themselves before they hit the voting booth."