Richard Benson, the newly named president of UTD, made his first public remarks to students, faculty and staff in the Galaxy Rooms on Tuesday afternoon during a meet and greet.
The UT System Board of Regents officially announced Benson as UTD's president on Feb. 29. He will start his new role on July 15 after finishing his time as the dean of the College of Engineering at Virginia Tech.
During the meet and greet, a long line formed as various members of the campus community waited to talk to Benson. After about 45 minutes and an introduction from President Ad Interim Hobson Wildenthal, Benson took the stage to address everyone in the packed room.
Benson was light-hearted in his approach, cracking jokes during his opening remarks. After he broke the ice, the new president touched on why he was excited to start at UTD.
"This is an astonishing school," he said. "The progress that's been made … in the last ten years is quite extraordinary. And I can tell you that people from the outside looking in are paying a lot of attention."
The new president, who started working at Xerox before stints at the University of Rochester, Penn State and Virginia Tech, said UTD's history with the tech industry is one of the aspects that attracted him to the job.
"You have this great connection to the Metroplex, this is a very high-tech area," he said. "It is one where I think it's a win-win proposition to have UT Dallas grow as a strong research institution tied to the local community."
Neuroscience junior Janie Yu, who got a chance to talk to Benson briefly during the event, said Benson was very friendly and approachable during their conversation. She said she would like to see him focus on integrating the various cultures across campus.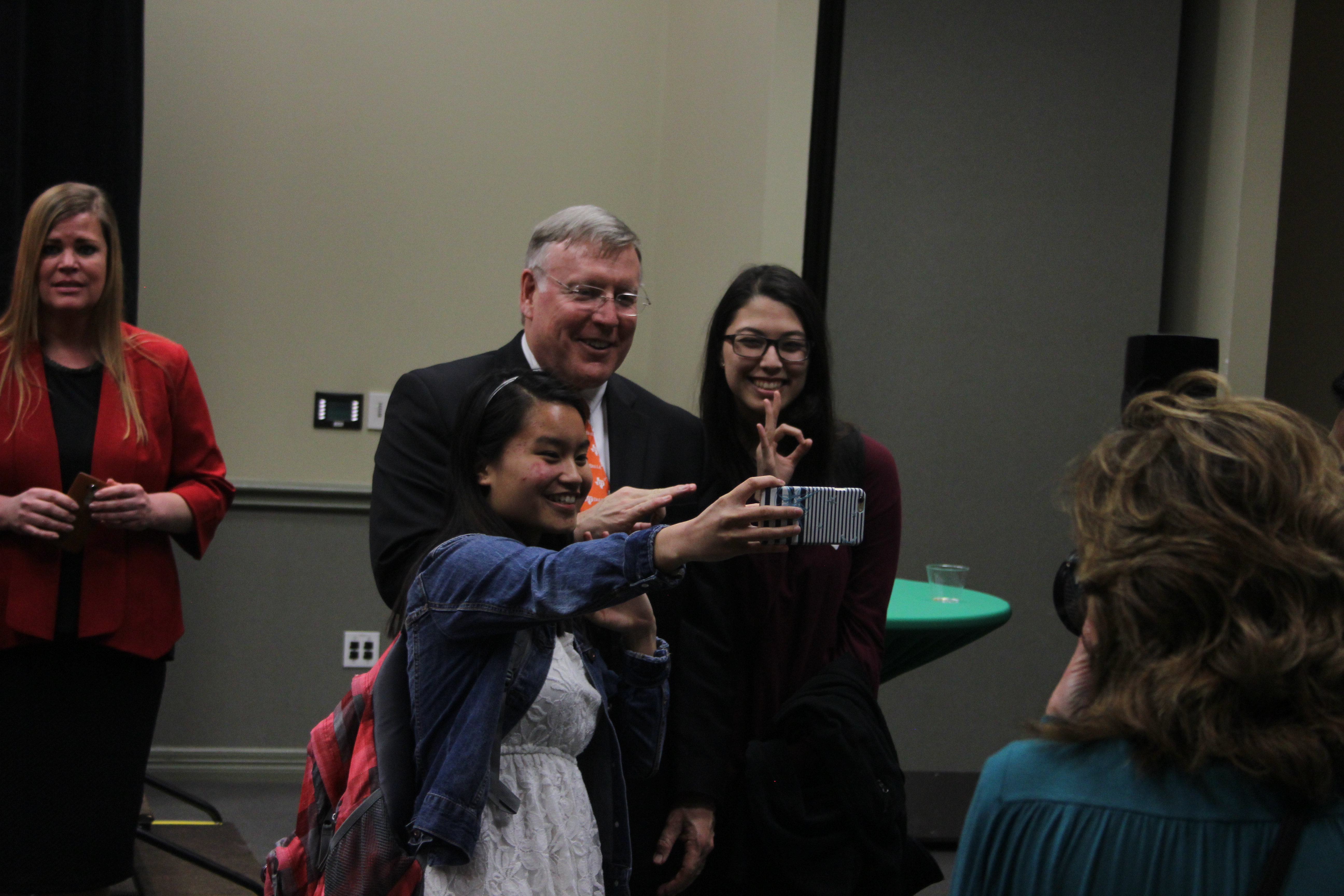 "I feel like even though we are a very diverse school, we're one of the most diverse schools in the U.S., I feel like we're still kind of segregating," she said. "So I'd like to see more interaction between different demographics."
Biology sophomore Emily Burnette said she wants Benson to focus on the issue of making bathrooms accessible for transgender students.
"Recently, there's been a lot of controversy over transgender bathrooms, so maybe that's something we can start here," she said.
As Benson gets started, he said he will make several more trips to campus throughout the semester leading up to his start date in the summer.
Yu said it was good that Benson seemed so excited to start at UTD.
"I think that's important to have a leader that really sees the potential that this school has and where it can go," she said. "I thought that was really cool that he recognized it and he sees the potential."