University and community leaders came together last week to celebrate the opening of the Bioengineering and Sciences Building, the newest research facility on campus.
Located between Parking Structure 3 and NSERL, the BSB is over 220,000 square feet — the largest building on campus to date. It is also certified green, with the indoor lights adjusting intensity based on the brightness outside and the roof collecting rainwater to irrigate the grounds.
Vice President of Administration Calvin Jamison, President ad Interim Hobson Wildenthal, Deputy Chancellor David Daniel, Executive Vice Chancellor for Academic Affairs Steve Leslie, Mayor of City Council Paul Voelker, Dean Mark Spong, Interim Dean James Bartlett and Dean James Novak all spoke at the event on May 26.
They praised the faculty and staff that helped this project come to completion quickly and expressed excitement about the benefits it will bring to both campus and the Richardson community.
Novak said the building will help increase collaborations among different research departments, spurring new discoveries and ideas.
"It's the interdisciplinary nature of the building that makes it so special. We have bioengineers housed right up next to biochemists, housed right up next to inorganic chemists. Something special happens," he said. "I think we will have decades of wonderful research emanating from this building."
Spong also said state-of-the-art buildings like the BSB help UTD come closer to reaching Tier One status by attracting highly qualified faculty and students.
"Tier One is not yet in our grasp, but it is well in our reach," Spong said.
Daniel, the former president of UTD, also attended the ceremony and began his speech by making jokes.
"We are an academic institution, so I am going to give you a quiz that has two possible answers, A or B. And the question is, how do buildings like this come to be?" he asked.
Option A was that presidents of universities create and implement large scale projects like the BSB by themselves, option B was deans relentlessly pushing to make sure that these projects saw the light of day.
When asked, the audience called out the second answer, while soon-to-be President Richard Benson jokingly raised his hand for option A.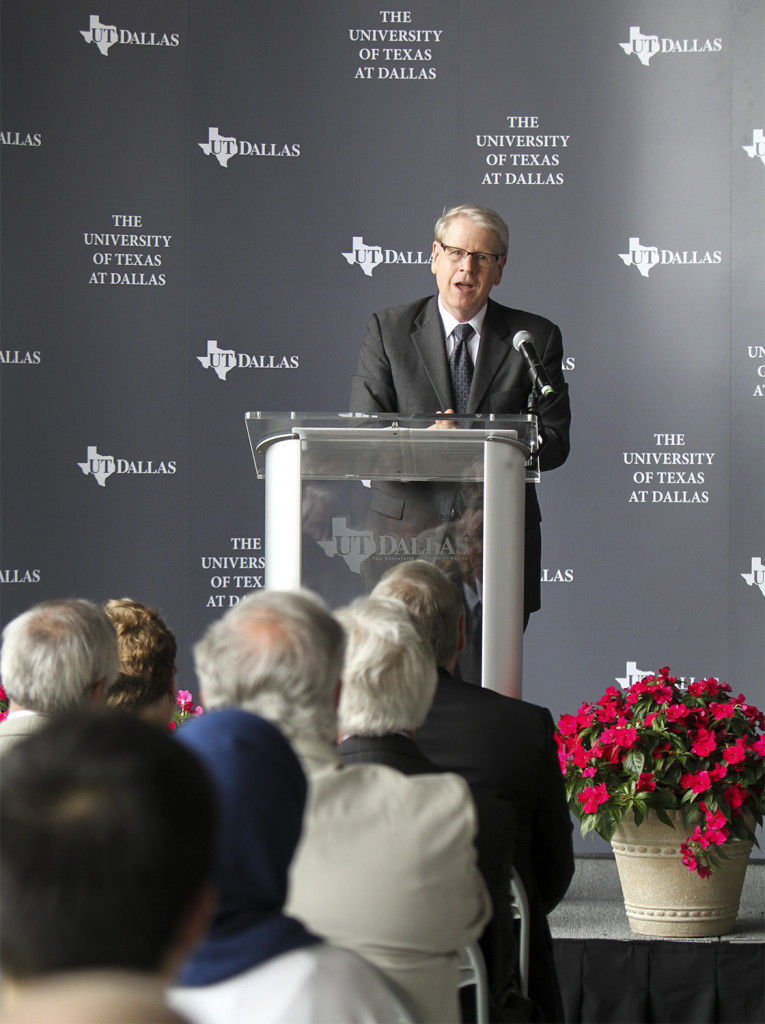 Overall, Daniel credited the deans at UTD for the building's creation and success.
"I had the great privilege of being in the right place at the right time to help the deans make now happen," he said.
He also closed by making a promise to Benson about starting his presidency at UTD in June.
"As we move forward with this building, Dr. Benson, I want you to know that you will have the highest level of possible support at the UT System as you focus on quality," he said.