Whether you're looking for groceries or fun places to go with friends on the weekend, Carrollton's K-town has it all. To get to this fun area, students can take the 232 bus or drive 15– 20 minutes from campus.
Grocery Stores
In just this small area, there are three grocery stores: Super H-Mart, Teso and 99 Ranch Market. The Teso and 99 Ranch Market are right next to each other in the same lot, while Super H-Mart is just across the street.
The H-Mart in K-town isn't just a regular store but a Super H-Mart. It's easy to get lost between its abundant shelves full of quality Korean goods, and the great weekly deals for food make this grocery store even more enticing. There is a wide variety of instant ramen and microwavable meal options, including the staple Ohsung Hong Ramen and Nongshim Shin Ramen for spice lovers. If you want to mix things up, there's also dumplings and tteokbokki – spicy rice cakes — both of which are easy to make. Also, check out the snack aisle for unique flavors. Super H-Mart is dangerous for your wallet but worth it for the deliciousness.
Teso is a treasure trove of Japanese snacks, and even has a small area for claw machines and blind boxes to lure in gacha gamers. If you want to find decorations for your room, you could bring friends to try your hand at the blind boxes and trade for your favorites.
If Super H-Mart and Teso don't have what you need, 99 Ranch Market is the standard and reliable Asian grocery store carrying items from a variety of cultures. If you want to try making meals yourself, you can find most of the ingredients you will need here.
Food
When talking about K-town, you can't forget Korean barbecue; the two most popular local options are Gen and Omi. They're relatively close in price for all-you-can-eat dinner, so try them out and choose which one you like best! I personally like the way the meat is seasoned at Omi, with an even balance of savory and sweet, but Gen has more options for side dishes like calamari frits and hotteok, Korean street food pancakes.
Oh K-Dog is a great stop for a post-grocery shopping meal when your wallet is feeling light. Imitating Korean street food, the store sells Korean cheese dogs and hotdogs along with tteokbokki. The options are cheap but tasty and filling, especially if you get potatoes on your K-dog.
And don't overlook the food court inside the Super H-Mart! Their options can be cheaper than other restaurants in the area but just as good. Okatsu Katsu and Sando Bar sell Japanese-style sandwiches that come with a fruit sando dessert.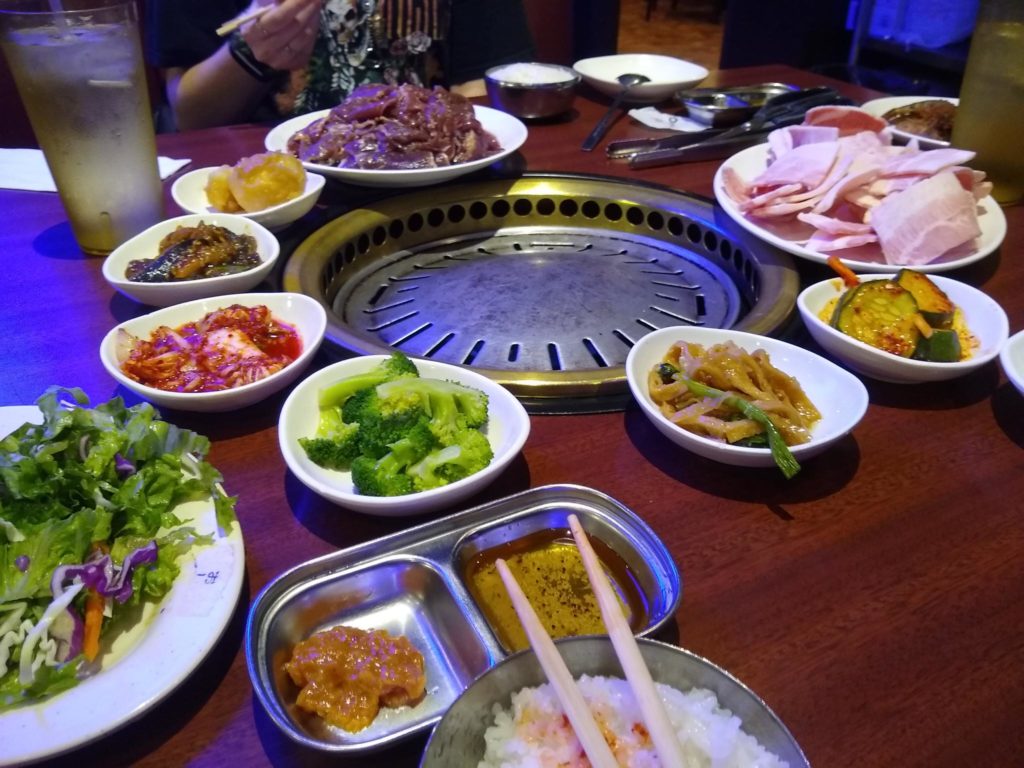 Shops
Kinokuniya is a Japanese store to fulfill all your stationery and anime needs. The prices are on the higher end for a student, since many products are imported. Still, it's nice to stop by to window shop or to treat yourself from time to time! There is also a nice collection of manga, art books and Japanese novels that are hard to find anywhere else.
Art Box is a stationery store that's perfect for gift shopping. There are cute matching pens, charms for couples or friends and unique novelty pens and washi tape. 10×10 and Pink Box cater to K-pop and anime fans with trinkets from popular groups and shows. There's something new to find and obsess over every time you go.
Contrary to the name, VT Cosmetics in Carrollton isn't known for their cosmetics but for their events for K-pop fans. They regularly host cupsleeve events and giveaways for banners and tickets when it's an idol's birthday or a concert is coming to Dallas.
Activities
There are tons of cafes in K-town perfect for cute dates, study sessions and hang-outs. To name a few, Mozart Bakery, Tom N Toms, Mango Mango, Somi Somi and Snow City.
Tom N Toms is the perfect study spot. A two-story cafe with vines decorating the interior, the vibes are conducive to romanticizing your life and getting an A on that exam. The food may be on the expensive side but still tastes amazing. The experience makes up for it with free and fast Wi-Fi that rivals CometNet any day.
Snow City is the best place for bingsoo, a Korean shaved ice that is leagues better than any snow cone because it's actually shaved milk. The portions are huge and great for sharing, but the minis hit the spot for one serving. There's always room for bingsoo at the end of every meal.
SingBox is a karaoke place, but not like the public karaoke popular in America where someone has to get on a stage in front of strangers. SingBox rents out private rooms where patrons can sing their hearts out with a group of friends.